Lakenham Hewitt 32-15 Harlequin Ladies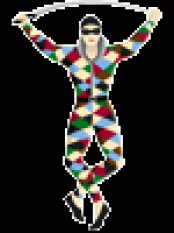 By Ros Holder
November 23 2006
Last Sunday (19th November) Harlequin Ladies were hosts to top of the table Lakenham Hewitt at their home ground in Roehampton. As Lakenham were undefeated and had only conceded two tries in their entire league campaign, the Ladies knew this would be their toughest game yet of the season. Lakenham attacked strongly from the kick off, driving deep into the home 22. Quins were immediately on the back foot, and sloppy defence from the scrum allowed Lakenham to exploit an overlap on the blindside to score the first try. Quins immediately regrouped pressurising the visitors into a series of handling errors, but were unable to penetrate the defensive line. Lakenham responded well, recycling the ball and making use of strong running to score again.

Again the Lakenham offence pressurised Quins deep into their own 22. Lakenham were awarded a scrum 10 metres from the try line and were clearly looking for their next score. However the Quins scrum held firm forcing them to send the ball out wide, which was intercepted by outside centre Kay Rees who ran the length of the field to score.

Half-time score: 5-17

The team talk at half-time had a rousing effect on the home side. Quins kicked off and pressure again from Rees saw Lakenham fumble the ball. Desperate defence of the line stopped Quins from scoring – but Lakenham were unable to clear their 22. A strong attacking scrum gave the ladies a strong base from which quick hands down the line allowed wing Karen Cardy to score.

Lakenham regrouped immediately to pressurise the home side once again. Confusion at a line out gave the visitors the forward impetus once again and had Quins on the back foot. But Quins did not let their heads go down and kept the pressure on the league leaders, forcing them to concede a series of penalties and allowing scrum-half Dawn Burrows to go over for a score.

Full-time score: 15-32

Although disappointed with the loss, there are a lot of positives for the Ladies to take into their next league fixture – away against Chesham on Sunday 26th November.

Harlequin Ladies are proudly sponsored by Harviestoun's Bitter and Twisted – available at larger Sainsbury's stores and all good retailers.



More Harlequins headlines
Harlequins Poll