Harlequin Ladies 5-17 Rosslyn Park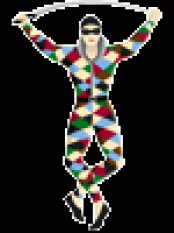 By Ros Holder
December 6 2006
This was a mud bath match to beat all mud bath encounters which have been fought before and probably since. Quins Ladies, although low in numbers, were in high spirits in a friendly that proved to be both a learning experience and a thoroughly enjoyable match for all involved. It was evident from the outset that this match was going to be messy, and within five minutes every player was wondering whether Vanish really does 'remove the stains and grime that detergents alone leave behind', with the signature white shorts of Quins now sporting a dark brown mud casing.

With each side having an equal share of the play, a lucky break gave Rosslyn Park the lead. Quins, boosted by a couple of defectors from the other side (not the Dark side but Park-side), reached half time with only one score the difference.

After a rallying talk from team coach Gavin, the team stepped back onto the sludge to stage a fight back. Jo Everett lived up to her reputation as a versatile rugby player; wearing the number 10 shirt (to add to the other boxes she has ticked in an illustrious career from hooking to winging), she freed up Ellie, with newly painted purple racing stripes, to sidestep three lines of Park defence to score directly under the posts.

Quins continued to press throughout the second half but a couple of lucky breaks saw Park score twice and secure a victory.

Post match, Quins ladies hit the showers washing away half of the pitch in the process, and then to the bar! Kat 'Kitten'/Can't Catch Smith made up for what can only be termed a dip in form on Thursdays training to put in a performance which earned her Forward of the Match.
Back of the Match went to Dawn, who was last seen drafting a paper on the rules of balls in/out of a scrum to be presented at a referee's court room near you soon.
However the honour of the boat race drink went to Yvette who in true Quins fashion proceeded to down Guinness at an alarming rate for such a petite winger!


More Harlequins headlines
Harlequins Poll