Chris Malone joins Harlequins for two seasons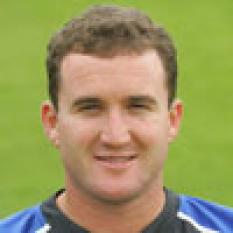 By Prof
April 6 2007
Harlequins have announced the signing of Bath fly half Chris Malone, the 29 year old will be joining Quins for the start of next season and will be at the club until 2009.
Name:
Chris Malone
Nickname:
Molly
Position:
Fly Half
Date of Birth:
8th January 1978
Place of Birth:
Sydney, Australia
Height:
6' (1.83m)
Weight:
14st 8lb (93kg)
Favourite Player:
Tim Horan
Previous Clubs:
Manley, Sydney University, Exeter, Bristol, Bath
Honours:
Australia U21, Australian Universities, Barbarians
Contract:
2 years - 2007/8, 2008/9
Chris "Molly" Malone was born in Sydney and played rugby at Manley, spending his final years in Australia playing for Sydney University. There he played for three years (1999, 2000 & 2001) scoring a total of 578 points including 223 in his final season - the second highest points scored in a season in SU's history. He also jointly holds their record for the most penalties in a game at 10.
He won international honours for Austraila at Under 21 level and also played for Australian Universities.
When he moved to England he signed for ND1 team Exeter Chiefs for the 2001/2 season where he was named Player of the Season after scoring 311 points in 28 games.
Bath signed him after the very successful season in ND1 and he has been there for the past five seasons fighting the likes of Mike Catt, Olly Barkley, Ryan Davis and Shaun Berne for the number ten shirt. He could have signed for Worcester at the start of the 2003 season but instead he went to Bristol on loan for a short while before returning to Bath to cover for injuries and World Cup call ups.
In his time at Bath he has scored 610 points, 100 of them have been this season with one of his three tries being against Quins.
Since his early days of playing rugby he has always taken pleasure in the pressure position of fly half and it has been his kicking game that he has been most famous for.
When asked about his kicking game in 2002 he said ďItís a part of the game that I love Ė I love the responsibility of it. Itís just something you have to get used to. At the end of the day, youíre doing the same thing as you do on the training field each week. Itís important to keep that mind set. I play the sort of game where I like to be able to lead the side around the park, and thatís obviously the sort of player they were looking for. Thatís part of it when you play at 10."
In 2006 Chris was invited to play for the Barbarians and played against Scotland and went on the tour to Georgia where he played alongside fellow Quins Simon Miall and Will Skinner.
When the move to Quins was announced Malone said ďI have had a great time at Bath Rugby, Belinda and I have loved living in Bath and being involved with such a great club. While Iím sad to leave, itís an exciting challenge to move to Quins and a good opportunity, and hopefully itíll be a successful few years. The opportunity to join Quins is one Iím very excited about as theyíve got a great coaching set-up and are clearly a club moving in the right direction, Iím really looking forward to being a part of the squad and I firmly believe they have one of the best back divisions in the Premiership. Theyíve got a great mixture of experienced professionals and some really exciting young talent coming through, so Iím really looking forward to playing a part in the team next season.Ē
ďI am delighted to have secured such an experienced and skilled player in such a key position within the team,Ē said Dean Richards. ďChris has done a great job at Bath in the time heís been there and weíre looking forward to working with him. His territorial kicking is fantastic and he can also find space in attack and create try scoring opportunities. Itís no coincidence that Bath have won the majority of the games in which Chris has started this season and he will greatly help us in looking to build on what we have achieved so far this season back in the Premiership.Ē
It has been reported in the rugby press that Chris turned down an offer from Cardiff Blues to move to London.
Chris is renowned for his reliable kicking game, amassing a lot of points with the boot, having a great tactical kicking game and winning a number of games over the years with a last minute drop goal.
I'd like to take this opportunity to welcome Chris to Harlequins.