Twickenham 26th May. Quins vs Tigers – the Premiership Final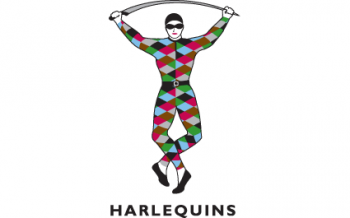 By Wyddy
May 24 2012
Once more unto the breach, dear friends, once more; Or close the wall up with our English dead. In peace there's nothing so becomes a man As modest stillness and humility : But when the blast of war blows in our ears, Then imitate the action of the tiger ; Stiffen the sinews, summon up the blood, Disguise fair nature with hard-favour'd rage ; Then lend the eye a terrible aspect; Now set the teeth and stretch the nostril wide, Hold hard the breath and bend up the spirit... THIS. IS. IT.
Twickenham. 26th May. Quins vs Tigers – the Premiership Final.

Both teams know each other well, as we the fans well remember one of the best games of the season a few weeks ago at the Stoop where both teams went hammer and tongs at each other, and Tigers closed out a close game. There are a breadth of arguments as to why Leicester won that game, ranging from Tigers bench being the difference to a certain Mr Wayne of Barnes as the fulcrum of disappointment.

From this humble fans point of view, I thought it was a generally close game until Mafi came on, as soon as he came on the dynamic shifted from the attrition based typical Leicester play to a more active game. We failed to capitalise on our 1st half progression and on such small margins are the games against the best clubs won and lost. For the sake of argument I think our scrum more or less had parity, and DC didn't have a great day with his box kicks and some of our kicking out of hand was awry where maybe a more pragmatic approach would have yielded better rewards.

Not to mention Toby Flood put in some shift in the second half, playing some of the most incisive 10 play we have witnessed this season.

However this is a different day, different tensions to test each set of players. We all know Leicester have been here before, with their win on our home turf a few weeks ago will that allow an edge of over confidence to worm its way into their subconscious? I am sure Cockerill will be at pains to stop that, yet the human mind is a funny thing.

The same could be said for us, we didn't play great rugby in the semi final, in addition we didn't rampage to the finishing line like Tigers did – let's hope the players don't have any doubts in their minds. As on Saturday week it will be the team who want it more, who bleed just that little bit more that will gain a crucial advantage. Then it's in the laps of the gods. Fifteen play fifteen and these teams are damned close in terms of skill...

Joe Marler vs Dan Cole :

Cole has been irrepressible of late. Fully showing why he is developing into such a mainstay of the England team. I expect Leicester to start with him and then bring on the immense Castrogiovanni later in the game. No more words need to be written about the quality of that substitution.
Marler has been moving on leaps and bounds, his man of the match performance in the semis cannot help but draw the admiring eye of the coy Mr Lancaster and his handsome assistant Graham. His scrummaging so much a bone of contention early in the season has seemed much improved since his first dalliance with those two. However Quins will need his solidity in the set piece and his dynamism in the loose for a full 80 minutes if they are to match Leicester.

Joe Gray vs George Chuter :

Dan Chuter has been consistently good for such a long time. I think it's fair to say he will never be the blustering force of nature that Brits is for Sarries, but he is dependable and streetwise – qualities Leicester hold in high regard.
Joe Gray freshly back from injury has played a couple of games now, after looking slightly off the pace up in Sale he bounced back with a much improved performance in the semi against Saints. With Mr Barnes again reffing he will need to ensure clean line out ball or Captain Tweet will become a thorn in his side.

James Johnstone vs Marcos Ayerza :

Marcos Ayerza is a thoroughly destructive force in the set piece for Leicester, he also manages to get around and put in some monster hits, and is surprisingly mobile. In his last contest with JJ it was very much an even affair, he seemed to struggle to cope with JJ's initial hit and power, but by the end of the game he had managed to bind in such a way as to limit that impact. One of Leicesters most savvy players and if he gets on top in the scrum, that will turn into penalties as Wayne Barnes has said he normally only looks at the tighthead.

The stark difference in perception of JJ at the beginning of the season to now has been impressive. Once thought of as being a bit of a liability due to giving away pens, either he has adapted his binding or his hit, or referees are starting to understand his impact better. In the past 6 games his impact on the scrum has been huge. He puts in a big hit and many seasoned professionals have struggled with it. If he gets this spot on on Saturday and the ref is happy with the first couple of set pieces, JJ should be one of Quins more potent weapons.

Olle Kohn & George Robson vs Geoff Parling & George Skivington :

With Parling and Skivington bringing such optionality to the Leicester line-out even without Croft it is easy to forget that they are quite light for 2nd row forwards, neither is a conventional beast in the Simon Shaw mould. Parling is a savvy line out operator and Quins in their past couple of matches have shown an inability to trouble opposition line-out. If Leicester get a foothold here they will start to concentrate on snaffling Quins line out ball. Robson, Kohn and co will need to have confidence in their own skills in the set piece and play their own game, if they get rattled and continually go for the safe option Leicester have the players to put them under severe pressure. If that happens, inevitably Quins will try something creative which has a high cost if it goes wrong, i.e. long ball over the top or something similar.

In the loose however the Quins 2nd row have been ticking along, whilst not at the dynamic benchmark they set in the Big Game steal from the Saffas in Black they are still a force around the park. Saints however complained that at the breakdown it always seemed to be Kohn and Robbo flopping on the ball.

Chris Robshaw, Mo Fa'asavalu, & Nick Easter vs Steve Mafi, Craig Newby/Julian Salvi & Thomas Waldrom

Light the gunpowder and step back. These two back rows are ready to blow. Whomever Leicester put at No7 it highlights the depth of their resources, Craig Newby is some talent and in any other team he'd be first choice. However Julian Salvi has been a massive hit this season, an out and out blind side he played excellently against Saracens earlier in the season. Against Quins a month ago he didn't really ever get going, was this due to an off game or was it the hard work of the Quins back row which prevented him from shining? One man who certainly enjoyed himself in that game was Waldrom. Running in a couple of tries and really coming on strong in the final 20 mins as the Quins pack dipped just below their standards for the first half. Traditionally Tigers have been remarkably strong in this area and it just goes to show that even with Croft out injured and Salvi doubtful that they can still field a unit that will compete with the best.

Moving to Quins back row, with the combination of work ethic and impact power contained here this is a back row to be feared by most teams, additionally these 3 have cemented their positions over the latter half of the season since Robshaw came back back from his England adventure and now have a familiarity between them. The only criticism which could be levied at them would be the lack of a true blind side flanker, so far the work ethic and Robshaws indefatigable tackling have ensured that this has not cost the team. The channels that Big Mo and Easter run are very complimentary, one or the other usually being around for the offload, the form of Fa'asavalu winning him a recall to the Samoan squad. Easter in particular has many reasons to put in a heroic shift at the coalface after being targeted for flippancy at the World Cup and subsequently ditched from the 6 Nations, not to mention he isn't getting any younger and this could be one of his last finals.

Danny Care & Nick Evans vs Ben Youngs & George Ford :

I'm prepared to eat humble pie if Flood does appear to be fit, but after all the mind games and media hype of the past week I just can't see it being the triple bluff that people seem to think Cockerill is up to. In George Ford however, Quins only have to worry about a 10 who was integral in the scoring of a try in the semi final and kicked all his points bar one effort against a tough, professional Sarries outfit. Easy! In all seriousness he looks some player. His kicking game seems spot on and he appears as nerveless as Farrell Jnr, his passing game seems slick and he has the youthful adventure which hasn't been knocked out of his game yet by interceptions. The big story with Ford at the moment is that he is being left behind to do conditioning work and bulk up for next season as he is perceived to be a bit slight. As young Heathcote from Bath found out, Big Mo is a Big Unit..., look for a big hit in the opening 15 minutes. His linking with Youngs needs to develop and this may be an area Quins can look to exploit. Youngs himself on his day can be a devastating scrum half, and he has shown signs that he is getting back to his best. His sniping and aggression will be something Quins will have to watch, it will be interesting to see if he is designated by Cockerill to be all over Care in the event Quins get a penalty to stop Care's in roads.
Evans in recent weeks has seemed more back to his old self, and more than a couple of people have theorised that mayhaps he was carrying a knock when we played against Leicester. However in recent weeks the passing has been more fluid and against Saints it was good to see Evans turning on the turbos (such as they are!) and aiming to break the line when gaps appeared. Whilst he works well with Dickson, the same as Leicester he works better with his usual partner in Danny Care. If you ignore the off the pitch travails, Care has had an awesome season, he has sparked off the back of the pack and his interface with Easter gives Quins an additional weapon in the armory.

Jordan Turner-Hall & George Lowe vs Anthony Allen & Manu Tuilagi :

Anthony Allen has had a magnificent end to the season, really hitting form and able to demonstrate his full range of jinking runs and attacking running, nowhere was this more prevalent than against Quins at the Stoop. Stuart Lancaster has rightly called him up and he can still get better. As in so many reviews and so many press releases, he is the surgical implement to Tuilagi's hammer. The artist to Manu's battering ram. The Stan Laurel to Manu's Oliver Hardy. Ad nauseum...
Tuilagi's talents are well known, and he has also matured into a player less likely to leave his defensive position to administer a big hit, this and the development of his offloading game has rounded him out as a player. His skills are well known and he will be a handful, Quins miss their tackles off him at their peril.
JTH and George Lowe are very similar, our Ernie Wise being Lowe and our Eric Morecombe being JTH. In recent weeks something has been amiss with the duos sterling form throughout most of the season. JTH has been being stopped dead when he comes in to break the line, the passes in the game against Leicester were coming to him slow and his run was telegraphed, but in more recent games the passing has been crisper but the result the same. Have teams worked out the main runs that JTH makes? Possibly. Is this a Conor O'Shea gambit where he's been keeping JTH's 3 other lines under wraps til the final? Let's hope so! Lowe on the other hand has been a model of consistency, from his high point of the season probably being the Big Game against Sarries at Wembley, he has been high up on the effort charts and his ability to switch to the wing was also used in the semi. More of the same please Mr Lowe.

Ugo Monye, Tom Williams & Mike Brown vs Alessana Tuilagi, Horacio Agulla & Geordan Murphy :

The Leicester back three are a fantastic combination of power, experience and guile. Defensively they are sound, especially as Tuilagi Snr seems to have curtailed his wanderings from the wing. The devastating power of Tuilagi is something to behold, he takes some stopping on the pitch, fortunately Quins can hark back to the game at the Stoop where he was pretty much under control most of the game, apart from the try which was routine. Agulla goes quietly about his work but has been deeply impressive in Tigers late season surge, so much of what he does seems unflashy, but he is effective and the support lines he runs are similar to Ashtons. Murphy the old campaigner will certainly try to have an influence on this game, even if it's not by his play he will be in the referees ear from the off, and there aren't many more experienced than him at how to put their side across to Mr Barnes.

Quins back three by comparison are relatively short on experience, Ugo apart, and must hope to match up to the 'on paper' superior back three of Leicester. Williams has been playing some damned fine rugby in recent weeks and has probably been our most consistent winger, however with Ugo back from injury I expect him to replace Sam Smith who has struggled a little in recent weeks after an impressive season. The one concern Quins should have is that with regards to the clinicality demonstrated by the Tigers wingers, can we truly say that Williams or Ugo are born finishers? It's a difficult case to make.
However we have the most deadly fullback in the Premiership in Mike Brown who has simply exploded this season, in at least 90% of people's teams of the season, Mr Nasty makes an appearance. Gone is the feistiness that so categorised his early performances for the club, and in its place stands a tempered, exuberant full back, massively confident under the high ball. If the pack fires for Quins then it will be down to the effort of the back three to defend the Leicester counter attack. Game on.

Leicester of course can bring on a wealth of experience and top talent from the bench, Quins will have to be looking to be ahead after 60 minutes or those top quality replacements like Newby, Youngs and Castrogiovanni are going to be difficult to hold back. Quins 15 have demonstrated on numerous occasions that they are 80 minute players, and they in turn have some strength in depth to bring on with players such as Guest and Dickson, but the edge is most definitively with Tigers.

Which brings us to the last individual on the pitch, Barnes will bring his inimitable reffing style, and both teams will have to adapt accordingly with the route he takes to referee. Whilst most disagree that the ref should have an impact on a game, both teams will be in the same boat.

To the neutral, I would imagine Leicester to be the favourites via dint of their experience and on paper it could be argued they are stronger.

Upon HQ's sun drenched turf, if these two teams play to their potential we will have some game. Let's leave it in the hands of those ever present capricious rugby gods and hope for a spectacle suitable to two teams who have both had magnificent seasons. This is the final that should have been, we have the top two teams, and no matter how you feel about the play-offs this is set to be some event.

May the best team win.

COME ON YOU QUINS!!!!!!!