CHAMPIONS! - Harlequins 30 - 23 Leicester Tigers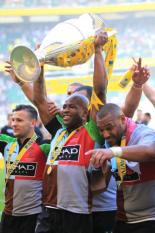 By Alanquin
May 27 2012
In the bright, hot sunshine of summer Harlequins strolled across the road from The Stoop to Twickenham, escorted and followed by a legion of supporters through still more ranked along their route. Later they strolled joyfully and proudly back, similarly supported, but this time as champions of England, having defeated Leicester Tigers 30 -23 in the Aviva Premiership Final.
Between those two events they produced, with a little help from their opponents, a match of skill, endeavour, passion and excitement worthy of the occasion and a true climax to the season. Harlequins started at pace, as they always do. An early penalty for offside allowed Nick Evans to open the scoring in the third minute. Another opportunity saw Evans' kick strike the post and rebound.
Then from a lineout just outside the Tigers' twenty-two the ball fell to Fa'asavalu at the tail and his thrust forward took play towards the Leicester line. Quick ball and an offload from Easter put Robson through towards the Tigers' line. Quick ball again saw Care pass to Brown who passed to Tom Williams for the winger to cross the line for the first try. Evans' kick again hit the post.
Successful penalties for both fly-halves was followed by a miss and then a success from Fordto leave Quins leading 11 – 6. Quins had been playing their fast offloading game, keeping possession when they could and forcing errors from the Tigers. The scrum was not Tigers area of dominance as it has been so often in the past. Marler was rampaging, too, in the loose and generally winning the battle in the scrum.
Then a lost lineout saw the ball fall to Cole who broke through the Harlequins' line and found Mafi to give the flanker a sixty metre run for a try. Ford's conversion gave Leicester the lead for the first time. It lasted for seven minutes, as with just a couple of minutes remaining in the half, a deliberate side entry to slow ball at a ruck gave Quins another penalty and Waldron was shown a yellow card. Evans' kick restored the lead. At half-time Harlequins led 14 – 13.
Quins started the second half against the fourteen men of Leicester with pace and attack. Two penalties for stupid infringements by Tigers, as first Brown was taken out off the ball and then a rolling maul was pulled down, provided Nick Evans two more successful kicks to extend the score to 20 – 13.
Both sides tried to attack, but small errors and infringements led to turning over of possession. A penalty allowed Evans to find touch well into Leicester territory and set up a position for Quins to mount further attack as Williams put Evans into space, but the fly-half , who might have gone the last five metres to the line himself tried to float a pass back to Williams which was intercepted by Agulla and a certain score went begging. In the end it mattered little as Quins continued to attack and a concerted attack with thrusts from Robson and Care took Quins to a couple of metres from the line and as the ball was moved away from the breakdown there was Robshaw to crash over for a try. Evans added the extras for a 27 – 13 lead.
Despite Leicester having replaced their front row the Quins forwards were still dominant is the scrum and after a series of resets, the fourth attempt produced another penalty whuch Evans duly kicked to extend the lead. Fourteen minutes remained on the clock and the memory of Tigers recovery at The Stoop last month was in every mind.. A very quickly taken penalty by Youngs allowed the scrum-half to break through and put Allen in for a try under the posts. Ford added the conversion and when a couple of minutes later he added another three points from a penalty to bring Tigers within a converted score of parity the last ten minutes were tense and immense in endeavour from both sides.
Tigers emptied their bench in a search for fresh energy. For Harlequins, Guest replaced Fa'asavalu. A penalty allowed Tigers to set up an attacking lineout close to the Quins' line. The catch and drive were successfully resisted but a second lineout and a scrum were also stopped. With time passed on the clock a final thrust from Twelvetrees was stopped short and Robshaw was over the ball in a flash to gain the penalty that signalled a victory hard fought and well earned.
After appropriate celebrations they walked back to The Stoop; accompanied by a multitude of Harlequin supporters, to be greeted by another multitude who were waiting to celebrate a famous victory.
Harlequins M Brown; T Williams, G Lowe, J Turner-Hall, U Monye; N Evans (R Clegg, 76), D Care; J Marler, J Gray, J Johnston, O Kohn, G Robson, M Fa'asavalu (T Guest, 72), N Easter, C Robshaw (capt).
Leicester G Murphy (capt); H Agulla (S Hamilton, 73), M Tuilagi, A Allen, A Tuilagi; G Ford (B Twelvetrees, 73), B Youngs; M Ayerza (L Mulipola, 73), G Chuter (T Youngs, 61), D Cole (M Castrogiovanni, 54), G Skivington (G Kitchener, 73), G Parling, S Mafi, T Waldrom, J Salvi.
Referee W Barnes (London)