Paws for Thought: Harlequins 32-12 Leicester Tigers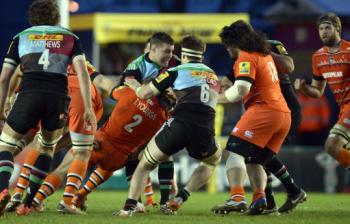 By poorfour
January 11 2015
Lawrence Dallaglio helpfully informed us in the moments before kick-off that the Premiership series between Quins and Tigers then stood at 27-7 to the midlanders, with only one drawn game courtesy of the remarkable finish to Big Game 1. As someone who joined the multi-coloured tribe only in our relegation season, I took beating Leicester as my benchmark of our progress. Until 2011-12 it was something I had never seen; I have now seen well over half of all Quins' victories over Tigers.
That in itself is pause for thought in a frustrating season: although Quins haven't consistently reached the standards we've hoped for, it's a measure of how far they've come that they now approach this game and its Welford Road counterpart knowing they can win.
More than that, we knew even before the teams were announced that this game might well be the measure of our season. Tigers have been a bit below their own lofty standards this term, but came into the game in their customary New Year position, tucked up on the shoulders of the leaders and ready to make a move. Quins, after a strong showing against Leinster home and away, a performance against Saints that might have secured victory against most other sides and an unconvincing bonus point win against London Welsh, needed this win to kickstart the season. Leicester brought a strong 23, with a returning Tom Croft but without the injured Dan Cole. Quins chose this match to bring back several big guns - Marler, Robshaw, Brown, Williams - but were still without Nick Evans. There was much debate before the game about whether Swiel should start ahead of Botica, but against Tigers you want to be sure of your 3-pointers. Don't you?
The Quins that started the game were all too familiar to fans this season. Plenty of ambition to run the ball from deep, but no real penetration to make that running count. Meanwhile, Leicester seemed able to pick good lines at will and quickly converted that to points. A clever angle from Kitchener neatly bisected Robson and Matthews in midfield, and Brown's release was not clear enough to satisfy referee Luke Pearce. Owen Williams duly added the points, and then another when Sinckler's body position in the scrum was so low that he was deemed unable to support himself. 0-6
Botica pulled one back, but Tigers nearly had a try when a chip through from Goneva bounced awkwardly for Brown and was hacked over the tryline by Benjamin; fortunately Yarde was on hand to claim the 22. An offence by George Robson at a lineout gave Williams another shot, which he took tidily, 3-9.
With the scrum under pressure and the lineout also proving unreliable, it looked like it could be another long frustrating afternoon. Then Kyle Sinckler dragged two men into a tackle, and although Leicester looked to have reorganised there was enough of a kink in the line for Easter to make a dent and slyly offload under Tom Youngs' nose to Care, who danced past the other Youngs brother and was carried over the line by his momentum despite a cover tackle by Thompstone. Conor later described it as "out of this world", and you'd be hard pressed to see a better display of power, body position, awareness and skill. Were you watching, Mr Lancaster?
Leicester attacked, again off a scrum penalty against Sinckler, and Williams found another gap between two forwards before offloading to Kitchener, who was stopped within sniffing distance of the tryline by a combination of Care, Monye and Brown. The ball bobbled loose from the ruck, Brown collected it and Care was on hand to receive the offload on the 22 and break into Leicester's half. The ensuing passage of play was inconclusive, notable only for, in order, Ugo collecting a nasty gash on his leg that led to the return of Tom Williams, a rare dropped ball by the otherwise excellent Lowe, another dangerous break by Leicester's forwards and a cracking close-quarters interception by the increasingly impressive Clifford.
A lineout error by Croft (possibly on tilt having been unceremoniously dumped into touch by Lowe - can anyone suggest a player with a higher power to weight ratio?) saw Quins with a lineout deep in the Leicester half. A great take by Easter released Robshaw through the traffic, who offloaded to Robson. The Leicester line firmed up, but under pressure gave away a penalty. On the stroke of half time, a quick tap by Care, offloaded to Yarde, got Quins within 5m, and went first to Hopper and then to Clifford, who sold a dummy to Goneva and barged past Allen to score. Quins ended the half 15-9 up.
The second half began much as the first half had ended. Quins attacked with both venom and precision, ultimately ending with a knock-on just outside Tigers' 5m. Pearce reset a couple of times, but Leicester eventually cleared. Brown ran it back, Botica tried a chip to the corner, Williams kicked to Easter, who passed to Yarde. Tom Williams skipped daintily across the front of the Leicester defence, seemingly mesmerising them into inaction as Yarde ran past. A further penalty for a maul offence took the 50 minute score to 25-9.
Perhaps in going for the points rather than the corner, Cap'n Joe was thinking of Leicester's ability to work their way back into a game. Momentum began to shift with a ruck penalty from Easter (Mr Pearce was clear with his explanation, as he was all game, but at what point was a tackler on his feet in a ruck prohibited from, erm, actually rucking?), that took the score to 25-12.
There followed an extended period of pressure, but no points. I am relying on a somewhat fragmented memory here, because it was at this point that my daughters, having spurned lunch when it was offered, decided to enjoy the delights of Burger Truck, and my Sky+ recording of the game also unaccountably stops here. For the record, Ms Poorfour Major, a budding 6-year old Number 8, enjoyed two truck burgers in quick succession. I am sure Nick Easter (who was spotted scoffing the sausage rolls at the Mighty Quins kids' Christmas party) would approve.
There was a splendid moment on the Quins tryline where Quins splintered a Tigers maul from a 5m lineout, allowing Charlie Matthews to rear up like the Kraken rising from the deep and tackle Ghiraldini, giving Robshaw the chance to earn a penalty. The England Captain showed no ill-effects from his recent enforced break.
From what I can see, the intensity didn't drop away from either side. Both sides played upped their efforts, but moreso in defence than attack, despite Leicester adding Mulipola and Bai to the mix. Quins forced a number of excellent turnovers, but were unable to capitalise. Anyway, for all the pressure Leicester could muster, they failed to add any points. But if they were blunt in attack, they also blunted the Quins attack until, in the final act of the game, Joe Trayfoot made a half-break and offloaded to Mike Brown who in turn drew his man and offloaded to Tim Swiel for the temporary fly-half to shoot over the line for the bonus point.
So what does it all mean? It was our most comfortable win against Leicester in 40 years, but rarely have we faced a Tigers team whose claws remained so easily sheathed. It was yet another excellent performance by Easter, but how bad does the injury list need to be before we see those huge bear paws offloading for England? Our setpiece continued fitfully, but our handling was sound enough to negate the impact. We showed what we can do with the big guns back in harness, but can we do it with them away on Six Nations duty?
Have Quins turned the corner? It's hard to say. Continue to play like this and most teams will struggle in open play - but we won't often face another team so willing to play as well, and a more setpiece-oriented opponent will feed off a steady stream of penalties unless we can get on the right side of the ref.