Quins take max points to relegate London Irish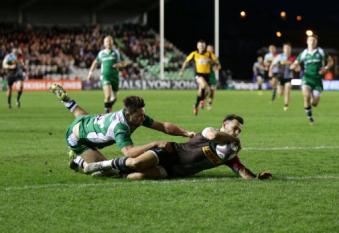 By Bedfordshire Boy
May 5 2016
The penultimate premiership match of the season and still something to play for after Gloucester did us a huge favour on Friday evening by beating Sale although it was a pity that Bath wilted under pressure from Northampton to allow Saints to sneak a one point win at Franklin Gardens. So a five point victory away at Reading against London Irish would move us back into the a top six position whilst condemning Irish to at least one season in the Championship.
Quins showed one change from the advertised line up as Ross Chisholm came in to replace Mike Brown who failed a late fitness test which gave another opportunity for Joe Marchant on the bench. Other Quins absentees from the line up were Marler, Jones, Roberts, Visser and Robshaw but on paper at least, still a team strong enough to beat the Irish despite the fact that they will fighting for their premiership survival. So, perfect weather for a game, great looking pitch and over 9000 attendees, what on earth could go wrong?
Botica kicks off to start the match and it soon becomes very clear that the game plan for Irish was going to be the driving maul. After 10 minutes Tikoratuma was held up in the tackle and Quins were awarded a free kick from the resulting scrum from which Ben Botica kicked what seemed to be a rather aimless kick up field. Irish returned the kick which was well taken by Ross Chisholm just inside the Quins half, the ball found its way to Danny Care who made ground and got the ball to James Horwill who passed to George Lowe in space who slipped the ball to Charlie Walker who set off for the line, scoring in the corner. Botica made the kick at goal look easy leading to a score line of 0 - 7 after nearly 12 minutes. Walker took the ball from the restart and made ground out of the Quins 22 before Nick Easter was penalised leading to a well taken penalty by the Irish number 10 Brophy- Clewes, score line Irish 3, Quins 7 after 13 minutes. How often do you see that in a game, giving away three easy points from a restart? After another 7 or 8 minutes Ben Botica took on the scrum half role for a couple of phases and slipped the ball to Chisholm who made 20 metres cutting through the Irish defence before being brought to ground. The ball was recycled and found its way to Chisholm again who chipped the ball to the corner for Walker to chase. Somehow Walker managed to get hold of the ball despite the efforts of two Irish defenders to get the ball to ground for a well taken individual try, once again Ben Botica made easy work of the conversion from wide out to bring Quins tally to 14 points after 21 minutes. The restart once again found Walker who again played the ball out of defence who got the ball to Twomey, to Lambert, to Care, to Botica, to Horwill then to Winstone Stanley. A long weighted pass to George Lowe who made 20 metres before passing to Marland Yarde who passed the ball inside to Ross Chisholm who ran to the line from 30 metres out to score a brilliant team try less than a minute from the previous score. Botica missed the much simpler conversion and Quins were well on top after 22 minutes, Irish 3, Quins 19. Only one likely result to this game you would think!
The score line certainly gave Irish the spur that they needed as they now produced a sustained period of attack but the Quins defence remained strong and they eventually got the ball clear of danger. From a Quins lineout on the half way line, Joe Gray overthrew the ball which allowed Irish to go back on the attack and are eventually rewarded with a penalty which is kicked to the corner. George Lowe is replaced by Joe Marchant as blood replacement. Tom Guest wins the line out for Irish who set up the drive and Quins are penalised which allows Irish to kick the ball into the corner again 5 metres out. From the resulting line out and rolling maul Quins are again penalised and Jack Clifford is shown a yellow card only for Irish to repeat the performance but this time Luke Narraway goes over for the try. The conversion attempt is wide bringing the score to Irish 8, Quins 19 after 30 minutes. Irish now have all of the momentum and are awarded a 5 metre scrum after Ross Chisholm is forced to carry the ball over the Quins line. While Narraway receives some attention, James Horwill is replaced by Charlie Matthews and somewhere around this time Lowe returns to the pitch. Irish get quick ball from the scrum and Tikorituma stretches to score a well taken second try for Irish which is easily converted by Brophy-Clewes. Score line Irish 15, Quins 19 after 38 minutes, a very costly time for Clifford in the sin bin. Quins win a penalty immediately before half time which Botica easily converts to bring the half time score to Irish 15, Quins 22.
A lively opening to the second half and eight minutes into the second half and Quins win a penalty from a scrum in front of the posts. Care takes a quick penalty and Wallace is eventually pushed into touch by Irish, it is fair to say that there weren`t many Quins supporters around me who didn`t think that Quins should have taken the 3 points on offer. Shortly after, Nick Evans comes on to replace Botica and Tom Guest is replaced for Irish. With Irish pressing, Quins eventually gain possession and Care kicks the ball into Irish territory but the ball runs dead leading to an Irish scrum 30 metres out from the Quins line. Irish are certainly rejuvenated in the second half and as they keep pressing the Quins line, Nick Easter gives away a penalty 5 metres out, pretty easy to guess what Irish would do next. The first line out is illegally repelled by Quins and from the second, David Paice breaks away from the back of the maul to touch down for an Irish score. The conversion points are added by Brophy-Clewes to bring the score level at 22 points each on 57 minutes with the initiative definitely with the home side. Dave Ward, sporting a brand new hairstyle, and Kyle Sinkler replace Joe Gray and Will Collier respectively for Quins. Now it is Quins turn to attack but the Irish line is not troubled and referee J P Doyle brings the game to a halt as Luke Wallace is stretched out, clearly unhappy. Wallace is eventually led off of the pitch to be replaced by Matt Luamanu who takes up the number 6 position with Jack Clifford moving the blindside. The game was restarted with a scrum to Irish and within a few minutes Quins are penalised for offside deep into their own half. Brophy-Clewes adds another 3 points to his tally and for the first time in the match, Irish take the lead much to the delight of the home crowd. Irish 25, Quins 22 with 66 minutes gone. Quins win the ball from the restart and within two minutes the scores are level again when Nick Evans slots home a penalty after Irish are penalised. Quins run the ball out of their own 22 and are soon within Irish territory with some deft handling and a pass from Lowe to Sinkler sees Sinkler crash through one tackle and run in from 30 metres out to score the try of the match. A straightforward conversion by Evans and the score is Irish 25, Quins 32 with 9 minutes left on the clock and Quins have got a try bonus point. Irish respond immediately and set up yet another rolling which takes them 30 metres down the pitch which again leads to another penalty a metre short of the line which is kicked to the corner for a line out 5 metres out. Luckily for Quins, Irish get the ball but then knock on and Quins clear their line.
Quins win a penalty from the scrum which Evans kicks to touch on the 10 metre line, at long last Quins seem to realise that they are going to have to work for a victory. Another penalty to Quins from the line out from which Evans makes another 25 metres and from this line out Quins set up their own rolling maul taking them further and further into Irish territory. Danny Care nudges the ball forward 10 metres out from the Irish line, Irish get the ball to Tikorituma who sets of down the pitch making 50 metres before passing to Lewington who is hauled down and put into touch by a tackle from Ross Chisholm aided by Marland Yarde. Quins win the line out and hang onto the ball to see the clock run down, wait a minute, they don`t do that at all as Care kicks long to give possession back to the Irish who immediately run the ball back. Fortunately the attack breaks down and a loose forward pass sees the ball going into touch. Quins opt for the scrum with a minute left on the clock and are awarded a penalty when they shove the Irish pack backwards. Nick Evans makes absolutely sure of the kick to touch and from the line out the ball is passed back to Danny Care who walks off of the pitch ball in hand to bring the match to a close.
It is fair to say that if Irish had managed to put in a performance like that in a few more of their matches then they most likely would have avoided being relegated, but they are where they are and will have to scrap it out in the Championship for at least one season. I thought that Tikorituma put in a very impressive display, certainly far far better than he ever managed in a Quins shirt
The Quins performance just about sums up the season, brilliant at times but too often reverting to uninspiring and lack lustre play, I have seen far too much of these Jekyll and Hyde performances during my 20 years of visiting The Stoop. I thought it was another impressive game by Lambert and the difference that Adam Jones is making to Colliers and Sinklers scrummaging is clear to see. The scrum was very strong and surprisingly, I think we only lost one of our line outs. George Lowe continues to impress as does Ross Chisholm and poor old Marland is everywhere on the pitch for very little reward. Winston Stanley had a good match and Charlie Walker showed yet again what a lethal finisher he can be.
So. two massive matches to go before we can all take a summer break and with Exeter Chiefs requiring a win to secure a second place finish in the Premiership and Quins looking to secure a guaranteed European Championship place next year, the next game should be a spectacle. That will be followed by the icing on the cake as we all head to Lyon to see if Quins can finish the season on a high and return home with the European Challenge Cup.
View a Printer Friendly version of this Story.
Quins take max points to relegate London Irish
ComeAllWithin.co.uk (IP Logged)
05/05/2016 15:16
What do you think? You can have your say by posting below.
If you do not already have an account
Click here to Register
.
Re: Quins take max points to relegate London Irish
06/05/2016 18:03
Thanks BB......roller coaster or what? There will soon be signs outside Quins matches warning us that this match is not suitable for those with heart conditions, high blood pressure, pregnant women etc and the management accept no liability for any medical distress caused.
Sorry, only registered users may post in this forum.