Exeter Match Report: Baxter basics with the Fat Controller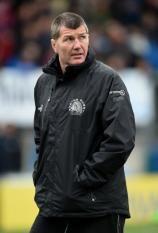 By gregory p
May 10 2016
We interrupt this rugby report to bring you an early season cricket result: Exeter hit briskly to declare on 62 for none and Harlequins were bowled out for 24 with the Exeter bowling attack prospering, in particular the Cornish pace bowler Nowell bagging a hat trick with two wickets for his pace bowling partner James Short. Cripes!!!! [Ed: other expletives are NOT available] What sport were we watching there then? Who saw that coming? Not Nostradamus, not Arthur C Clarke, not Mystic Meg; surely not even the bravest, most gung ho Chiefs fan? [Ed: historical note, Gung Ho was the Sioux chief from 1887-93 in the Utah reservation]. I've been a season ticket holder since 2000 and a regular spectator since 1997/8 and that's the biggest, mightiest and most ruthless shellacking I've seen handed out at the Stoop – and that includes Deano shouting at ruddy refs.
First things first: well played Chiefs – that was muscular, committed, determined, skilful and downright unforgiving, unsentimental rugby. The score board didn't lie and you were just better all over the pitch. I reckon the Exe side would have been improved by Danny Care (first half only) and Chris Robshaw from Quins; after that, forget it. It really was that dominant a display. Quins were given a lesson in Baxter basics rugby: win the ball, look after it, cut out your mistakes, take your chances and hound the oppo mercilessly and continually. All of this was led by Tom Waldrom up front – forget the Tank Engine tag – he's the Fat Controller and ran the show between the big guys. He may look like the unlikely three way love child of Billy Bunter, Andy Ripley and Mark Williams from the Fast Show [This week….. I will mostly be dismantling Quins]; behind the scrum it was ironic that the best distributors didn't have DHL on their shirts – Steenson and Slade (who sound like they should be Cockney scrap metal dealers) fired out a series of passes and kicks that would put UPS to shame. They flippin' murdered us.

Second things a very distant second: Robshaw aside, we were awful and at 50 minutes in the white flag went up.

The day had started well enough: brilliant weather, a rowdy full house, lots of vocal visitors, cold beer, Flats wandering around and giving us a big "hello", a buzz of expectancy, a farewell to Conor, our old mate Barnsey in charge and – to lighten the mood – Statler and Waldorf from the Muppet Show as touch judges. We looked sharp for the first four minutes as Brownie made inroads from the kick off: we probed, recycled, Danny fizzed and darted, and Exe were strectched. Exe decided to ignore the off side law and luckily for them so did Barnesy. In the end a "crowd sourced" decision saw Wayne finally stick his arm up for an offside penalty that Nev stroked over and at four minutes in we were 3-0 up and Exe hadn't sniffed the ball. That was as good as it got.

We made a hash of the restart – it was a sign of things to come – as was Brownie and Chis not being on the same wavelength on the counter. I suppose you could forgive Chis: he's within his rights not to expect the pass from Brownie. After an aimless punt downfield Nowell scythed the ball back at us. Slade in support was collared but the speed of recycling and speed of movement of the ball created the space on the east stand side for James Short – what a season he's having – to barrel over with the finish of a man in form. Mercifully for us Steenson was slightly out of sorts from the tee - it could have been close to three figures had he added the extras every time – and 3-5 it was with 10 minutes gone. Our restart wasn't great and Steenson punted long to put Yarde under pressure to concede the throw in our 22. We pulled down the line out and another line out maul nearer the red zone generated yet more pressure. Rather than the predictable roll, Exe shipped out some quick ball this time Nowell being on the end of scoring pass following massive pressure. He took it well with Stanley on his back as he went over. I suddenly had a David Attenborough moment: with both of them being shortarses in bash hats it looked like two giant turtles violently mating. Steenson - maybe with that painful image in mind too – couldn't add the extras and at 13 minutes gone we were not at the races at 3-10.

Nev put the restart out on the full and from the scrum the Chiefs put up their tee-pees in our 22 again. We defended the first two rolling mauls well – serious credit to Merrick – but Waldrom sped off the back of maul number three and created big holes in midfield. The Exe braves launched a series of drives and it was one too many as Ewers sitting-bull dozered over for try three at 22 minutes gone. It was close enough to the posts for Steenson to find his range. Hmmm….3-17…..time for Exe to relax? Quins routinely let the oppo into the game from this sort of position. How accommodating were our guests going to be? Not very.

As it was, Quins found the on switch at last. From the kick off Chis burgled the ball and sped through. The supporting Robshaw was felled agonisingly close to the line. The pressure continued and saw Danny just held up by Nowell – he can do it at both ends of the pitch. Maybe Barnsey and the TMO were unsympathetic but Danny and Jack had a bit of good natured banter about it all. From the resulting scrum to Quins, Minty knocked on. While Exe cleared their lines the respite was temporary as Yarde and Roberts did their best to carve holes in the Exe defence. Committed defence – I reckon Waldrom was putting in one in three of the tackles - and a knock on in contact from Robshaw finally saw Exe back into the Quins half. We should have registered some points and with hindsight that was a key passage of play. We got back into the Exe 22 though when Danny made a very sharp break – he was having a good game despite the scoreboard – but again Exe were absolutely committed in defence.

While the score board operator had a well earned break, on the field it was compellingly exciting stuff and hugely entertaining with both sides looking to play from almost anywhere on the pitch. With the war cry going up I half expected to see smoke rings above the south stand, and at last we were matching Exe in the defensive commitment stakes and had circled the wagons well. Ironically our best rugby followed an awful clearance from Yarde – it was catching practice for Nowell who thundered it back at us. Only a holding on penalty in our favour relieved the pressure. With the clock edging to 40 minutes Nev found touch on half way. Win it; hoof it out; get in the dressing room and regroup; I know my rugby. What did we do? We scored off first phase ball! Slick line out ball; laser pass from DC; huge cut out pass from Nev to generate the space; Yarde blisters away at speed; Brownie in support and looking inside for DC who scorched in. Nev added the extras and remarkably it was 10-17, half time and game on.

And yet….the early concession of a penalty saw Exe back in Quins territory immediately after the restart. For a few moments it resembled a wrestling match in Quins 22 but with the cover sucked in Exe called it wide and Nowell had what looked like a training ground run round from an overlap move. It was simple very effective rugby, giving Exe a bonus point, and a 10-22 lead as Steenson's sat nav continued to play up……and still 35 minutes to play. Quins to their credit still tried to match Exe with Brown and – good to see finally – Stanley showing some serious class. Most of the rugby – just from Exe's remorseless pressure – was being played in our half. We lost it in contact and Waldrom hovered it up, and some swift hands saw James Short with a rapid run in – and boy can he run, he has calf muscles like Rudolf Nureyev. The covering tackles – which didn't quite nail Short – came from Lambert and Sinckler. Hmmmm…. maybe that was a sign of who was still giving it 100% out there? Steenson, and by now he'd had plenty of chance to find his range, added the two points. With still half an hour to play it was 10-29.

Bot then showed he could match Nev by hitting the restart out on the full. Moments later the long, languid left boot of Slade – I can now see what the England selectors can see – parked us back in our 22. Cowan-Dickie (mercifully free of that God-awful barnet, although he seems to have sold it to one of the Exe props) made big holes in the Quins defence. Again, reading the play well, Chudley and Steenson sent it wide where Nowell said thanks for the hat trick lads and Steenson made it 10-36. Nowell went off at that point, but frankly he needn't have been replaced as 14 men would have seen the game out. It was an England class display and showed Yarde just what he needs to do to get a white shirt.

Don't look away though: from the kick off Yarde burgled the ball, off loaded swiftly and the winger who happens to wear a prop's shirt otherwise known as Kyle Usain-Sinckler, powered in. Barnesy had a look at the basket ball bounce on the touch down but gave us the points and 17-36 it was with still 24 minutes to play, Hey, we can win this……….aw come on, some of you must have had the same thought.

Don't look away though….part 2: Stanley made great ground from the kick off and Brownie in support got nobbled at the break down. From the scrum Steenson went down the narrower side – who said he can only kick – and slipped out a very classy pass to Dolman. Dolman shimmied and showed and simply glided through a gap for another five, as Tom Waldrom hissed "oooohhhh,,,,suits you sir". Steenson – it was just a training session now – nailed the extras and the scoreboard found top gear and clicked over to 17-43 on the hour.

The highlight of the half…….no the season……followed. Yarde got pinged for hitting the receiver in the air from kick off. Steenson sent it long and high…it swirled wickedly…the sun was blinding….it span…..it ducked viciously…..and there in the west stand with only the slightest of juggles was old Mr Sticky Hands himself – yes, me - I caught the ball and I called the mark! All of this and no beer spilt! No smudges on my notes. You may applaud wildly, and Conor where's my contract?

The respite was brief. Exe demolished our scrum in the 22 – they could have put up hoardings and safety notices it was that brutal – and as surely as the penalty to the corner was followed by the maul, was followed by massive pressure, holes appeared. Chudley was the beneficiary this time as he muscularly found the white wash at basement level in front of the posts: more extras and more pain to make it 17-50.

The respite was then non-existent: we kicked off, Slade carved the holes this time and span out passes that created more space than a distant galaxy. He got on the end of the move and strolled over. We'd turned into the invisible men. Steenson did at least miss but with 13 minutes still to go it was 17-55 and men against boys. In mini-rugby, the ref would have called time and suggested the bar as a better option. And yet, we still looked for the Exe try line. The fresh legs of Marchant – and he is a great prospect isn't he – found some space as the heat took its toll. Robshaw took it on with a storming run and Stanley took the off load to dart into the corner. Botica added the conversion and 24-55 still gave us the chance of a four try bonus point. Robshaw….. God knows how many we'd have conceded had he not put in another shift? Maybe he's related to Hercules and the thirteenth – but unrecorded - labour was shoring up an uninterested Quins side? Unlucky for some, eh?

The respite was then over in a nano-second: from the restart it looked like an Exe knock on that Salvi hoovered up from and offside position. The Quins defence adopted the traffic cop wave through and he trotted in. Barnsey looked at it on the screen but by then he may as well have been watching "Homes under the Hammer" for all we cared: "This week we're looking at complete wreck in the Twickenham area but with new owners and some fresh ideas who knows how it could turn out". The Quins players simply trooped off to the half way line and didn't bother with a charge down. At 74 minutes the scoreboard read 24-62 and was turned off to stop it over heating. Not even the prospect of the end of season wave off and the chance to cheer Conor prevented the stands emptying faster than Jack Nowell in space.

We huffed and we puffed looking for the bonus point, and Matt Luamanu maybe dropped the ball over the line or was held up; but Exe showed the mark of a good side and simply refused to let us through: a bonus point over our dead bodies, it really would have been taking the …... A not releasing penalty against us finally released us from our scrumpy induced nightmare. We collected our wits, waved off the guys and waved off Conor …… but with less enthusiasm than we'd hoped. In fairness the Quins crowd gave Exeter a big, big round of applause – it was deserved. The Exe players then went and pow-wowed with the braves in the south stand – they're both a credit to a well run club.

Crikey [Ed: other expletives are still not available]: it's hard to put this performance into context: it epitomises the massively inconsistent nature of the season. Did it matter? Not after about 50 minutes it seems? At that point Conor started emptying the bench with a view to Friday and maybe the guys on the pitch decided that they'd save the heroics for Lyon. Let's hope they have, as it's close to a home game for Montpellier. A warm evening against a jaded Quins side may just suit them, and the Montpellier forwards may just be in the mood for some how's yer father. [Ed: that's "comment ca va, ton pere?", then]. That's not the epitaph Conor deserves and the players owe him big time now…..really, really big time. That last thirty was not good.

Speaking of Conor, this is not the send off any of us wanted or he deserves. An extended discussion of his time at Quins belongs elsewhere, but from where I'm sat he's done his job openly, honestly, engagingly, cheerfully, giving an absolute commitment and to the best of his ability. That's all we can rightly ask of him, surely? Coaches get too much blame when it goes wrong and too much praise when it goes right; but, by any reasonable standard his record – within the constraints of the club budget, recruitment policy and the salary cap (which we know is a pretty flexible concept for some out there) - has been very good. Most DORs (and most fans) would take it any day of the week. What a coach must do is make his players play better as a team, as a collective, than their individual potential suggests. The 2012 side played a great brand of rugby, entertained us royally and the collective achievement way exceeded the individual potential. Conor and his team added value massively. Yes, they've not repeated that but I've seen enough in every following season – including this season – to make me think that he's still looking to add that value. He leaves the club – and English rugby - in a better place than he found it. For that, thank you very much Conor, it's been great to have you. May you, your family and Italian rugby prosper. From a club with the motto Nunquam Dormio, I can only say Nunc dimittis……now let our servant depart in peace.