Golden Years – 1992 Style – Part 1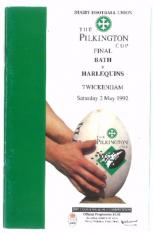 By gregory p
August 12 2016
DOK in his plea for "frustrated writers" got it half right: I'm very frustrated. However, the front page has died so I thought I should help. I think my "Baxter Basics" headline outlived its natural life about thirty seconds after it was posted.
I was wandering around the Pannier Market in Tavistock on a quiet Tuesday afternoon [Ed: every Tuesday in Tavi is quiet!] in the depths of this winter when I found a stall selling medals, stamps and other collectibles. For our younger riders a market is a bit like Ebay but with real people and slightly less chance of being ripped off. The Pannier Market is wonderful: I came away with a second hand Jackson Brown CD, an Arthur Ransome book, some bottled peppers, boil in the bag artisan risotto, and a budget bag of "cat treats". All human needs sorted.

The collectible stall was run by a Bath season ticket holder, apart from which he was a very nice guy. It being a quiet afternoon, we had time for a long old chat about our clubs' respective fortunes (not good as it happened) and rugby in general. Outside of London strangers can strike up a conversation without one of them invoking the Mental Health Act. My Bath fan also sold me, and it's cash only in the Pannier Market, a programme for the 1992 Pilkington Cup Final between Quins and Bath. It was two quid well spent. The game was the middle of three consecutive cup final appearances for Quins in what was something of a golden era for English rugby.

Even allowing for magenta tinged nostalgia it was a golden era for Quins too: the Quins squad provided eight players in the 1991 World Cup Final when England were beaten only by their odd tactical switch to run the ball, when they were one of the best "up yer jumper" sides ever; and by the "Hand of Odd"………David Campese got away with a deliberate knock on that stopped what looked like a try scoring pass. These days it would be instant yellow…in those days it was a penalty and a finger wagging at worst. I've just about got over it.

Quins were personified by the England captain, Will Carling. He epitomised the City Slicker reputation of the club - there's no cliché like an old cliché. Will was a very talented centre and, between his England commitments and alleged extra-curricular activity with you know who, helped Quins to three consecutive cup finals in 1991, 92 and 93. Incidentally, Will Carling and the England manager of that era Geoff Cooke were instrumental in transforming English rugby and they deserve a good write up from history.

We won the first of the finals against Northampton, in extra time, and lost the last to a Leicester side on the up. The middle game was probably the most dramatic with Quins losing out to an extra time drop goal from the board's favourite "Panto" villain, Stuart Barnes. There's 20 minutes of game highlights – albeit savagely edited, apparently by a trainee pork butcher – out there on Youtube and it's worth a look. It looked a storming game and with that many internationals on the pitch it was played at a Test pace even if fatigue got to skill levels in the end. It's beyond me to do a link to it but DOK may put one in? Youtube Video

The programme cover is reproduced here. It was definitely type-set pre-modern digital printing. The cover looks like the RFU's work experience trainee has had a go with "Letraset"……still, it captures the fading amateur ethos. This time was probably the high water mark of "Shamateurism" – the programme lists three Bath players working for "Johnston's News" and two for Robson Taylor accountants. Generous local employers did their bit for clubs to accommodate good but trade/profession-less players. Jeremy Guscott is listed as working in publicity for British Gas. The cynics out there – and not me, of course – may think not that much has changed as he still works in publicity but for Jeremy Guscott Limited. Ironically some of the City based Quins players probably had a harder time juggling careers with the increasing demands of the game.

Quins boasted 7 internationals, and were coached by Dick Best, and for Bath 14 of the 15 starters were or became internationals. Bath were coached by Jack Rowell and Brian Ashton. Crikey: the coaching pedigree on view was mightily impressive, let alone the players. Some posters may have their own Dick Best stories, and some may even be printable. Geoff Cooke used Dick on his coaching team for England. His record for England was played 17, won 13, drawn 2 and lost 2. The two he lost were by a point apiece……….and, even allowing for the fact that Dick was probably a founder member and chairman of the "Awkward Squad", they somehow contrived to sack him? I think only Eddie Jones can have a better record, and surely that can't last (as much as I want it to!)? Dick (with a win ratio of 76%) was replaced by Jack Rowell, who had a win ration of 72%, and he in turn was replaced by the saintly Clive Woodward, who clocked in at 71%. I know stats can be meaningless out of context but Clive was given the luxury of time and one World Cup misfire in 1999 before he achieved greatness.

Brian Ashton too felt the wrong end of a misguided committee [Ed: they're the only sort] and having taken an unremarkable England side to the 2007 World Cup Final he was promptly axed. Jack Rowell's record at Bath was nothing short of stunning: eight cups and five league wins in about 16 seasons. That sort of record got Alex Ferguson a knighthood in the other game – you know, that one where, unlike rugby, the Welsh are actually quite good. Inevitably he found his way into an England coaching track suit. At times he was another graduate of the Richard Cockerill charm school but Jack was a very smart and successful guy: he juggled a senior job in the Mars Group of companies (and sat on plc boards) with assembling and coaching a Bath squad that really did justify that overused adjective of "stellar". Most senior squads in English rugby were more "Stella" at the time. He was reputed to growl at his England returnees to Bath training, when they dropped a ball or messed up a drill: "That might be good enough for England, but it's not good enough for Bath". He too felt the wrong end (and at times it seems the only end) of the RFU's committees when he departed from the England job.

The teams' respective paths to the finals make interesting reading. Quins – mercifully – didn't have to travel far. We still got nose bleeds outside the M25. Away from home we saw off Bedford, Wasps and Rosslyn Park, and then won a home semi final against Leicester. Bath had two, no doubt feisty and fisty, local derbies – both away – to Bristol and Gloucester to get them to HQ. How times change: what do Clifton, Fylde, Tynedale, Lydney, Manchester, Wigton, Ruislip, Camborne, Thurrock and High Wycombe have in common? They all featured in third round matches mixing it with the big boys. These days you'd get a bonus point for finding Wigton. Orrell, who now play in Alpha-Centauri Five (North), they are that far off the radar, managed to get to the quarter finals. I blame Bob Hiller for describing them as the club that "play in a lay-by off the M6".

Twickenham was being redeveloped and had a capacity of about 53,000. For £2,100 plus VAT you could buy an East Stand debenture and guarantee a ticket for 10 years....hmm £240 a year to buy a seat still sounds quite punchy. Bath's support meant that it was full and a sea of white, blue and black. I'm not sure how many Quins fans showed up, but, to nick a good line from Bob Hiller, it was easier to announce the Quins crowd changes to the team rather than the other way round. One of the big achievements of the club – and Mark Evans must take the lion's share of the credit for doing so – is building a fan base in south west London so quickly. Back in 1992 Northampton, Leicester, Gloucester and Bath drew crowds that would be recognisable today but the rest of us played before very discerning but select audiences.

The crowd were treated to a curtain raiser, with England Under 21 taking on the French Armed Forces, and that sounds like the England lads deserved a medal just for turning up. That side featured Keiran Bracken at scrum half, Paul Grayson (then at Preston Grasshoppers) at fly half and Matt Dawson wearing the 13 shirt. Our own Tofty – then playing for Rugby Lions – was at full back. Richard Cockerill, then of Coventry was hooker, and Leicester's Graham Rowntree at prop. Mark "Ronnie" Regan was on the bench.

The England side came from 14 different clubs with only Wakefield providing two players. One of them was John Sleightholme who went on to play for Bath, Northampton and England. The rest of the side does not register with me at all which shows either a massive attrition rate between young and fully developed talent; or the French Armed Forces didn't take prisoners. In truth, English talent was spread thinly between many clubs and these days the concentration of talent into fewer big clubs makes the selection and development process that much more scientific.

The only name that I recognise from the French side is Sebastian Viars at full back. He went on to play for Brive – and scored against Leicester in a European Cup Final – and for France. I suspect a cursory look at Marseilles' police's "most wanted" list would now account for most of the French forwards. There were stories that French sides occasionally recruited from the Marseilles water front mafia. It was in fact the other way round with the mafia eyeing up the French pack each year to see who'd do a job for them. Marc Cecillon – who played flanker for France – even managed to shoot his wife.
The game itself? That will follow in part 2......to be continued shortly.