Golden Years – 1992 Style Part 2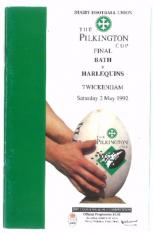 By gregory p
September 2 2016
The final had two sub-plots. Simon Halliday playing centre for Quins had committed the mortal sin of leaving Bath…..and for the hated Quins too. He'd taken a job in the City – maybe Johnston's News wasn't quite the career he had in mind – but pursuing a life outside of rugby earned him the wrath of the poison dwarf, Stuart Barnes, in particular.
The second sub-plot was caused by a Quins position specific injury crisis. We still have them – like Jessee from the Fast Show we announce: "This season we shall mostly be crocking our 'ookers". The second row had taken a pounding in 91/92. Neil Edwards – a Scotland lock – was a late cry on and Paul Ackford, who'd retired in November 1991 had to be begged to play as the cupboard was otherwise as bare as London Irish's trophy cabinet. The Wednesday before the final he'd turned out for Clapham nick in a Met Police game and no doubt had a night on the beer to follow, and maybe a Ruby Murray thrown in too?
Pre-match thinking was that the Bath pack, led by Old Smiler himself, Andy Robinson, had too much fire-power for Quins – the shortage of locks along with Micky Skinner and the late Richard Langhorn also being crook seemed compelling. The Bath pack was as hard, dirty and as "get the job done" as sackful of spanners. Graham Dawe in their front row carried on playing league rugby for Plymouth Albion until he was 50…..and he was the soft one. Dawe was a Devon farmer and loses nothing in comparison to other West Country farmer front rowers like John Pullin and Stack Stevens. The Bath pack consisted of four internationals at the time and four others that went on to be capped. That said, Quins lined up Winterbottom, Sheasby, Ackford and Edwards as internationals with Pit Bull snarling in the front row. Jason Leonard had played in some of the earlier rounds but presumably was injured too as he didn't feature on the bench. It was never going to be a mismatch if Quins were in the mood.
Quins were indeed in the mood and set the pace for the game, taking it to the Bath pack, dominating the line out and driving mauls with the steepling Ackford belying his lack of match fitness. David Pears –and he looked a class player and was probably unlucky not to collect more England caps - hit a three pointer to open the scoring. The penalty came following a Carling burst – he really made good ground all game – with Guscott interfering with the release of the ball from the resulting ruck. It would get a serious finger wagging if not a yellow these days, but Guscott was happy to concede only three.
Quins crossed the white wash first with Winterbottom getting on the end of rolling maul. Pears set up the line out with a tantalising kick that the Bath and England full back, Jon Webb, had to clear hurriedly. Despite some seriously hooky looking attempts to pull down the maul, Quins rolled it over ominously for what was only Winterbottom's second try for Quins in 50 matches. Fred Howard the ref had no "upstairs" to go to but had no hesitation in awarding the score. The lack of TMO meant that it was still light when the game finished, even with the extra time that was needed. From the old footage the rolling mauls seem to be much less disciplined than they are now. In fact they look as wild as hill-billy's beard. I suspect pulling down didn't get picked up too often either.
The game was also pre-lifting – the legalised version, anyway - in the line outs and they resembled not much more than a saloon brawl from the Wild West. I half expected to see Chris Sheasby clobber his opposite number, the stylish Ben Clarke, with a special effects balsa wood chair. Scrum halves really earned their living clearing up all sorts of tapped back filth – Danny Care should be sponsored by Parker Knoll given the armchair ride that he regularly gets. [Ed: you aren't by any chance an embittered ex-scrum half then?].
Pears hit the conversion to make it 9-0 to Quins with the try being worth only 4 points. The highlights don't give the viewer much in the way of timing but near half time Jon Webb replied with a long penalty for Bath. Barnes had a fair old boot on him too, but Webb was England's preferred kicker and knew his way around Twickenham and was a big contributor to England's grand slam that season. The half ended with a fair old talking to for the Bath wing Jim Fallon, given following another cracking break from Carling, who looked the class act that he was – he'd walk into any Premiership side.. The commentator Nigel Starmer Smith – an ex-Quin – expressed his surprise that it wasn't sterner. The highlights don't show the offence but it was some form of retaliation. Either way Quins took the three points on offer through Pears and 12-3 it stood at half time.
Quins – showing that giving away soft penalties at daft times is not a new invention – conceded a soft penalty immediately after half time. Webb hit another long straight kick that he made look easy making it game on at 12-6 but with Quins having dominated more than the score suggested.
It's difficult to gauge who looked the better side in the second half as the highlights start to get as disjointed as one of those hand held slasher movies. What is clear is that the Quins backs gave away field position too often with duff passing – along the ground or to men that weren't there. I can only conclude that this was the momentous debut of our old friend Harvey the Invisible Winger. He's put in some game time for Quins over the years, hasn't he? To their credit Bath pressed well and didn't slip off many tackles, if any, and only last ditch clearances from Carling and Mike Wedderburn kept Bath off the score sheet.
There is an interesting incident in the second half where Fallon blatantly knocks on in his own 22 – with the ref missing it - but hoofs the ball down field and very nearly wins the kick-chase. These days skip would be asking the ref to go to the TMO for a re-wind. Maybe the TMO is worth it after all?
What is clear that as the game lengthened Bath looked fitter and more likely to nick it and deserve credit for staying in the game – I suspect Jack Rowell taught Alex Ferguson all about the hair drier which is a fair old motivator, isn't it? Following an extended period of pressure in the Quins 22, Quins gave away a penalty under the posts. Fred Howard played the advantage and Richard Hill – at scrum half for Bath, and ex-Quins coach – found Phil de Glanville with a three and half on two. Jon Webb got in the way a little but de Glanville hustled his way over for a well taken four points. The conversion was not easy but with only 10 minutes to go to full time Webb nailed it nervelessly –he reckoned it was one of the best pressure kicks he'd ever hit. It stayed at 12 each as Fred Howard signalled 80 minutes gone with Wedderburn scrambling the ball into touch again.
Extra time followed with 10 minutes each way. Had the scores remained level then any "count back" of tries scored would also have been level and the trophy would have been shared: that's unthinkable in this Sky driven results world.
Quins rallied well in extra time and seemed to find some extra stamina and motivation. A rolling maul for Quins was blatantly pulled down by Bath – the Bath pack could have been wearing hard hats and day-glo jackets with "Rowell Demolition" on them. It makes me wonder whether it was an offence then?
After that initial burst the Bath fitness began to show and Ackford in particular was just walking through treacle. As the clock ticked down both sides realised that a drop goal was more likely than a try to settle the game. We were treated to a selection of drop goal attempts that put me in mind of those half time kicking contests to give away a shirt – you know, the one's where fat blokes in hiking boots show that they couldn't hit a cow's arse at five paces. Guscott – a man who nailed a sublime drop goal to win a Lions v South Africa series in 1997 – was the first to miss. Challinor – though it's not shown on the highlights – tried a drop and David Pears then hit three, each one worsening in quality. At the end he's so bad he begins to resemble Nev….nothing new is there?
With only 20 seconds left Jon Webb won a kick tennis contest booming a huge hit into Quins 22. Quins clearance wasn't that long. Bath called a 2 man line out – that was a gutsy call as I'd have thought Bath would have wanted to tie in as many players to the line out as they could to clear space for the drop kicker? What do I know? Nada. Ollie Redman took a virtually uncontested line out ball and fired it straight to Richard Hill who bulleted it to Barnes. Seemingly without even looking at the posts Barnes hit it immediately and instinctively. While it didn't get classically high – like one of Wilko's best – it found the middle the middle of the posts with something to spare, at nearly 40 metres. It was a brilliant piece of footballing skill from a very talented – if inconsistent – player. For the Bath fan and neutrals it was riveting theatre. For Quins…..it was like nearly finishing a marathon but being flattened by an articulated lorry 20 metres short of the finish line. Ackford in particular looked like a heavy weight boxer being led back to his corner after taking one too many head shots. The Bath crowd – with a league and cup double to celebrate - swarmed onto the pitch as Fred Howard blew up.
Apparently in the aftermath Barnes stuck his head around the Quins changing room door and said to Halliday – the turncoat – "I did that one for you mate!". Said with a cheeky grin? Or, said with some spite……you the jury must decide.
It's reassuring to see that some posters were at the game –even if the memories have not improved with time. The club ought to negotiate a discounted rate with a trauma therapist for us as part of the season ticket deal……Landergate, Bloodgate, Boticagate I and Boticagate II – they keep coming don't they!
Feel free to put right factual inaccuracies as I'm working only from second hand material. In reply to ChipsteadQuin, I can only assume Barnsey wore a bigger shirt to allow some expansion room for his already ample frame if he felt in a gourmet mood at half time.