Not waving but drowning - Harlequins vs Bristol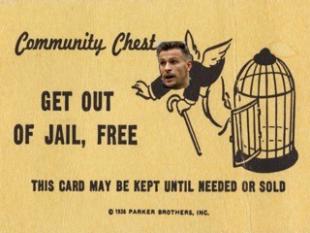 By mighty_quin
September 5 2016
We've all seen the result so firstly let's apply the gloss that DOK asked for. Harlequins picked up 4 out of 5 points available on the opening weekend of the Premiership. We have a 100% percent record, and we conceded just 6 penalties.
Without any intention of disrespecting the opposition, before the game when looking at both squads, who can honestly say they would have welcomed any of the Bristol players into ours as a like for like replacement? What about their coaching team?

I'll admit to being one of those who thought Bristol's return to the Premiership would be difficult for them. I'll also admit to being one of those who were counting the tries and points they'd concede ahead of the game. I hadn't counted on the wettest day since the end of the season, but when it arrived I brushed it off thinking "they're professionals, they'll cope". Oh how I was wrong!

Very early on the signs were promising. Harlequins swept up the field after kick off and 3 quick penalties signalled the first time off and warning from Luke Pearce to Jack Lam. Bristol weathered the storm as the heavens opened and a 10-minute period of @#$%&-for-tat kicking led to Bristol's first foray into the Quins' 22. The atmosphere was muted to stay the least, that is until Danny Care took a trademark quick tap and flung a trademark speculative but ridiculous pass out wide. Varndell intercepted, strolled casually under the posts for the opening score and Bristol fans enthusiastically cheered their dream start to life back at the top table. Andy Robinson broke out into his first ever smile, and it felt like the world had been turned upside down.

Poor kick off receipt drills from Bristol led to the opening Harlequins score, after another penalty. A big talking point of the afternoon came with Joe Marler clattering into Gavin Henson a whole 0.35 seconds after he'd kicked the ball – hugely late and very nasty, apparently. The referee, who had a clear view, the ARs and the TMO all decided there was nothing to look at, and we thought that would be the end of it.

Harlequins looked like they were thinking about half time at this point, and Ross Chisholm duly served up a pie when he sliced a horrible shank of a kick into Will Cliff's arms. He compounded the error by leaving a gap big enough for an oil tanker in the defensive line, and Bristol were in for their next score after Pisi chugged his way over.

After the conversion Big Gav departed the stage early with a dead leg, which was a shame if you were a neutral, devastating if you were a Brizzler, and ever so slightly more promising if you were a Quins fan. He looked in good nick with some nice delicate touches, and the Premiership will be a good platform for him. I'm looking forward to seeing him play more and play well in future weeks.

I'd like to say that Quins came alive before halftime, but in truth I still don't know how it happened. In the 34th minute Marland Yarde coughed up possession lamely in midfield. Quins were pushed back into their 22 and then began a passage of play involving 3 penalties against Bristol between minutes 35 and 37, a well worked rolling maul try for Yarde, dissent from Jordan Crane (who gave 5 individual penalties away in 69 minutes) and a penalty restart for Quins. It was slightly puzzling just how far Bristol would need to go before being punished further by the referee. A very contentious pass from Yarde to Marchant led to Quins getting over the line for the second time in 3 minutes. After (scant) review from the TMO, reportedly unclear pictures, and decisive communication from the referee, the try was given. For my money it was forward, but having allowed that to play on the finish from Marchant and his step around the fullback was sublime.

At 15-14 to the home side, both teams emerged for the second half on to an even more sodden Twickenham turf. With 60 seconds gone Ryan Edwards on the Bristol wing kicked forwards and chased his kick with more vigour than anything seen in a Quins' shirt. He was duly rewarded when Marchant did a passable impression of someone trying to pick up the soap in a wet room, and he dotted down over the line before Tim Visser and Joe could get to the ball.

Back behind on the scoreboard Quins kicked off and were soon attacking. With a series of close drives the ball was held up over the line and Quins had a set scrum 5 metres out with plenty of width either side. 1 minute later and Quins had another penalty awarded after an infringement on the goal line. If not before half time, surely now was the time Mr Pearce? No joy, and Quins were being frustrated. They turned the ball over and at the resulting scrum Bristol won a penalty, cleared, and you could sense the deflation in the quarter-clad fans around me.

Jack Clifford showed he was right to pick rugby when we glimpsed what life might have been like had he chosen football as he dribbled through after a deft Evans kick behind the defensive line, miscuing when the easy option was to drop on it and secure possession. Harlequins built the phases in the Bristol 22 towards the midpoint of the half, and looked to be pulling together some momentum, when the move was killed with a holding on penalty and moved on further with some back chat from captain Care.

Nothing much happened for the next 20-25 minutes, and in a game dominated by the whistle it was quite likely that the final result was going to be determined by penalties, Evans knocking over two kicks in the 58th and one from another infringement in the 22 in the 65th minutes to put Quins in the lead. 64% of the second half action had been in the Bristol half, and Quins and a 6-5 points difference to show for it.

After 72 minutes Quins won a lineout just inside the Bristol 22, drove to 5 metres away from the line, and the maul was pulled down for a penalty without further sanction. Chris Robshaw could be heard asking the referee how many penalties they could have, and that's a question (amongst others) that I imagine Sir's assessor will be asking too.

And so the game ended, with several minutes of mediocre midfield play from both sides, 21-19 to Harlequins. There are many questions that need asking, far too many for a simple match report to explore, but I'll provide some statistics for us to digest.

Harlequins missed 20 tackles. Care himself missed 4, Marler 3 and Visser 2. Jamie Roberts and Visser are both 6'3" and 17 stone – they beat one defender between them and made 100 metres. Contrast that with Will Hurrell and Pisi who beat 5 and 3 players respectively, and made nearly 200 metres together. How do we consistently fail to use our big men effectively? Why do we always seem to lack imagination when attacking in anything other than sunshine? What is it that continues to appeal about having three professional hookers who can't throw a line out? Will we ever shed that tag of part time defenders?

A bit more positivity here; Luke Wallace made 11 tackles and missed none. He provides superb link play between breakdowns, can offload, win turnovers and has some engine on him. If he maintains his form from last year, our back row will be up there with the best in the league. The kit looks great. The last time we conceded just 6 penalties we were beaten by Saracens. The last time we missed 20 tackles we conceded 62 points to the Chiefs. We played a different game in the second half with more kick chase, more pressing, and territorial domination. Would we have done that last year?

A note on the opposition; I've now watched the match three times, unfortunately. Bristol made 535 metres compared to Quins' 232. They beat 20 defenders and offloaded 12 times, and made 16 line breaks. They made 94% of their first up tackles. They still lost. This was a game they could and should have won, and would have won with stats like that last year. Some chatter has been generated around the refereeing performance, and it wasn't particularly pleasing for either side – but Andy Robinson nailed it in his post-match interview, 19 penalties against them is going to kill them this year if that doesn't turn around. Considering how many they gave away in the final against Donny it looks like old habits die-hard.

Bristol's basic skills were at a higher level than Quins in this match, and when attacking they certainly ran hard and straight. Quins put up all the resistance of a spiders' web at times, but did Bristol actually create any big opportunities themselves? The three tries were as a result of huge errors from Quins, very shoddy defensive work and opportunistic following up. Mark Mapletoft was interviewed during the game and said Bristol had put together 1 pass for their tries, which was quite correct. Any time they were within 10-15 metres of the line the close quarter defence looked quite comfortable, even on a bad day.

Bristol will be hoping that this is not a result that will define their season, and that it's not the difference between ending up at the foot of the table or a few places higher. Quins will look back at this as a game where they really got out of jail. Continuing to play this like could put us right in the relegation mix come the new year and we'll have to hope this was rustiness and weather related, otherwise it's going to be a long slog of a 150th celebration. At least we're together.