Match Report: Sale vs Harlequins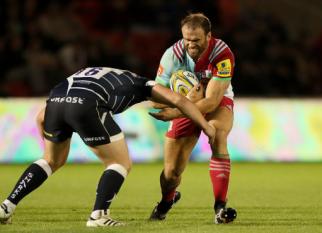 By DOK
September 10 2016
Talent without discipline is like an octopus on roller skates. There's plenty of movement, but you never know if it's going to be forward, backwards, or sideways. H. Jackson Brown, Jr.
And boy did we lack discipline! To be fair to Sale, they played a good frustrating game and that frustration boiled over into stupid penalties given away at crucial times. There is universal recognition than Dan Mugford's 5/5 kicks was the nail in Harlequins' coffin. It was his first start for the club after a move up from Nottingham, so possibly one to watch.
What was there watchable about the game? Well no-one watched much initially as TJ Ioane was knocked out in a double tackle from Kyle Sinckler and Joe Marler. Then the pattern was set by Sale penalties. The first after 15 minutes when Mike Phillips' big up and under was knocked on. Sam Twomey was penalised for not rolling away and the rot started. , Mugford slotted the kick from 40 yards – not bad for your first kick of the second game for your new team!
The second came from a Sale rolling maul around 14 minutes. Mugford now looking at two from two.
The third came around the 21 minute mark as Harlequins were again penalised at the breakdown.
This advantage was nearly wiped out however after Harlequins turned down the chance for three points four times and eventually one of the Robshaws scored off the back of a rolling maul. Nick Evans slotted the conversion. Sale had Jonathan Mills sin-binned in the 32nd minute, but Harlequins failed to take advantage of the extra man. So at half time Harlequins were just two points adrift. They'd pick themselves up second half, surely?
Sale's control of the game in the second half added to Harlequins indiscipline. First Owen Evans (OEv?) picked up a yellow card for pulling down the maul in the 51st minute. Sale kicked to touch and from the resultant catch and drive David Seymour scored and of course Mugford converted despite a tricky wind.
Moments later Nick Evans (NEv) hit back with a long range penalty to get Harlequins up to 10 points, but that was really the last good news for Harlequins. Kyle Sinckler picked up (another) yellow card, followed by a bout of handbags. Harlequins were briefly down to 13 men. From the resulting penalty Mugford slotted another and the score was 10-19.
There followed some frantic but useless efforts from Harlequins to at least get the LBP. A further blow to the visitors occurring when the TMO and ref spent the evening reviewing a no arms tackle by Laumanu before issuing a red card. Actually with 9 minutes left on the clock a yellow would have had the same effect.
Despite Harlequins efforts and a terrible attempt at a drop goal (you've heard me on my hobby horse of "Why don't we have a drop goal specialist?"), Sale held out with little worry and prevented Harlequins getting the point. Well done them – they had a plan and they followed it.
I open the floor to the question "If Sale had a plan, what did Harlequins have?"
John Kingston said afterwards "We managed, in a 10 or 15-minute period, to lose all the momentum we had built at the end of the first half by allowing them three successive penalties which led to them scoring from a maul and getting 16-7 ahead," Kingston explained.
"That becomes very problematic, and what made it worse was we had a player in the bin as well. From that moment on, we barely had a period of time with 15 players on the park. We effectively played the last 32 minutes with a man down, and that's pretty difficult.
"The main thing we spoke about at half-time was ensuring our discipline was good, and not giving Sale too many lineouts.
"We felt the only two areas we were concerned about were their maul and giving away penalties to give them a chance to kick at goal."
To be fair that is the first premiership loss for Kingston as new DOR, however Exeter, Saracens, Wasps, Northampton. Who can see a win there before the break for European Challenge Cup?