Quins chopped at Chiefs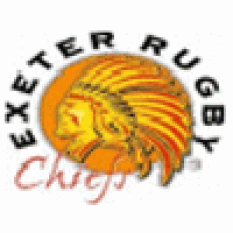 By Bedfordshire Boy
September 22 2016
Dry and sunny day forecast for this trip to the West Country but set out for the long journey not expecting Quins to get too much from the game. In terms of results. Exeter had had an even worse start to the season than Quins, the difference being that they had played Wasps and Saracens while Quins had scraped a win against Bristol and lost away at Sale.
A bit surprised to see so many empty seats around the stadium with the attendance being confirmed as somewhat shy of 10000, quite a bit short of the 12500 capacity.
Quins were fielding a much changed back line with first time starts for Stanley, Walker and Swiel as well as Mike Brown getting his first run out following illness. A dangerous looking back line for Exeter including three fly halves in Steenson, Devoto and Slade.
Exeter kicked off with a gusting wind at their backs and Quins kept hold of the ball for the early minutes without really making a lot of progress. It was quite noticeable how much more dangerous Exeter looked once that they had position and were rewarded with a try by fullback Turner after six minutes following a period of sustained attack a few metres from the Quins line. Unusually, Steenson missed the conversion and from the restart Parling fumbled the ball and Waldrom was penalised when he played the ball from an offside position. A very good kick from Swiel gave Quins their first points who added three more a few minutes later with another Swiel conversion. Exeter Chiefs 5, Quins 6 after 12 minutes.
Yet another penalty to Quins a few minutes later after Chiefs were penalised for playing the ball on the ground which Swiel kicked to touch just inside the Exeter half. Not for the last time in this match Quins lost their line out ball but Chiefs were penalised yet again when their attack broke down but Swiels long kick to the corner missed touch and Quins were again under pressure. A good attack by Chiefs resulted in Devoto being forced into touch just short of the try line to give Quins another line out. What normally happens next is that the defending side gather the ball, form a maul allowing the scrum half to clear their line. What actually happened next is that Cowan-Dickie found himself unmarked with the ball at the back of the line out and strolled over the line for a try that even I could have scored. This time Steenson added the extra points and the score moved on to Chiefs 10, Quins 6 after 18 minutes. If that wasn`t bad enough Chiefs secured the kick off and attacked down the right wing and Woodburn got the ball away to fullback Turner to run in for his second try of the match which Steenson easily converted. Nineteen minutes gone and Quins are trailing by thirteen points.
At long last Quins put together a period of attack and were awarded another penalty inside the Chiefs 22 but strangely still not a word from the referee about the continuing infringements by Chiefs. Swiel kicked to the corner for a lineout five metres out which Quins managed to hold and set up a driving maul allowing Buchanan to touch down for a score. Swiel added the extra points to bring the score to Chiefs 19, Quins 13 after 27 minutes. On 33 minutes Sinkler is penalised after a couple of scrum resets and Steenson kicks to the corner from where Chiefs set up and a catch and drive in which Sinkler is again penalised for side entry. Chiefs repeat the same move and this time Cowan-Dickie gets his second touchdown for the try bonus point. Steenson again adds the points to bring the score to 26 – 13 on 36 minutes. Could it get any worse, of course it could as Quins try to play the ball out of defence and a loose pass from Swiel leads to an intercept and desperate defending by Quins eventually leads to an offside decision and this time Chiefs decide to take the 3 points on offer. Quins looking really ragged at times and go into the break trailing Chiefs by 16 points, Chiefs 29 – Quins 13.
Quins start the second half playing with the wind and after a fairly lively start another overthrow by Buchanan in the line out immediately puts Quins under pressure. Chiefs are eventually forced into touch and the Quins line out is again lost and another promising attack by Chiefs breaks down with accidental offside a few metres out. Play is held up due to an injury to Armand who is eventually replaced by Dennis. From the offside scrum Sinkler is penalised again, Steenson kicks to corner, Chiefs set up the driving maul and Cowan-Dickie scores his third try of the afternoon. Steenson adds the two extra points from a difficult kick and Quins are 23 points in arrears seven minute into the second half. Whatever was discussed in the Quins dressing room at half time I am sure one of the scenarios was not conceding 7 more points so quickly. A number of changes for Quins with Merrick, Collier and Ward replacing Twomey, Sinkler and Buchanan followed 5 minutes later by a complete change to the Chiefs front row.
Quins looking a bit livelier now but the game is stopped after 54 minutes for an injury to Jack Clifford who has to leave the field to be replaced by the younger Chisholm. Chiefs also take the opportunity to replace Devoto with Sam Hill and Mark Lambert comes on for Joe Marler. Quins still not looking after the ball when in attack as opposed to Exeter who always look as if they are going to score. Alofa Alofa replaces Joe Marchent on 57 minutes. Chudleigh replaced by Lewis at 9 for Chiefs and Quins showing a bit of desperation with long passes and chipping through, none of which bear any fruit. Chiefs kick long from a line out and James Chisholm makes a lot of ground before passing the ball to Mike Brown who makes a superb offload to Danny Care to run the ball in under the posts, Swiel converts quickly to bring the score to 36 – 20 after 66 minutes. At long last Quins are playing some rugby and are finally rewarded with a break down the right and Charlie Walker scoring. A delay before the try is awarded as the officials look at an incident where Francis in trying to hack the ball makes contact with Cares head and is shown a red card. Conversion missed by Swiel to bring the score to 36 – 25 with 8 minutes left to play. Can Quins now pick up at least a couple of bonus points? The answer is No and in fact it is Chiefs who very nearly score another try. With 5 minutes to go James Lang comes on for Winstone Stanley for his debut first team appearance. Chiefs played a canny game at the end by depriving Quins of the ball and denying them any points from this match.
Difficult to find any positives for Quins from this game with crucial penalties leading to scores for Chiefs and a line out that hardly functioned at all – is it all to do with bad throws by the hookers, bad timing with the jumps or not being competitive? The overall performance did improve in the last quarter of the match but not sure if it was down to the replacements or Chiefs slacking off at times but certainly Chisholm, Ward and Lambert all did well in the loose. Exeter are a very good side and if you give them a couple of soft trys there is only going to be one result.
Nothing I saw at this match makes me think that the visit of Saracens to The Stoop next week is going to be anything but a painful experience