Harlequins vs Northampton: Jekyll and Hiding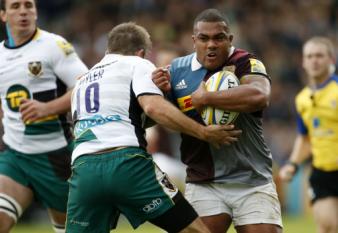 By gregory p
October 9 2016
Wow. Where has the schizo-squad been hiding that sort of game? Quins Jekyll and Hyde season shows no sign of ending with a barnstorming, courageous and committed performance at home to beat a potentially upwardly mobile Northampton 20-9. We'd seen a great defensive showing against Saracens but that was even better as we spent so much time in the Saints' half as well as keeping the whitewash unsullied for the first time this season. While the forwards can claim much of the credit for that, every one of the girls also put their hands up in a 1 to 15 display of guts. The best rugby minds on the board had been questioning the season so far. Crikey: that answered a few questions! Forward pressure and Swiel's boot – along with a bit of vintage sleight of hand from Nick Evans in the first half – saw off a misfiring Saints in an enthralling if not classic game.
Quite rightly Kitchen Sinck trousered the man of the match award but, frankly, Horwill, Adam Jones, either of the two Robshaws, Visser, Yarde or Brown could have been in the frame. The forwards really fronted up. On paper Saints had a back row that had more dog about them than a Vietnamese butcher. The effect was slightly spoiled by Calum Clark masquerading as the bloke from the 118-118 adverts (either that or he was auditioning for a Village People tribute act after the match?) but even so: they left Picamoles on the bench!! Que? Spare a thought for James Chisholm: three matches and he's faced down JCB-illy Vinupola, a very scary Wasps back row and then Tom Woods, Teimana Harrison and Sid from Toy Story, Clarky. Ferchrissakes give him Thursday night off.

Quins kicked off with the wind behind them and promptly kept Saints penned in their half for 15 minutes. Being honest, Nev didn't have his kicking boots on. Early doors his darts were off as he missed a gimme following a smart quick line out from Yarde. A longer penalty from Nev was hooked like a Sunday morning golfer. Mercifully in between the misses he found the gap between the uprights for a 3-0 lead on 7 minutes. The second miss followed a storming run from Harrison – he is abrasive as industrial grade sandpaper, and I can see why he's on Eddie's radar – but he got pinged for a forearm hand off. Luckily for Quins the whistle went moments before Sinck decked him with a no arms tackle.

The game then flared like a magnesium strip. From quick ball in broken play Nev did his show and go…and then showed and went again…..and Visser burst into the hole Nev had created in Northampton's mesmerised defence. Visser found Alofa Alofa (showing Sinotti Sinotti that he's not the only double monickered south sea missile out there) who screamed around the cover and in for the try. It wasn't that far out but Nev made full use of Ben Botica's old boots by inexplicably missing. It was 8-0 and only 12 minutes in but it could have been sweet 16.

We were then treated to Brownie making a goalkeeper like save to keep a Myler touch finder in play and our first scrum on 14 minutes. Northampton, in between some Yarde led counter attacks, at last got a foothold in Quins territory and began to put together a good bit of possession and pressure. It told when Adam Jones – on for a Lambert head check – was pinged. Myler eased over the penalty to make it 8-3 with nearly a quarter gone. Spare a thought for Adam Jones: he's got used to a zero hours contract and suddenly he found himself having to do a full shift and on the wrong side of the scrum. Let's hope the finance team has budgeted for his overtime, and the physios can put him back together, but what a good shift it was.


The score didn't lessen Quins' zip and following a great burst from Wallace, Visser got in a run down the west stand side. As the cover closed in he chipped and chased and Tuala, I think, turned his back to possibly block him. While we howled at the ref, Dicko had the presence of mind to keep chasing. The Northampton cover, Myler, managed to overrun the ball rolling into their in-goal area, it was a Keystone Cops moment, and Dicko dotted down. Ian Tempest, the ref, went upstairs and ruled that Dicko was a millisecond too late in his touch down and – to rub salt in our wounds – that Visser had not been obstructed……Oh yes he had, we chorused as we found our Panto villain for the afternoon. It didn't help that Alofa² had another one pulled back for an earlier knock on with much head shaking from Brownie.

Tuala then showed he could play a bit as he countered from deep in his 22 – it was like watching a circular saw as he scythed through the cover. It took a classic Brownie thumping tackle – and normal service was really resumed with Brownie today – to stop him in our half and force the knock on at the break down. That said, Jones the Prop got done for pulling down the scrum and Myler caressed over another penalty to give the score board a less than flattering 8-6 look at 23 minutes gone. Northampton started to get the better of the break downs at this point and their best period of the game followed: lots of phases, good hands, and almost everyone getting involved. That they failed to have anything to show for it was down in part to Quins resolve – it was first rate defence today (Chapeau to Minty) and Myler's inability to read the wind. He found the post with one penalty and shonked an easier one still. Both times I'd written 8-9 in my notebook. The ref did Saints no favours too, when he stopped @#$%& half Groom from taking a very promising, quick tap penalty deep into Quins red zone – I couldn't see the problem but Mr Fussy could thankfully.

It wasn't all Saints, and Yarde – by gum he was hungry for work and I hope word of that gets back to Eddie J – countered muscularly whenever he could. His decision making was spot on today and he nailed George North with a monster tackle. George is immensely gifted but he saw so little of the ball today we were left wondering if he was on the pitch? He could have been on a witness protection programme. It stayed at 8-6 as half time came.


Northampton had showed well in the second quarter, with Quins shipping a few penalties, so I wasn't optimistic about the second half, particularly with the wind against us and then Nev going lame. Swiel came on but what a sparky half he had. I don't want to tempt fate, but he's got the temperament and the skills to make Jackson work hard for the 10 shirt. His first firework was a huge cut out pass that nearly put Tim Visser in. Horwill – who carried into traffic like an articulated truck all afternoon – then banged a hole in the Saints cover. Visser took it on and was not released at the breakdown. Swiel nervelessly turned it into three precious points for 11-3 with 6 minutes of the half gone.

We then gifted field position to Saints with our old friend "@#$%& about in our 22" putting in an appearance. Mercifully some holding up of big Courtney Lawes, no less, from Sinck and Horwill put us on the front foot again. We also witnessed a collector's item: after a scrum Adam Jones and Keiran Brookes exchanged fashion tips with Sinck being the unlikely peace maker as he pulled them apart. Donald Trump will be running feminist focus groups next.

Quins continued to dominate position and possession even with Lee Dickson on for Groom and Picamoles on for a head bang to a head banger, Clark. Sinckler made serious yards into the Saints' cover with Robshaw battling it onwards. As it went wide to the east stand, from the break down, Alofa Alofa nearly got free. Yarde then cut inside to great effect as big questions were asked of the Northampton cover. Swiel fizzed out firework number two with another long cut out pass to Wallace (at home on the wing!)r who stormed over. Yee-hah, pressure turned into points. Regrettably it was chalked off following a TMO referral for Visser obstructing the last Saints player. What was frustrating, was that Visser could have stood off and let Wallace draw the cover and Visser would have scored from an inside pass from Visser. TCUP it wasn't as Sir Clive would say as we had a two on one. Metaphorically we crossed the TMO off our Christmas card list.

The crowd's dissatisfaction was further swelled when Quins got pinged for a number of seemingly imaginary infringements, one following a great Wallace steal. I'm sure that the ref's calls were justified but in real time we booed and hissed like a boozy matinee crowd in Margate. It seemed to inspire Quins as we turned up the temperature on the pitch and Swiel was able to thump a penalty into the corner. Horwill caught, the uglies drove and Jones peeled off. Saints were done for not releasing the hairy monster, which is understandable really, but giving us a penalty under the posts. Swiel turned it into points as we inched away to 14-6.

Saints rallied and Harrison thumped his way up field. Picamoles – and what great hands he has for a big lad – carried it on looking like a winger. For the first time our cover stood off the ball carrier (which is this season's party trick). We looked like a bunch of 20 something, commitment phobic blokes afraid to pop the question to their girlfriends. We'd just about wrestled Picamoles down when the ref brought it way back for a "not rolling away". Myler did our nerves no good by bringing the score back to 14-9 and still 14 minutes to play. The next score really mattered.

Yet…..Quins rallied well and the next phase of play decided the outcome. From a midfield turnover – and I don't know who to credit it for it – Roberts (and what a bullocking game for him) burst away. Northampton didn't roll away when they collared him and Swiel put it back into Saints' 22. Brown, Visser and Sinckler all carried massively and another not releasing penalty made it "Advantage Quins" on the Saints line. Sinckler took a head knock for his efforts and had to be removed from the pitch with a crow bar, such was his commitment. He left the field to a deserved standing ovation and, I hope, an encouraging text from Steve Borthwick. Meanwhile deep in the red zone we opted for the line out and drive rather than the points. While it didn't produce the try it did produce a finger wagging for Saints and another penalty nearer the posts. Horwill asked Swiel to do his stuff and he duly did. Phew, more daylight, with less than ten minutes to go and that crucial two score gap at 17-9.

From the restart we worked it back upfield well – and generally we either we dealt with restarts well all afternoon or Saints were rubbish with their kick offs, I'm not sure which – and got scrum ball just in our half. Cue Adam "Grace" Jones and Demolition Man! Where did that shove come from as we buckled the Saints pack. Just to show it wasn't a one off we repeated the trick two minutes later. Just where is that JCB sponsorship! More importantly, it was Graham Rowntree 2 – Dorian West 0. Even more importantly Swiel whacked over the resulting penalty, from an awkward spot too, and I was wondering how that gap to 20-9 had suddenly appeared. Surely game over......

.....not quite, and as if to let the early leavers know they were a pain in the @rse as well as missing out again, Visser boomed back the restart. Horwill burgled Saints ball and Brownie then dissected the tiring Saints cover down the west stand side at speed. With Visser on the outside and odds on for a run in Brownie popped the pass. And then out came "The Hand of Fod". A still game Ben Foden was covering and flung an arm out to disrupt the pass. In real time it looked like a deliberate knock on. In slow mo it looked like a deliberate knock on. In an infra-red scan it looked like a deliberate knock on. Viewed in any spectrum known to science, in particular Magenta-o-vision, it looked deliberate. Foden looked as guilty as a batsman who's nicked one to third slip but still waits for the umpire's finger. Crikey, he nearly walked off he was so sure that he'd get a yellow. The only person on the planet that didn't see it that way was the man with the multi-screen view in the TV truck. Maybe he'd decided the game was over and was already calling his Missus to tell her he was on his way home?

Either way, amid a crescendo of boos it came back for a knock on-scrum, which we hoofed out to stop the clock....and either way the decision didn't (and was never going to) change the outcome one bit but we gave our vocal chords a final work out. Ian Tempest was uncharitably booed off – we don't need that surely? – but my reading of it was that most of the 50/50s were the TMO's call and not his, and....surprisingly, the TMO often has the best view of the lot of us.

Saints fans will be disappointed with that showing. They have some serious "Rosbif" in their pack but were out grunted by Quins today. As a result we saw only flashes from their talented backs. I like Saints and their supporters – they are credit to the game – and I hope Jim Mallinder can get the side back on track soon.

As for Quins: we can do it at home and in some style too and we stopped Northampton from getting into the game today. The trick for the coaching team is doing it outside the M25. Unless we can pick up some points away from home or some bonus points generally, we are going to find moving up the table a very slow process. But, the ingredients are definitely there, and Dr Jekyll just needs to perfect the formula.