Harlequins v Stade Francais: Beef Wellington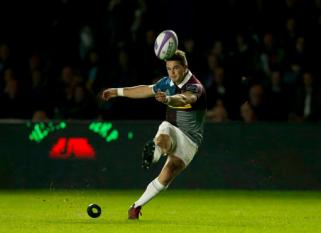 By gregory p
October 14 2016
If a week is a long time in politics, five days is mercilessly short in rugby. Both Quins and our French visitors, Stade Francais, slugged out hard games last Saturday and were forced into an Anglo-French battle on Thursday evening at the behest of the television schedules. We went out on the dark recesses of Skysports 5 apparently: have they run out of Mongolian wrestling to show?
Quins had three enforced changes from the attritional win over Saints. Stade – maybe with a bigger squad or less enthusiasm for European rugby's equivalent of football's Johnstone's Paint Trophy – rang the changes with only seven starters being retained from a last minute loss to their Paris neighbours, Racing. Perhaps the French coaching team had heard the old joke: what's the difference between the European Rugby Challenge Cup and Spock's ears………..at least there's a point to Spock's ears. But….any side with Parisse, Pape, Camara, Plisson, Slimani, Williams, Vuidarvuwalu, Talaufo and Lakafia, all with a bundle of international caps, were going to be a handful, even if DOK hasn't a clue who they are.

As it happened a storming first 40 minutes from Quins belied their efforts at the weekend as we saw off a misfiring Stade 43-21. At half time we were 31-7 up and in fact Stade edged the second forty 14-12. Nonetheless, it was a top drawer showing from Quins, with a bonus point banked at half time and the luxury of taking our foot of the gas in the second half. The 7-3 try count was a fair reflection of Quins' dominance and – remarkably given his workload – James Chisholm rightly got the man of the match award. He's seen off some of the best back row talent in the northern hemisphere in the last three weeks. Given England's Oscar Wilde like carelessness with back rowers at the moment, the watching Eddie Jones may take an interest? Incidentally, is Eddie now squatting at the Stoop? Maybe he's trousering the RFU's rent allowance and living in the west stand on the sly? He's like that Aussie you met backpacking who takes up long term residence on the sofa when you'd only invited him around for a beer.

Quins started brightly with Stade seeing little of the ball. Three slick lineouts in a row saw us with a pulling down penalty in Stade's 22 and Swiel hit it to the corner. We rolled it – seemingly effortlessly – and Marler shot off the side of the maul and over. Close to the posts, Swiel made it 7-0 and only 5 of those awkwardly placed Tissot minutes gone. [Ed: other timing devices are available].


Quins defended as they had against Northampton with good defensive line speed, forcing Stade into errors or kicking when they'd rather not. Brown was strong under the high balls and Wallace was back to his Mr Turnover best. Proceedings were disrupted by an injury to Merrick and, worryingly, he left the field on a body-board. Stade though camped in our 22 and earned themselves an attacking line out. There was no déjà-vu about it as Wallace with another turnover saw us clear. Parisse began to get the hump and was giving the ref earache – presumably to go with Mr Whitehouse's impaired vision caused by the Barbie day-glo pink warm-up coats of the Stade bench.

Quins continued to impress: Chis made his first hole of the night – he was a serious handful when running at the French; and Horwill turned them over. Following quick scrum ball on about half way Jamie Roberts put in a massive burst, Swiel sent it wide and Visser at speed kicked and chased. Plisson covering back beat him to the ball but optimistically tried to keep it in play. Joe Marchant was on the hunt – he moves like a panther – and gathered the loose ball and powered over. His low centre of gravity and power is reminiscent of Jordan Turner Hall but Joe's got way better hands and a passing game too. [Ed: Geoff Boycott's Mum had better hands than JTH].

While Swiel didn't convert, Stade badly needed points on the board to get into the game. Yet, from the restart it was Quins who struck again. From a ruck in our 22 – with a knock on advantage in the bank – Robshaw played great heads up rugby, stepping in at scrum half to find Visser down the short side. Tim gave it some serious va-va-voom that saw off most of the cover. A swift interchange with Marchant – great support again – saw Visser in for a 70 metre score. Swiel put the cherry on the cake and it was 19-0 with just over a quarter gone.


Visser was firing on all cylinders and his intercept (he's got that copyrighted at the moment hasn't he) put the pressure back on Stade's line. We couldn't quite cross the whitewash but we saw some great handling with the forwards looking to offload in contact – I checked my watch as it looked like 2012 out there for a moment – and the backs asking lots of questions of their visitors.

Stade re-grouped and offered a riposte. It came from a miscued kick tennis clearance from Yarde. It's a shame he chose to kick as he'd made some serious ground every time he'd run at Stade. Stade's flanker, "Big" Macalou, gathered the botched kick. Our cover disappeared quicker than Donald Trump's credibility and he cantered under the posts to make it a gimme for Plisson and just over half an hour gone.

If it was a warning to Quins not to ease up, we heeded it: The kick off was fielded well, and we worked the ball straight back into the Stade red zone via a deft Brownie kick through. Yarde – trusting himself to run back at them – worked his way back into the Stade 22. Quick ball came via Visser to Chisholm who bulldozed down the short side with defenders falling off him; with a twist and a half dummy he bristled over with Frenchmen clinging on but unable to stop him. It was first class back row work. Swiel, hitting it sweetly, added the extras to make it 26-7 and half time nearly in view.


Like good sides should, we kept our foot on Stade's throat. Another kick off was well returned and we picked up a scrum penalty not far into Stade's half. Straight on to the posts, it was worth a hoof for three points, maybe? Instead Swiel planted it deep into the French 22. Twomey jumping at the front popped it to Chis who was heading down the narrow side: it was, Brian, déjà vu all over again as Chis barrelled over taking a couple more defenders with him. The clock had gone red and Quins loitered like a gang of dodgy youths by the tunnel as Swiel couldn't add the extras. Phew…..take a breath and get a beer. We'd banked the bonus and blown Stade away.

The second half initially saw no let up with Dicko box kicking and twice Stade letting it bounce to much confusion. Chis kept it simple with another barrelling run. Marchant – in support yet again – couldn't quite make it clear of the Stade cover. Following a good interception and burst from Yarde, which we couldn't turn into points, Stade then began to see more of the ball.

The drop in tempo was almost inevitable and the game became scrappier too. Stade began, after 10 minutes of the half, to run through their bench. While we were disappointed at Fartass's no show in the squad, we at least sniggered in the west stand (and we should know better!) as Hugh Pyle (related to Hugh Jampton maybe?) was benched. The replacements collectively had a bit more bite about them. Stade began to spend more time in our 22 than was healthy for us with Parisse in particular showing at last that he could play a bit. Stade maybe overused him as an attacking point? He's definitely class though.

Astonishingly, with Quins' defence creaking like Dracula's front door, and Stade having a line of men over that was longer than the queue in the west stand gents at half time, telescopic Tim stuck out his arm and intercepted yet again. It was plus de va-va-voom as he went close to 100 metres for the run in. Rory Jackson, on for Swiel, quite astonishingly got charged down as he converted under the posts. That was a first for me, and probably Jackson too. Mercifully nothing turned on it. At nearly 60 minutes gone the game was also gone from Stade at 36-7.


Quins, understandably, took their foot off the gas. Stade finally showed they could play some stylish, aggressive rugby, and following a long period of ball in hands. The scrum half Daguin exploited the tiring cover for cheeky, Danny Care looking try. Plisson converted and 36-14 looked a bit more respectable. It looked more respectable still – after Visser had failed to hold onto yet another attempted interception – when Stade took up residence in our 22 again, following Twomey being pinged for a high tackle. While we held up the rolling maul from the lineout – and maybe legally too – Parisse was sharp enough to run a quick tap at us, popping it to replacement Alberts to muscle over under the posts. The conversion took the score to 36-21 and, with 70 minutes gone, it just had that hint of a Quin's cock up about it, if not the gift of a bonus point to Stade.

In the end, Adam Jones, off the bench, shored up a tiring scrum and normal service resumed with Brownie in particular putting Stade back under the cosh. We took an old fashioned strike against the head from a scrum in the Stade half. Stade couldn't hold off the resulting pressure and amid quite a bit of mayhem – the front rows were exchanging views about the exact timing of the Article 50 notice, I think, and Brownie was on the wrong end of a dump tackle – Yarde was the beneficiary of men over as he scorched around the cover for an easy try. Jackson this time avoided the charge down embarrassment and made it 43-21. It took a while for this to unravel while the ref went "en haute" for a second opinion, and Ben Whitehouse blew for "Fin" not long after.


The crowd was announced as 11,820. Not even Enver Hoxha's Albania dared to publish statistics that misleading! The south stand was the Marie Celeste of sports stadia. It's a shame as I reckon more than the 8,000 or so who were really there deserved to see such a good game.

So, no penalties on the score sheet, no yellow cards, a conversion charged down and lots of great rugby: that's two games in a row we've stopped the oppo playing. Lot of serious beef from the forwards again – I like the way Horwill leads them – and some serious gas from the backs. I was expecting, like the Duke of Wellington a "near run thing"; it wasn't even close. Well done Quins, in particular Chis, Visser and Yarde (again) – and yes, credit to the coaching team too – and so, DOK, over to you to publish and be damned.