Big Game Match Report - Marchant of Menace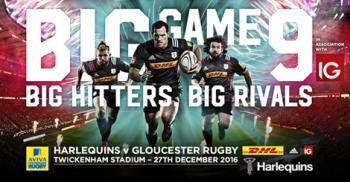 By gregory p
December 31 2016
Quins did the job in the end, holding on for a deserved if shaky 28-24 win against Gloucester with a squeaky-bum exciting kind of finish adding a gloss to a game that was for the first half hour a torpid encounter. The last ten minutes had a bit of theatre about them: down to 14 men with Clifford yellow carded, good last ditch defence against the Glos speed merchants, some headless chicken kicking and decision making from Danny Care and a thunderous response from another big crowd on a very chilly HQ evening under the lights. It made up for the first half, and it needed to. [Christmas cracker: what's the similarity between the first thirty minutes of this game and a traditional Christmas pudding? They are both plum duff].
Gloucester kicked off in the now obligatory smoke filled stadium and the players spent the first five minutes with their fog lights on the crowd guessing what was happening. Not much in fact. Disjointed? It was like having the pieces to a jigsaw but no idea what the big picture was. Glos spent most of the first 30 minutes in Quins half but a combination of good defence, a rock solid scrum and Glos not quite getting their execution right kept the game scoreless for 28 minutes. Rowntree's Christmas selection pack definitely had the upper hand and series of scrum penalties got Quins out of jail more often than Ronnie Biggs. We defended the rolling maul very well too.

Glos offered more in attack than Quins – mind you, so would've a collection of conscientious objectors – with Gloucester's double bill, Burns and Twelvetrees, probing every time they got the ball. We bundled Scott into touch very close to our line early on and Twelvetrees overhit a kick for Sharples to chase. The solidity of our defence was a welcome change to this fixture last year when we took the Christmas giving a bit too seriously: some our passing then was so charitable the Glos players were filling gift aid declarations as they touched down.

That said, there was the odd moment of encouragement: a good chip and chase from Jackson, who obviously got a beard trimmer from Santa and looks all the better for it. He had looked like a moonshine crazed local from Wicker Man; Visser nearly found clear blue water a couple of times; a rejuvenated Clifford stormed off the back of ruck and did some damage; and Yarde continued to show a good appetite for work.

Just as there were early signs of a Mexican wave and I was thinking that I should've popped into GAP in Kingston and changed a dodgy sweater, the game came to life. We finally worked our way into that otherwise unknown territory, the Gloucester 22, when Clifford stormed away from a scrum free kick for an early Glos push. Care, Visser and Buchanan all kept the momentum going with Quins picking up the scrum after the move came to a halt. Rather than play for the scrum penalty, Clifford burst off the base of the scrum, fed Care who bought time and space for his outside backs and swift hands and a good pass from Jackson saw Marchent burst over. It was smart rugby but Jackson didn't add the conversion from what was not a hard spot.

The Glos response was rapid and Jonny May carved big holes in our cover from the restart. It took a fellow England back, Mike Brown, to nail him with a tackle as solid as five day old Christmas pud. Burns probed the ball into the corner and Danny Care's knackered clearance kick from the line out brought a smile only to Ben Young's face. Following more pressure from the line out we conceded a penalty in front of the posts that was never going to trouble Laidlaw and it was 5-3 with 33 minutes gone.

There was then a period of kick tennis [Christmas cracker: what's the similarity between Quins' chasing of kicks and Santa Claus? Everyone knows that they don't really exist]. One of the Glos backs finally and obligingly dropped the ball and from the scrum the pack again turned the screw for a penalty. Mike Burton must have been going apoplectic at this point. Jackson found his range, and a bit more oomph, to make it 8-3. A newly galvanised Quins stormed back the restart, with Charlie Matthews and Sinck making more ground than Glos should have allowed. Jackson chipped into space for Brown and in the ensuing "Mayhem" Jonny interfered with the ball at the break down. JP Doyle showed him red and then yellow with a smile. Jackson showed a good temperament to nail another 3 making at 11-3 at half time.

Quins didn't let up from the restart and Billy Burns put in poor clearance kick. Wallace burgled it – and it was a good afternoon's work for our own Swampy – fed Care who popped out a pass to Brown. Brownie's chip was as deft as Lionel Messi's left foot and it sat up gift wrapped for Clifford who stormed into the Jonny May shaped hole in the Glos defence to make it 16-3. The score and good conversion quelled our outrage about Brownie being decked to leave it a 18-3 with only 41 minutes gone and May still in the bin.

Glos rallied well with both Sinckler and Wallace earning their match fees with good covering tackles. Laidlaw darted off the back of a ruck and was only just held up. Glos then changed the point of attack, holding a penalty advantage, with Burns hitting one for Hook – still class – to run onto in goal. Hooky capitalised on a Keystone Cops moment in the Quins defence to touch down the bouncing ball. Whether it was the TJ or JP, it was called upstairs and the TMO gave us the decision as Hook had strayed slightly offside. In pre-TMO days the score would have stood. Glos to their credit stayed firmly in our red zone and from the penalty advantage Gareth Evans – a late shout for Ben Morgan – with Galazara shoving him along made the best of an unequal contest against Jackson. Laidlaw topped up the try to make it 18-10 and 50 minutes gone and May back on.

Glos then shot themselves in the foot from the restart conceding a soft penalty that an increasingly sure footed Jackson converted to make it 21-10. As the Mexican Wave finally put in its annual appearance, both sides played some expansive stuff, in particular Clifford, Care and Yarde all asking questions of the Glos defence. From a Glos fumble there was yet more scrum muscle applied. Jackson put the penalty deep into Glos territory. Instead of rolling the line out Care darted sideways and got the cover guessing, Jackson floated out another cracking pass and Marchent stormed onto it at speed picking a brilliant curving outside line. His low centre of gravity and pumping hand off brushed off Matt Scott for a classy score and the best move of the game making it 28-10 (with the extras) and three quarters of the game gone.

Glos to their credit immediately tried to salvage something and soon bundled Visser and ball into touch from the restart. The pressure didn't let up and from quick recycled ball Jonny May danced through Quins midfield cover, floating out one for Hook to dummy his way through some tired looking Quins defenders. The extras were added making it look very interesting at 28-17 and only 63 minutes gone.

At this point Laidlaw was replaced by Willi Heinz, [Ed: OK get the gags out of the way now and we can all move on with our lives] .......so, yes he was full of beans when he came on and he mixed it up well, maybe in as many as 57 different ways.

Glos really gave it a lash and suddenly were handling like Fijians on a sevens pitch and Quins running through treacle. Heinz darted a tapped penalty and in the fall out Clifford entered the tackle zone from the wrong side. JP gave him the proverbial early bath as he brandished yellow. Into the corner it went and Glos rumbled the line out over with the chunky Samoan Moto Matu'u [Ed: isn't that a service station in Auckland?] getting on the end of it. Burns nailed a very good conversion to make it 28-24 with 8 minutes to go. Yikes, that was a good come back and the Quins fans suddenly became very interested in the length of their fingernails.

Those 8 minutes were pretty frenetic – I was seriously impressed with the noise generated by the home support during this time – as Glos threw it around and Quins counter punched. May was nailed just as he was about the hit the after-burners. The forwards fronted up and defended a rolling maul in our 22. The highlight was Marchent fielding a Burns kick and countering with his own version of the Ali shuffle as he mesmerised his way out of trouble. With only two minutes to run down Danny Care inexplicably chose to kick possession away causing more scramble defence from Quins. Even as the clock edged to the full 80 Danny chose to kick ahead and keep the ball in play when it should've gone dead. We only just avoided another Boticagate as some very tired cover tracked down and scything Jonny May and bundled him into touch and JP finally pointed to the dressing rooms.

Interestingly Glos pretty much emptied their bench – including Kvesic, last year's stand out for Glos - and looked much livelier in the last 20 minutes. Incidentally "Kvesic" is Serbo-Croat for "NotonEddiesradaratthemoment". Quins didn't use their subs nearly as much and we were really hanging on out there.

Still, it's a good four points to bank, another home win and some encouraging signs: a man of the match showing from Clifford – definitely on Eddie's radar; a ruthless showing from Marchent who took his chances really well; and a pack that scrummed brilliantly and fronted up without Robshaw or Horwill. The downsides were that aimless first thirty minutes; our general kick chase game continues to look awful and Danny Care looked well short of fizz. We will no doubt feel better about life – and the Premiership table – if we can pick up wins from the next two games. Finally, some more good news: the Ad agency who do the Big Game publicity are up for a special effects award for making it look like Adam Jones can actually run.