Worcester vs Harlequins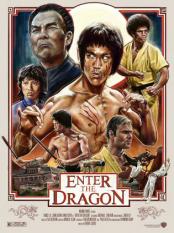 By DOK
January 2 2017
There's a wonderful bit at the start of that great classic film "Enter the Dragon" starring Bruce Lee.
Lee: [a student approaches Lee; both bow] Kick me.

[Student looks confused]

Lee: Kick me.

[Student attempts kick]

Lee: What was that? An Exhibition? We need emotional content. Now try again!

[Student tries again]

Lee: I said "emotional content." Not anger! Now try again!

[Student tries again and succeeds]

Lee: That's it! How did it feel?

[Student thinks; Lee smacks his head]

Lee: Don't think. FEEEEEEEEL! It's like a finger pointing away to the moon.

[Lee looks at student who is looking at the finger; Lee smacks student again]

Lee: Do not concentrate on the finger or you will miss all of the heavenly glory!

[Student bows; Lee smacks him again]

Lee: Never take your eyes off your opponent... even when you're bowing!

[Student bows again this time keeping his eyes on Lee]

Lee: That's better.
Harlequins came away from our encounter with Worcester feeling a bit like the student. We kept getting it wrong, then getting hit and we weren't sure how and why and we were slow to learn the lessons being handed out, though eventually we managed.
The match started showing we hadn't learned the lessons of the last match. Gloucester had caught us a number of times in the closing quarter defending too narrow. Seven minutes in and a magnificent penalty kick from Worcester's Mills just inside his own half had pushed Harlequins back to the five metre line. A dangerous driving maul from Worcester then a huge missed pass found Dean Hammond with no-one opposite him and a simple run in. Mills converted a tough kick from the touch line and Worcester were 7-0 up with ten minutes gone.
9 minutes later Warriors are back in the Quins 22. This time when the ball goes left we at least have the right numbers defending. Unfortunately we give away a stupid "not rolling away" penalty and Mills slots the gift. We're now 10-0 down with 20 minutes gone.
Still that's barely more than a score and Harlequins will unleash their might and main at any moment, surely?
Well, not exactly. At the 25 minute mark Harlequins have a scrum more or less on the halfway line. Danny put's the ball into the second row, but Worcester get a big shove on and the ball comes flying out. Penalty to Worcester. Up steps Mills more or less on halfway and cool as a cucumber slots another. It's 13-0 and Harlequins have yet to start playing.
Around about the 30 minute mark Harlequins are actually in the Worcester 22. They take a lineout for a catch and drive, but Buchanan drops the ball just when it looks like we're getting set for a drive. Worcester's Darren Barry takes one for the team, in this case a yellow card. Surely with 8 minutes to half time, facing a team of 14 men Harlequins can get points on the board at last? They turn down the three points in favour of repeated failures to get over the Worcester line.
Turned over in attack with 2 minutes to half time, Te'o kicks through and it's suddenly Harlequins defending their try line. Te'o gets over the line, but the ball doesn't. It's back for a penalty. Joe Marler takes a yellow for the team. Mills slots the kick.
It's half time. Harlequins are 16 points to nil down, we've been in the Worcester 22 but haven't threatened the try line. We are in deep doo-doo! Never mind, after one of the famous half time talks from the coaches, the players will recognise and fix what they've been doing wrong and we'll come out guns blazing and take this match by the scruff of the neck, surely?
Well, Jamie Roberts and Chris Robshaw are replaced by Harlequins but there's no noticeable change to Harlequins play. But Wait! 45 minutes gone and a fantastic try! Unfortunately it's a magnificent solo effort by Ben Te'o who charges through a tissue paper defence. He receives the pass on Harlequins 22 and charges through 4-6 Harlequins players to score. My God this is embarrassing! The smallest of consolations is that Mills for once misses the conversion.
At this point I'm watching more out of sense of duty than enjoyment. At least I can vent my feelings with my fellow message board members watching this poor excuse for a game! (On Harlequins part that is, all hail Worcester for sticking it to us!).
Mills misses another penalty attempt in the 55th minute. Collier on for Sinckler.
After having one quick tap penalty brought back, Care takes another from about 15 metres out. Harlequins take the ball through the phases and Matthews gets over between the posts. Swiel slots the easy conversion and we actually have a bright, shiny seven points. Of course Worcester have 21, but it's a start. And congrats to Charlie, that's only his fourth try for Harlequins in 127 appearances!
5 minutes later Worcester are charging up the middle. At a ruck Harlequins manage to snaffle the ball but give away a penalty for holding on. Mills slots a tough kick from about 40m out and that target of ours recedes to 24-7.
With 5 minutes to go Brown bursts through a Worcester defence in their own 22, steps one, steps two, Dickson digs it out, this time it's Harlequins throw the huge miss pass to the wing, Wallace takes the ball and a tackle, offloads to Alofa-Alofa who runs the try in at the corner. Swiel slots the toughest of conversions and suddenly we're 24-14, 3 minutes to go and who knows what might happen?
Harlequins manage to work their way up field enough to have a scrum in the middle of the field on the Worcester 22. Worcester give away a scrum penalty with the clock already in the red. Harlequins do the sensible thing and Swiel pots it over giving Harlequins a losing bonus point with the final score Worcester 24 - 17 Harlequins.
In the post-match interview John Kingston admitted to not knowing why our form on the road is so poor. He blamed disruption caused by several injuries in the first half. He admitted the performance wasn't good enough. He said they'd worked really hard mentally and physically for the game and this was just not good enough. He said Harlequins had come up short today and it was unacceptable.
Well, I'd buy the story about injuries being an issue if we hadn't played our best rugby in the last 10 minutes of the games when we'd taken off four of our wounded players and subbed a number of others. I think we played well then because we threw off the mental shackles, said "we've lost this, let's play some rugby!" and went out there and did it!
If I had to name a historical event this felt like, it felt like the Battle of Little Bighorn. We went in full of confidence. We were sure we had the manpower, the tactics and the resources necessary to mop up a weakened and emotionally fragile foe. Instead we found a strong, resolute and determined foe with all the firepower they needed to inflict a heavy defeat. Although we fought back at the end, there was only going to be one outcome.