Pre-Season: Bristol vs Harlequins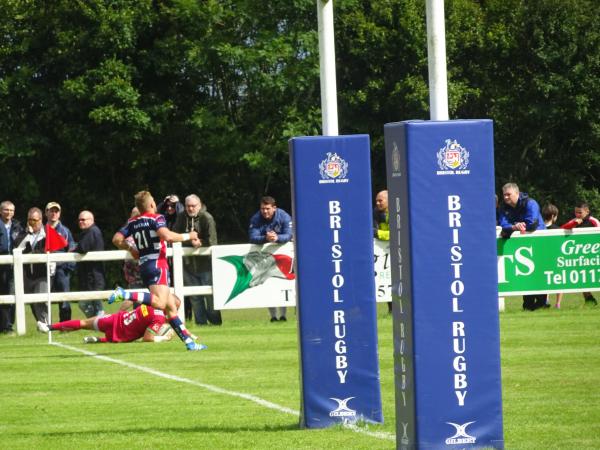 Ross Chisholm Scores!
By Bedfordshire Boy
August 11 2017
Seems such a long time ago that we had the chance to watch Quins in action so a trip to the west countryside was too tempting to turn down albeit that the weather forecast was not the greatest. Set out from home and experienced the full range of British weather on the journey together with the usual long delays on the M25 and M4. So despite a plan having me arriving at the ground at one thirty, I managed to arrive a whole 10 minutes before two thirty kick off.
From the start Bristol looked dangerous but it was Quins who went into the lead when a speculative long pass to the Bristol wing was easily picked off by Tim Visser who had to gallop some 30 metres to score. Tim Swiel made the conversion look very easy and Quins were 7 points to the good inside 5 minutes. We were all a bit confused when the game came to a halt after 20 minutes but apparently it had been agreed that the match would be played in four quarters. Almost straight away after the start of the second quarter Quins scored their second try with another intercept, this time by Tim Swiel. Swiel who ran 70 metres and then converted his own try to bring the score to Bristol 0, Quins 14 which is where it remained until half time. The Quins defence was really put to the test during the first half and generally looked pretty sound but both sides looked pretty rusty with their ball management, not helped by a period of heavy rain. Nevertheless an entertaining 40 minutes of rugby.
Bristol fielded a completely different side for the second half although it wasn`t obvious that there were any changes to the Quins line up, oh for a matchday announcer! Bristol looked much more likely to score from the kick off and they were finally rewarded when Jeffries crossed the line for an unconverted try. Quins made their first substitutions before the restart with the introduction of new boys McNulty and Boyce as well as the very welcome sight of seeing Harry Sloane in a Quins shirt after many many months out of the game. It was quite noticeable that he seems to have bulked up a bit during his time out of the game. On balance, Bristol continued to have the better of the game and their second try came just before the end of the third quarter when McMillan scored followed by a conversion by Sheady. Quins were next to score when Ross Chisholn touched down in the left hand corner following good work from centres Alofa Alofa and Harry Sloane. Tim Swiel was unlucky with the kick as the ball hit the upright leaving Quins with a seven point advantage over the home side.
With 10 minutes of the game remaining Bristol scored their third try through Cullen and with the conversion by Madigan the teams were level at 19 points apiece. A few minutes later Quins scored try number four when following a break by Swiel, Charlie Walker went on a jinxing run around (it seemed) half of the Bristol team to score. Following the conversion by Swiel the momentum for the rest of the game was definitely with Quins who were rewarded with a penalty try on 80 minutes after Bristol pulled down a rolling maul. Final score, Bristol 19, Quins 33.
All things considered I thought it was a good all round performance by Quins who to my mind were deserved winners. The scrum and lineout functioned pretty well, with only one lineout overthrow as I recall, and the defence was pretty sound throughout. Cannot think of anybody who had a bad game although understandably there was a lot of huffing and puffing at times. Both Charlie Matthews and Jack Clifford were noticeable in the loose and Visser, Swiel and Chisholm all showed that they have lost none of their basic speed. It was pretty clear that the two Directors Of Rugby had different aims from the game, with JK wanting to test the fitness of selected team while Pat Lam wanting to take a look at his whole squad under match conditions. Seemed as if the whole team came through the match unscathed and I am sure that JK will see it as a good day at the office.
An enjoyable day out at a nice ground which is the home of Bristol Ladies Rugby apparently. Not sure of the level of attendance but a good turn out by Quins fans as well as a fair number of the Quins squad.
An interesting anecdote from one of the locals. Many Bristol folk support the round ball game as well as rugby and ever since Bristol Rugby moved to Ashton Gate, the home of Bristol City, some rugby fans (Rovers fans) no longer watch any Bristol Rugby home games! Prejudices run deep.
View a Printer Friendly version of this Story.
Pre-Season: Bristol vs Harlequins
Discussion started by ComeAllWithin.co.uk , 11/08/2017 22:33
ComeAllWithin.co.uk
11/08/2017 22:33
What do you think? You can have your say by posting below.
If you do not already have an account
Click here to Register
.
Apologies for the tardiness in putting this up. If work could stop interfering with my private life, it would all be a lot simpler!
Scaramouche
12/08/2017 11:23
Judging by the angle of that piccie I must have been standing next to you!

If at first you don't succeed, Try, Try and Try again.
Sorry, only registered users may post in this forum.
More Harlequins headlines