LDH: London Irish vs Harlequins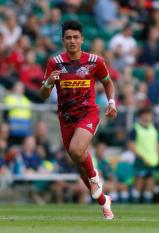 By Bedfordshire Boy
September 7 2017
Quins off the Paice in season opener : Yet again despite vowing never to attend the LDH, I weakened and found myself heading to Twickenham on a very warm and sunny afternoon. Walking towards the stadium met up with some Saints fans heading for the A316 and quickly realised that I should not have asked how they got on, seems that the Sarries machine continues to rumble on. Strangely quiet all around Twickenham but I guess most people were already inside the stadium (or more likely couldn`t be bothered to turn out). You might have noticed my reluctance to actually make any comment at all about the game thus far having gone there feeling sure that we would have learned something from the encounter three weeks ago, sadly it would appear not.
It took only 4 minutes for Irish to get their first points when a penalty was awarded against Joe Marler for not rolling away in the tackle leaving Irish fullback Tommy Bell a fairly straightforward kick. With only seven minutes gone and Quins are once again penalised for not rolling away in the tackle, this time James Horwell, allowing the score to move on to Irish 6, Quins 0.
From the restart there was a fairly long period of Quins possession culminating in a penalty against Irish for pulling down a Quins maul allowing Marcus Smith to score his first ever premiership points, Irish 6 Quins 3 after 16 minutes. Irish press again when the games resumed and Quins were once again penalised, a bit harshly in my opinion, but as Bells kick drifted wide of the post no harm was done. Irish continued to press and it took a toe tap tackle by Mike Brown to stop Alex Lewington going in for a score as once again the Quins defence is found wanting on the wing, a failing much in evidence last season.
Following an Irish knock on, Quins attack from the scrum and following a break by Smith the ball is passed to Marchant whose pass to Walker is not held and the game is brought back for the knock on 7 metres from the Irish line. Irish clear the ball to touch from the scrum and Quins are immediately back on the attack which eventually breaks down as Jamie Roberts loses the ball in the tackle on the Irish 22. How quickly can you turn defence into attack, if you are London Irish, very quickly? From the spilled ball, Marshall makes a nice chip to Topsy Ojo on the undefended left wing, Ojo passes to Mulchrone and as the Quins covers the ball is slipped back to Ojo who runs in to score. Another successful kick from Bell finds Quins trailing Irish by 10 points with fifteen minutes to go to the break.
More indiscipline by Quins leads to yet another penalty to Irish and referee Foley marches a further 10 metres down field after Mike Brown speaks out of turn. Both teams press whenever they get possession but it always seems to be Irish who are willing to try something different and therefore the more likely to score which yet again pays dividends when Cowan slips the ball out of the tackle for Tommy Bell to glide past Danny Care and run around Mike Brown to score. This is not going well for Quins, and despite Bell missing the conversion the score moves on to Irish 18 - Quins 3 after 31 minutes. A few minutes later the Quins supporters at long last have something to cheer when Jamie Roberts neat pass to Joe Marchant allows him to runs in from 30 metres to score under the posts. An easy drop goal conversion by Marcus Smith moves the Quins tally to within 8 points of the Irish total.
A whole minute passes before Irish are awarded yet another penalty and although it is in a kickable position, Irish kick to the corner. Following the lineout, Quins clock up penalty number seven, and with it a warning from the referee. This time Irish take the easy points with the successful kick by Bell and their score moves on to twenty one points. During the last three minutes of the half Quins mount one final attack and Mike Brown would have had an easy run in to score if the pass from Marcus Smith had been accurate. Plenty of endeavour by Quins in the first half, but apart from a few line breaks, all pretty ineffective. Nobody could really begrudge Irish their lead.
Quins are straight onto the attack as the second half kicks off and making good progress to the Irish line before Joe Marler drops a pass. From the scrum Irish kick down field allowing Quins to come again before a very flat pass by Smith results in a knock on by Ward. Five minutes of the half gone and Quins looking much better but good moves always falling down at the end to clumsy play. After 10 minutes we all get a chance at long last to see Dimitri Catrakilis in a Quins shirt who replaces Marcus Smith who goes off after a crunching tackle by Tikoirotuma. Before the restart Marler, Collier, Glynn and Clifford are replaced by Lambert, Sinkler, Merrick and Luamanu. Within a minute Catrakilis is walking in the opposite direction as he is shown a yellow card for killing the ball (unluckily in my opinion) with Irish 10 metres from the Quins line. A simple kick for Bell moves Irish on to 24 points as Irish replace their entire front row.
Despite solid defence by Quins within seven minutes Irish score their third try when Treviranus crosses the line after some good interplay down he right hand side. Luckily Bell once again pulls the kick wide so after 57 minutes the score is Irish 29 Quins 10 and things looking pretty grim. Quins up the tempo and with the return of Catrakilis they are awarded a penalty which is kicked to the Irish 5 metre line, they set up a rolling maul and as it moves left, Care and Yarde cleverly break right allowing Marland Yarde to score. Catrakilis scores his first points for Quins to bring the Quins score within twelve of Irish with 15 minutes left on the clock.
For the first time in the match Irish were starting to look vulnerable and the Quins supporters wondering if the game could be turned around in the last minutes. Quins are awarded a penalty as the game enters the last ten minutes which is moved 10 metres further down the field after some Irish backchat, and Catrakilis once again kicks to the corner. Irish are penalised once again and the second catch and drive sees Danny Care break left from the back of the maul to touch down in the left hand corner. The conversion attempt is missed and all of a sudden Quins are within seven points of the Irish total with a little over seven minutes left.
From the restart Quins again fumble the ball giving possession to the Irish who attack down the left hand side and Bell is unnecessarily blocked by Mike Brown as he chipped the ball towards the try line. Quins manage to safely touch the ball down but Brown is shown a yellow card for his misdemeanour. Bell scores from the penalty so all of the hard work in the previous minutes is negated as Irish move to 32 points after 85 minutes. Irish knock on from the Quins restart allowing Quins to pressure the Irish defence and they are rewarded when a superb break by Yarde leads to Charlie Walker scoring under the posts. The Catrakilis drop goal conversion brings the score to Irish 32, Quins 29 with less than 3 minutes left to play. With things now getting very tense and Quins trying to play their way out of defence, a speculative offload by Mat Luamanu is snapped up by McGiven who runs in to score the fifth Irish try which is converted by Bell bringing the final score to London Irish 39, Quins 29.
To say that was a disappointing performance is an understatement and it not unexpectedly triggered the "JK must go" response from many. In my view most of the problems were self inflicted as the basic handling skills of many of the players were well below par and player discipline was abysmal at times. Basically after such a poor start, Quins were always playing catch up, and at the end having to force things. I thought that the referee was very harsh in the way that he handled the breakdown but he was at least consistent and the players should "look and learn" instead of continually re-offending. Irish always seemed prepared to try something different and they had obviously noticed the habit of Quins to defend narrowly and leave the flanks exposed. All in all a bad day at the office but in my view not the season defining event that some are already predicting. One thing that the coaching staff should seriously think about is the idea of having a week off leading in to the first game of the season as it is difficult to see where the benefits were after Saturdays display. Blair Cowan was a well deserved Man Of The Match although I did have Tommy Bell down as a close second.
We were told that over 56000 attended Twickenham for this annual event which unfortunately means that "the powers that be" will consider the day to be a success meaning that they are likely to persevere with it. The only good thing was that as far as I could see there was not one mexican wave despite a number of attempts to start one. It was interesting to see Karl Dickson participating even if it was only on the big screen confirming the referees decisions. Oh I nearly forgot, at long last it was great to see the policing of the crooked feed in the scrum!
So another London Double Header has come and gone and the whole spectacle as an event was as disappointing as ever. Never again says I (not for the first time) but I have little doubt that if we are unlucky enough to be part of it again next year, I will find myself heading along to watch.