Harlequins vs Leicester: A Youngster's First Game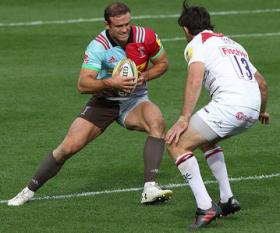 By InsertQuinsPunHere
September 27 2017
It was game day. Harlequins vs. Leicester Tigers at The Stoop. Today was to be my daughter's first live game. She's been an avid Quins fan since before she was born; kicking inside her pregnant mum when the crowd cheered. That was in the good old days when both my wife and I could justify a whole Saturday "wasted" together at the rugby. Now, with two kids, it's only the odd game I get to see live.
From a three-year-old's perspective, this was a huge adventure. Up to London (sort of), a day with her dad (lucky thing), and a final acquiesence to repeated requests to "go with daddy to the rugby". From my perspective, the logistics worried me. I needed bags of stuff, clothes, food, toys, where usually I would simply need a wallet. Oh, and I needed the patience of a saint whilst hurrying the young lady along since we were, of course, horribly late.

Into the ground, and a quick safety chat about what to do if she got lost (speak to a steward in a bright yellow/orange jacket) turned into a misunderstanding from a daughter now terrified that I was going to leave her to fend for herself in the thronging crowds. So much for being sensible. Hopefully, after the tears had subsided, some of the basic "stranger danger" principles had sunk in, but who knew.

Next stop, refreshments. Thankfully my chivvying had paid off, and we had some time before kick-off. "Can I have an ice-cream please daddy?" Well, who could say no to that sweet face. Ice cream in hand, we got in the queue at the Quins Head to buy daddy his beer. The slowest queue. It was going to be one of those days: when I eventually got my beer, it was flat. I miss the jug bar, and the young chap who staffed it who knew how to pour a pint. Bah.

"Why's that man got a balloon daddy?". Where... I quickly look around to see a group of lads who were, I assume, on a stag do. The stag had an enormous inflatable phallus gaffa-taped to his back. Great. "Well. He's probably having a party." That ought to put her off. "Why is it strapped to his back?" This is not going to go well with her mother if she keeps up her interest in this helpfully placed troupe of jokers. Won't anybody think of the children. With a short comment about the strapping being the same as her holding onto the string of a balloon at her party, we quickly pushed through the crowds towards our seats.

For once it was a relief to climb all the way to the top of the South Stand to our seats. Not least because the entire back row is seatless, and the munchkin could run up and down to her heart's content to burn off the sugar I had foolishly plied her with before a two hour sit down. We cheered when the team came out. My daughter loves to be noisy, so was enthralled at the opportunity to shout without getting told off.

And then it began. Within minutes of kick-off came the dreaded "I need a wee", that was to become my theme for the afternoon. No fewer than six times throughout the game did we have to traipse all the way down the stairs, round to the back of the stand, into the bogs, and back again.

I remember some tries. Some good ones too. Although I'd hardly be able to tell you which team scored them, let alone which player. I remember it being a tight game, a closely fought contest. I remember having to continually dig out treats and toys to distract a thoroughly bored child who just wanted to run onto the pitch. And, I remember the crowd cheering at great play, and at each score. Mainly because my daughter (until now the noisiest person on the planet) had decided that the cheering was "too loud daddy, too loud", and covered her ears with her hands and cried at each cheer.

There are three key moments that stand out from the rugby itself:
1. Robshaw going off cost us the match.
2. Brown was equally injured (at the same time ?), but stayed on the field looking rather worse for wear.
3. Yarde got taken out late, preventing a try. It looked pretty cynical in real time, and this has been done to death elsewhere, so I'll stick with this interpretation for now, thanks.

All in all, it was a lovely day out and, on the journey home, my daughter told me how much fun she had had, and that she wanted to do it again. I think I might wait until she's a couple of years older first!
More Harlequins headlines
Harlequins Poll