Too Many Saints Too Many Sinners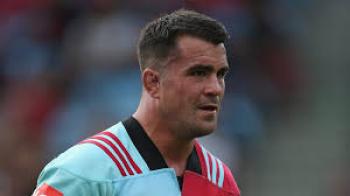 By Cookie
October 2 2017
If you're anything like me, midday Friday is an exciting time. It's squad announcement time. But it can also be a demoralising time. Many taps of the F5 key later and there it was. Such was the long list of players whose names were missing, I half wondered to myself whether a stag do or sking trip had been organised and they'd forgotten to tell John Kingston. Then I recalled they are not Thamesians RFC, they are a professional rugby team.
And so, alas, it was a tale of more concussions, slow recoveries and various other ailments. Much discussion, admonishment and countenance later, the plucky (as I think we should be referred to more often) Quins supporters set sail for the land of the Cobblers.

As is becoming tradition, first stop was the Foundryman Arms to meet up with the fellow travellers, including the Quinssa boys in their snazzy new away travel shirts (never did find out how I could get one). Had the customary shocking burger and a couple of ales and bemoaned our luck, whilst still clinging to the thought that maybe, just maybe, we could get something out of the game.

At the ground (one of my favourites). we bowled into the north east entrance and were immediately confronted with the team warming up in front of us. This, for me, is when the game really starts. Do we look up for it? Are they really putting it in? Early signs were good.

Hold up………..where's Will Collier? Anyone seen Lewis Boyce? Is that Cameron Holstenthingy. That looks more like Swainston. Thankfully, it appears to be Quins policy that if you can walk, you get on the bus and take your kit with you, so thankfully props #5 and #6 reported for duty, hopefully not full of junk food and fizzy pop.

And so to kick off. And not a good start. A couple of penalties (who'd have thought!) put us under pressure on our line. Due to most of the injuries being forwards, I was more concerned about our set piece (more on that later). But we sturdily defended the line out and stopped the drive. But then forgot to tackle George North. Danny (twice), Jack and Lambo all failing to stop him from short range.

A couple of season ago, Courtney Lawes smashed Marland so hard that the Saints fans in the Terrace (love standing with home fans!) spent the remaining 20 mins shouting 'give it to Marlon'. In the last minute we did and he flashed past us on his way to scoring under the posts from 60 metres, whilst I helpfully told the Saints fans 'his name's MARLAND and he went that way (pointing at the posts)'. Aaron Morris provided a deja vu all over again moment as he did a 'Visser' and picked off Luther 'Three Pumps' Burrell's hopelessly unnecessary cut out pass. Aaron showed admirable gas and stamina to get him from 80 metres. I spoke to him after the game and joked that we didn't think he'd make it to which he responded 'I haven't run that far for a long time!'

Next up, more shocking defence. The Saints fans, who we were enjoying great fun with, gleefully told me that Tom Collins' try is the 3rd time they've used that move this season and it's yielded a try every time (sack the video analyst!!).

Real concern followed, though. Unable to keep down the penalty count and hold up our side of the scrum, we couldn't get the next score. Instead, it was the familiar sight of poor DC box kick/poor kick chase* (* delete as applicable) and a return that went straight through the heart of our defence. Unable to prevent offloads meant a try under the posts, although we must give credit where it's due, it was an excellent try and I made more friends by politely applauding it.

Half Time: 19-15 to the home side and all to play for.

Barely had we got comfy for the second half and we conceded another soft try. A cleverly placed kick behind Yarde, who was way out of position, and Tuala is clear. The ever-impressive Marcus Smith caught him and brought him down, only for Marland to inexplicably dive on him rather than stay on his feet and either jackal or bundle him into touch when he got back to his feet. Not clever.

Scrum time, by this stage, had become an embarrassment. It doesn't seem to matter which front row combination we have on the pitch, we're getting dominated. By way of an semi-scientific comparison, some of us are playing a Fantasy Rugby Draft game that groups Front Rows to score points. Sarries lead on 140.8, some way ahead of the Falcons on 91.8. We have scored 13.3, only worsened (by 0.3) by Bath. In the past 3 weeks, our front row scored -3.4 points. It desperately needs sorting.

And so surely this is where we capitulate? Well, actually, no. What followed was some tetchy stalemate, including Sinckler's alleged gouge. Not going to go into too much other than most people, myself included didn't really see what the fuss was about on the big screen. I'm sure we'll hear more about it, though.

And so, with Lewis trusted with his first minutes of game time, his quick tap and go created a penalty advantage on the Saints line and after a couple of close calls, Wardy gets over. Special mention to him - he didn't stop all day, his line out was pretty solid and he played the whole game with one I shut after an incident that JK knows about, but won't be 'whistle blowing' over. Moral high ground or not treating others as they treat us. You decide.

And so to the denouement, and Lord knows it summed up our season. In the final minute, Archie White, who, along with Dino Lamb did themselves credit, boshes it up the middle. Penalty. But wait, what's this? TMO wants to look at Merrick's clear out and sure enough it's a penalty against us. Our discipline costs us a LBP that scarcely looked possible before KO and yet was the least we deserved as we could have nicked the game.

More fun with the Saints fans (who thought their team were poor) and many handshakes later and it's time for touchline talks with the players. The main news there is that Collier says he'll be back next week, Nick Evans reports that Robbo will be back next week, Bothma in a month and (amazingly) Luke will be back 'early in the New Year', all things being equal.

And so more of the same from Quins. Problems at the set piece (although now the scrum is of more concern than the line-out) and poor discipline cost us, which is so frustrating as there were so many positives we could take away from the weekend. But no points.
More Harlequins headlines
Harlequins Poll