Harlequins vs Sale: The Boat Is Big Enough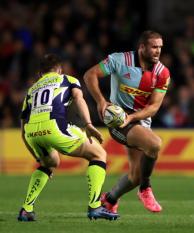 By DOK
October 8 2017
Bishop: "I'm afraid you've got a bad egg, Mr Jones"; Curate: "Oh, no, my Lord, I assure you that parts of it are excellent!" "True Humility" by George du Maurier, originally published in Punch, 9 November 1895.
And that is what we had here, a curate's egg of a game. Some good, some bad. A great first half, but then we let them back in the game. Some outstanding attacking, some less than stellar defending. In the end it was all getting a bit close, Harlequins on 32 and Sale on 26, but Sale scoring regularly... At least it made great theatre if not great rugby.
Back in January we beat Sale by 3 points, 5 of the last 7 meetings were decided by 4 points or fewer. So how close was this game going to be? At kick off, excellent decision by Charlie Matthews to play a ball that might or might not have come down short of the 10-metre line. Danny Care then gave a warning of what was to come with a sweet kick forward to Marchant, completely negating the 14 men Sale had strung out across the pitch. Ended with Marchant trying an over optimistic grubber kick to Robshaw which went out.
Harlequins continued to maintain pressure and territory, however. Clifford carried the ball beautifully into the Yellow peril, making a big dent and gaining valuable yards. A high tackle on Yarde nearly yielded something good, but Visser using the advantage had a toe in touch. After some good work moving forward inches at a time, Smith passed to Aaron Morris who tried to flick it on to Robshaw on the wing (Robshaw on the wing?) but passed to Solomana, and hearts were in our mouths till Matthew Carley called them back for a previous offence. Whew!
So 5 minutes gone, Sale's scrum about 10m out. They kicked but Harlequins back in their faces. A bit of a ding dong battle. A "Hail Mary" kick by Sale nearly resulted in a Danny Care intercept. I said to the folk around me at the time that if Sale kept doing things like that we'd eventually take advantage. A scrum to us, Marler caused a collapse (penalty) and Danny Care nearly got away with a sniping run. 3rd time in the Sale 22 for Quins after the penalty kick/line out. Harrison throws a loose pass back and Robshaw pounces while everyone else stares at the ball - his reactions are so good! Care picks the ball out, sees Visser waving from the side-line and produces an inch perfect kick with the outside of his boot for Visser to catch and with no one actually in front of him Visser gallops over. Great play between Danny and Tim, but Chris Robshaw made that try! About as far to the touchline as possible , surely Marcus Smith couldn't sink this one? Silly me, he puts it perfectly between the posts! Thirteen minutes gone and we're 7-0 up, who'd a thought?
After a bit of aerial tennis, Dave Ward (who else) steals the ball in a ruck. Faf de Clerk (great name) and Danny Care compare hair styles or hand bags or something but it's a penalty to Harlequins. Harlequins move up field bit by bit. However, Sale are not committing numbers to the breakdown. They're trying to keep their fourteen men spread across the field approach. Harlequins are finding it hard to break through. After a Sale scrum Solomona eludes Visser, kicks the ball forward. Aaron Morris thinks it will go out on the full and is jogging back. Fortunately, it does go out before Solomona gets there.
From a Harlequins scrum the ball gets to Visser, the ball goes right then left with Harlequins making ground all the time. Eventually the ball goes to Marler standing on the Sale 5m line. Two defenders oppose him but he charges over under the posts. That's his 6th Premiership try in 110 matches, first try in a year! Straightforward kick for Marcus - 21 minutes gone and it's 14-0. Amazing! After the tonking Sale gave Gloucester last week, I was really concerned this would be another mud wrestle!
After some mid pitch exchanges after the restart, Matthews performs a brilliant intercept from MacGinty just on the half way line. Smith gets the ball and produces a peach of a kick into the Sale 22. I swear, this kid is better kicking the ball out of hand than Nev was in his last few seasons. He kicks further and he kicks more accurately. As the ball goes down the Sale line, Sam James goes to clear the ball with a kick but Marchant intercepts, has the wit to keep running to collect the ball and touches it down for a try. Of course Smith converts it, Harlequins 21 Sale 0 and 25 minutes gone. Surely we won't screw it up from here?
As Ward is tackled on halfway, he tries the world's most unlikely kick to touch, which doesn't come off. Sale are really getting into the referee's ear at this point, in fact there seems to be a queue waiting to talk to him. I thought he could have handled this better either by marching the team back 10m or at least telling the captain he wasn't going to put up with it.
Anyway, eventually Sale make their way down to the Harlequins 22. Doesn't look like there's any danger. Mike Hayley dashes between Robshaw and Merrick, they both miss him. Care misses him, Dave Ward misses him, Marchant grabs him but he's too near the try line and it's 7 points to Sale. Typical Harlequins! 30 minutes gone and we're giving them hope instead of shutting them out! Stay switched on Harlequins!
After the restart Matthew Carley completely misses a high tackle 13,500+ Harlequins fans see clear as day - fortunately he has a TMO to act as his seeing eye dog. In fact, there was another one on Clifford by Solomona after the first. Sale get a telling off! Harlequins get to 4m out from the Sale try line. A dozen phases from Harlequins, the best to date, but no sign of any actual penetration. Clifford is down. Then he's getting oxygen. This falls in the "not good" category. Archie White comes on and Clifford goes off to sustained applause. A few moments later a penalty to Harlequins (beautiful link up between Care and Visser) so 24-7, 2 minutes to go. Will Collier comes off.
As a final act of the first half, wonderful work between Smith and Yarde resulting in Yarde getting over the try line. Carley was convinced the ball was held up and didn't need the TMO - I'm not so sure. Would have liked to see a few angles on that. Smith strikes his head for what? I saw nothing wrong. Anyway, following a scrum penalty at the 42-minute mark, Harlequins decide to take the kick at the posts and so half time is 27-7. Of course a 20 point buffer will be more than enough, Sale are no way going to get a bonus point tonight.
After the restart, but for a forward pass, Harlequins had another try. Sale playing with a bit more purpose and direction in the second half.
Much more balanced now, so less to report really. There's an amusing moment where Sale complain the ref isn't telling them the numbers at the line out. Carley replies that he can count to five, he assumes they can count to five and therefore no further help is needed! I am warming to him as a referee!
Beautiful intercept by Charlie Matthews. He sets off down the pitch like a giraffe galloping over the plains of the Serengeti pursued by a pack of hyenas! Ends with Harlequins back in the Sale 22. Eventually Care gets the ball, puts the grubber kick in behind the Sale line, there's no sweeper, Visser charges for it, gets it and touches down. Smith misses for once. It's 32-7, nothing for Harlequins to worry about, surely? We've secured the bonus point and Sale are nowhere in sight!
Couple of scrum penalties later and I'm starting to wonder. 54 minutes and Sale are on the 5m line. Penalty for Quins going in early on the lineout. Eventually a try scored by Halani 'Aulika as Sale drive over. 32-12. Not surprised we couldn't stop him, you'd need a JCB at least! Sale have 12 points, no worries, surely?
Harlequins eventually get a penalty at the 60 minute mark. 35-12. Just before 65 minutes Danny Care throws a miss pass over Smith. Intercept! Sam James races in from not quite half way, they kick the conversion. That's 3 tries to Sale. So a possible two bonus points on the horizon for Sale. Roberts goes off for Alofa Alofa. (Roberts was wearing limited edition breast cancer awareness pink boots in case you thought he had some sort of wardrobe malfunction)
Visser and McGuigan tussle on the touch line. Can't see what started it. An effective maul from Harlequins results in a penalty to Harlequins for side entry. Can hear the ref saying to Sale "They're not doing it at any different speed to what you guys are doing it" - so that puts that complaint back in the box. Harlequins get into a nice position 15 yards out, then give it away with a penalty for holding on. Lambert comes on for Marler.
O'Connor gets the ball through to Harlequins 5m line. Ostrakov so nearly scores but loses control at the last moment and drops the ball. The ref then says to Jonno Ross "Right listen! You've asked me once, if not ten times, and I've given you a quite simple answer. For me he clearly drops the ball, I give a knock on. The TMO has looked at it, he's just told me that he believes it's a knock on as well. So I don't know what we're going to check for. Can you please stop? It's a scrum to Quins!". Go Matthew Carley!
On the Harlequins 5m line, Swainston and Lambert give away a scrum penalty. Swiel comes on for Alofa. Another penalty for collapsing the scrum. Another scrum, another penalty. Another penalty against Quins but Carley is playing the advantage. Ball against the base of the posts. Carley asks "Any reason not to award try" and there isn't. Bonus Point to Sale from Ross Harrison. Sale were 32-7 down, now 35-26. Squeaky bum time!
After restart Faf de Clerk kicks it down field. Fielded by Swiel. First McGuigan throws a foot out to trip him, then dives on him for a high tackle. From the resulting penalty Marcus Smith dinks it over the top of the Sale line, Morris gathers and looks like he's through but is just tap tackled about 15m out from the posts. Ball goes wide, Smith to Yarde. Yarde evades the tackle, runs round a defender or two and is over the line and under the posts. Smith converts and it's 42-26 and Good Night Vienna with 5 minutes to go! Robshaw leaves the field letting the others shut up shop. Danny Care gets man of the match.
Ball comes wide to McGuigan. Swiel grabs his shirt and pulls him over the touch line. McGuigan gets up and pushes Swiel over, falling on top of him. The rest of the world piles in. The ref is telling people to stop trying to separate the opposition players but take their own players away. Joe Marler is pictured laughing, presumably because he's not likely to get a yellow from this since he's not on the pitch. Carley says Swiel had McGuigan on the ground with forearm to the throat, McGuigan's reaction was disproportionate so yellow cards the both of them. Ugo commentating says that's wrong, McGuigan started it. But a minute to go, who cares?
Game over. A bonus point win for Harlequins, a bonus point loss for Sale.
After the game John Kingston said "The last two weeks to get just one point from the performances against Leicester and Northampton, I felt in the context of what we were facing, was not fair. But fair doesn't come into it, and I was very pleased for the players to get five points tonight. To come out and get the result and play as well as we did was really pleasing. It looks like Jack has a dislocated shoulder which is frustrating for him. Last week we had a training session under lights and had five players in question, two missed out and three got in. It's disappointing because he played ever so well when he was on the pitch."
Get well soon Clifford and Collier (and everyone else injured!).