Harlequins vs La Rochelle: Excellent Smith and Chips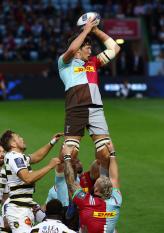 By MrOther
October 18 2017
It's my first time to the Stoop this season so I'm there in plenty of time to test the food and drink recommendations picked up on the discussion board. But first a diversion to Big Stoop to see how the East Stand is coming along. Well, it's coming along. Not much to say about it really and the diversion is more interesting for an encounter with a cheerful group of La Rochelle supporters who want to make me a gift of a yellow and black flag. "Non merci."
On the way into the ground there's a coach slewed across Langhorn Drive as though the driver is completely lost but also has forgotten which side of the road he's supposed to be on. Must be French. No, Dutch! Apparently an entire busload of Hollanders has come over on the ferry to see the only two Dutchmen playing professional rugby go up against each other (Tim Visser and the La Rochelle backrower Zeno Kieft). "Welkom."
And so to the consumer test. Are the fish and chips as good as they say and can I get a drink out of the Quins Head? In the past I have always headed that way for my beer.
I take the wrong side to the South Stand, blocked by the crowd at the players' tunnel, but I do get to see Chris Robshaw -- tanned and dashing as a cartoon character -- gamely posing for selfies with youngsters. He looks a lot more at ease doing this than posing for the camera at his own engagement do.
Eventually having scrambled through, I have to say the chip van was excellent. Short wait, very generous box of tasty fish and chips for what seems a reasonable price. (£8.50. That's not bad, is it?) And the young women in their straw boaters fronting the show are friendly and efficient. No complaints at all.
I even get a seat at a nearby table to enjoy it (someone's wife has gone to the loo and he has more sympathy for me than for her). The queue at the Quins Head is manageable. I'll eat my meal and still have plenty of time to get a pint before the game.
Sitting there I spot unexpected confirmation of what makes rugby special for me. Two young girls (six or seven years old) skipping along to the loo, or to daddy, or just for the joy of it. I don't know where they're going, but they do and it's perfectly safe for them to be running about like this amongst 11,000 people at an international sporting event. That's special.
There's no queue for the loo with half an hour to kick-off but it's a lot busier at the Quins Head. I join what seems to be the shortest line, but none of the lines moves in the following quarter of an hour. I can't see what they're doing at the front, but they're evidently not serving beer or people would be peeling away and heading for their seats. With fifteen minutes to go I give it up and head for the stands.
I am wondering now if the Quins Head isn't a game of chicken. Not petrolheads careering head-on towards each other to see who pulls out first but hundreds of people lining up for beer knowing that half the guys in front of them will chicken out and head for the stands empty handed in order not to miss the rugby.
The beer was a disappointment but nothing to compare to the first two minutes of the game. Tim Visser cuts in from his wing in defence, arms waving as though he's going to make a glory interception or huge hit on someone, misses everything and tackles high in his effort to make up for the misjudgment. Penalty. 10m lineout. Rolling maul. Try and conversion. [0-7] Not sure I wouldn't have been enjoying myself more still queuing for beer.
Five minutes in the first sparkle from Marcus Smith, who makes half a break, keeps his hands free and gets the offload to Jamie Roberts, but Ben Glynn knocks it on. One of severable fumbles to come from him. Poor bloke, suffering from being fast-laned through injury.
Mike Brown makes a line break, Joe Marler barrels on. First of several good short carries from Joe. Quins win a penalty and Smith puts it over. [3-7]
Ryan Lamb kicks La Rochelle's restart to Visser who obligingly kicks it back inviting the French to attack from deep. They don't actually need a second invitation, but they'll be getting precisely this same invite from Visser again later.
Paul Jordaan is almost through, stopped by a great tackle by Horwill, but Mike Brown gives away a kickable penalty. [3-10]
Before we're a quarter of an hour in though it's all square. Ben Glynn earns us a penalty at the breakdown, which is kicked to the corner. Roberts runs a great line and offloads to Matthews to score. [10-10] A lot of strapping goes on Matthews' ankle holding up the restart. He looks very uncomfortable, but will play out most of the rest of the game.
The visitors are making a lot of relatively easy yards with their pick and go at the breakdown. They're big blokes, but we don't seem to be defending it well. It's like we haven't noticed.
James Horwill's having a good game. Promising attack from his turnover, but Mike Brown forgets to pass. (Hmm, has this happened before?) Smith's grubber into space runs just over the goal line for a 22 drop out. Those magic grubbers and kick passes aren't going to work this week. Can't be Christmas every day.
On 22 minutes Glynn knocks on (again) but La Rochelle don't want a scrum, they run it from their own in-goal and there begins a breathless, structureless passage of play, with knock's on and advantages left and right but no stoppage. Eventually Danny Care hoofs it long (probably thinking to make touch), but the La Rochelle defender comes back with an up and under. Right under my nose on the half way line, while the ball is spiraling through the air, I can see Danny and Dave Ward having a conversation in front of me. No idea what they're chatting about but they manage to distract each other to the point that neither of them (and no one else) tries to field the kick. The La Rochelle's defender gratefully collects it himself.
This crazy period is brought to a conclusive close with a string of four missed tackles by Quins (which I'm ashamed to say had me shouting "rubbish" from my seat) and La Rochelle are in under the posts for another seven pointer. [10-17] Five minutes later there's an amazing offload in the tackle from Victor Vito and the next phase is another seven pointer. [10-24]
It's not looking promising at this point and I'm wondering if we are going to get mullered after all, but Mike Brown throws a dummy (which means that the defender thought he was going to pass!), makes a fantastic break AND remembers that you are allowed to pass to someone else to finish the job. This job takes a lot of finishing (almost as much as Brown's own try in Australia) but Joe Marchant is up to the task and runs the last ten metres with a defender on his back to score. Well converted by Smith. [17-24]
Two minutes to half time and another solid scrum. They are not bossing us at the scrums for all their weight, and the scrums aren't collapsing either. Marcus Smith makes another line break, great line from Mike Brown and are we looking at evens at half time? Danny Care's chip is a fail (charged down I think), but we have a penalty advantage. Kicked to the corner, lineout. Again penalty advantage, again Danny's magic boot from last weekend fails him, the kick through isn't grounded. So lineout again, but Dave Ward throws it meters too long and we end the half still seven points adrift. A key moment in the match.
At half time I learn from the regulars seated around me that I have my prime spot smack on the halfway line in the DHL stand because the season ticket holder is recently deceased. Kind of a spooky, dead-man's-shoes sensation. He was a young guy, went skiing and fell down dead, they tell me. Very sorry to hear that. Maybe readers knew him?
Ryan Lamb has the restart and tries his luck. If he kicks to Visser will Tim again oblige by hoofing the ball back somewhere that La Rochelle can usefully attack from. Yep, he does exactly that. They don't actually need a second invitation, but they get one all the same courtesy of the Flying Dutchman. I'm generally a fan of Tim Visser but he's not having a great game for me, despite being much more involved than Marland Yarde.
Messy at the breakdown and Quins knock-on. Another solid scrum, but off the scrum Ryan Lamb sells Marcus Smith a dummy and is away. Offload to Geoffrey Doumayrou and try, on his way to earning man of the match. Everyone around me is convinced that this is Marcus Smith's error but watching it back off the internet later there's a suggestion (from Will Greenwood I believe) that Lamb was Danny Care's man the way the scrum went. Whoever was supposed to take him, it's a soft score of first-phase possession. Nightmare defending. [17-31]
In summary, either side of half time we've failed to score when we should have done and then given away a try that should never have happened. Nasty reversal in a handful of playing minutes.
Half way through the third quarter it could have got a lot worse. The La Rochelle fullback puts in a dangerous kick and he's going to outpace Chris Robshaw, collect and score, but Robshaw runs a weaving line after the ball doing enough to upset the chase without actually committing obstruction and the fullback trips over his laces (or something) and the danger is defused. Masterful from Robshaw. The ball's still not dead though and Marcus Smith has to clear up. Hearts in throats as he dummies to kick, runs, thinks better of it and slices the clearance into touch.
A try has been saved, but La Rochelle set up a rolling maul from the lineout and win a penalty. It's kickable. It's kicked. [17-34]
The pressure is soon back on the French, though. Quins penalty, kicked to the corner. Jamie Roberts another barreling run and a pass judged to have been cynically slapped down earns a yellow card for the La Rochelle openside flanker. A period of sustained Quins pressure follows, matched by spirited defence from the visitors.
The yellow-card penalty is kicked to the corner, but La Rochelle stand off in the lineout allowing a defender to circle round on Quins' side and tackle the ball carrier before a maul can be established. Smart and well executed.
Quins are still in possession and nearly ground the ball at the base of the post, but the big boys are tackling like maniacs and we're held out. The ball goes wide left and Robshaw is over but for a fine tackled by Ryan Lamb.
Camped right on the visitors' line, we lack the composure or patience to make it pay. The ball goes wide to Marchant, he looks up and decides on a grubber for Mike Brown, who can't quite get there and knocks on without grounding. Scrum five, defenders' ball which they duly win, but Ryan Lamb fumbles in goal and Danny Care's on top of him to give him no time to recover. It's all smiles between the two of them but unclear whether Danny is rubbing his nose in it or being consoling and a jolly good sport, etc etc. Either way it's now an attacking scrum five, which Quins duly win. A couple of phases later Tim Visser at pace on a killer line, but he can't hold on to the ball fired to him and La Rochelle clear.
Quins take what seems an age to set up a lineout and then we see why. There's a fancy move on which is designed to create a hole in the middle of the line for Danny Care to run through (from rather closer to the line, something similar won New Zealand a world cup final against France). It all goes to plan and Danny is all but through before he is scragged by I can't see who, but another fine piece of defending from someone.
19 minutes to go and all the pressure finally leaves Will Collier (of all people) with the line begging like Harvey Weinstein. He holds the pass and propflops majestically for the score. Converted again. Smith is very calm over the kicking tee. [24-34]
Visser again fields the restart and again kicks, but this time to touch. La Rochelle set up the maul from the lineout and win a penalty, which Ryan Lamb takes about three minutes to kick (the time wasting has begun) but he drops it onto the crossbar. Onto the bar and back into play, not over. The bouncing ball is fielded and the counter is on, but Marchant can't hold the pass from Yarde. Not a bad pass. I think he was just taken by surprise and fumbles forward.
That means an attacking scrum for La Rochelle and they substitute a bunch of heavy guys in the pack. Not sure if they're all front rowers, but their pack looks like it's composed entirely of props anyway. Nobody in this new forward configuration thinks to hook the ball in the scrum (perhaps they ARE all props) and the ref knows the rules. They are free-kicked. Ping pong ensues and ends up with Mike Brown hoofing it out on the full from outside the 22. Attacking lineout and a bad mistake.
10 minutes to go, Smith makes another line break and offloads to Francis Saili (when did he come on?) who makes a fantastic pass out of the tackle. Looking very promising on his first start and there's a sense that we can still win this. It's not very evident to me that the visitors are tiring, but Quins seem to be upping the intensity.
On 73 minutes there's a lovely moment from Marcus Smith. The ball's loose behind him, he turns to recover it. Some jobbing antipodean from across the channel must be about to flatten him so, with his back to whoever it is, completely blind, he performs a step before he turns to evade them. Turns out there was nobody there, but it was classy all the same: side-stepping an empty space which he hadn't seen.
A moment later Joe Marchant's on the end of a sweet miss-out pass and he's really fighting through the tackle for the extra yard. Joe Marler has a surge. Mike Brown makes a break. We are really up for it. The ball is ripped from Horwill but it's a Quins scrum. This time (the first time) our scrum is under real pressure, but Mat Luamanu picks up from the base to maintain possession and the attacking momentum. On penalty advantage, Saili shows a less composed side to his game and throws a wild pass into touch.
One and a half minutes to go, a kickable penalty but not a sitter. Ten points behind. Decision? Kick. Vindicated by Marcus Smith's execution for three points [27-34] and a losing bonus, but not everyone was happy. Joe Marler clearly couldn't believe it. He stood shell-shocked while everyone else retreated towards the halfway line.
So, we lose with a bonus point. Entertaining match if you're not a defence coach. Pity about the beer. Watched the entire thing dry in the end. That's a first.