Worcester have the sauce to really challenge Harlequins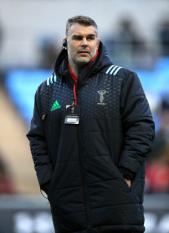 By Bedfordshire Boy
November 1 2017
Had a funny 5 minutes early on Saturday morning when I volunteered to write the match report this week when I noticed that nobody else had stepped up to the plate (for all of those who haven`t given it a go yet, why not??), after all it was going to be a straightforward five point bonus win with Warriors trailing by something like twenty points.
A great theory and all that was needed was a whole team performance including with the much talked about Quins leaky defence. One change in the backs with Alofa2 replacing Joe Marchant (presumably injured), a very welcome return to the fold of James Chisholm having not played since March, a first start for Elia2 at hooker joining Lambert and Collier in the front row and Ben Glynn partnering Captain James Horwell at lock. So, every reason to feel confident against a team missing many of their first choice players and having picked up a single losing bonus point from their toils so far this season. Have to mention Marland Yarde of course, missing from the matchday squad for the second week running, who is Sale bound according to Ugo Monye commentating for BT Sport on Friday evening.
Due to the usual problems of circumnavigating London on the M25 I got to my seat late but just in time to see Marcus Smith cross the Warriors line for the first score of the day, his first try for the club, which he converted for Quins to go seven points in front after only four minutes. You could be forgiven for thinking that it was going to be a stroll in the park for Quins on this sunny afternoon but we were all soon to find out that the Warriors team hadn`t read the script and weren`t going to lie down and die without a fight. It took a whole 2 minutes before Warriors got their first points on the board when Mike Brown was faced with defending against two players so was easily rounded by Denton who touched down in the corner. The conversion attempt by Lance was wide of the posts but Warriors were to edge in front on the scoreboard a few minutes later.
From a Quins attack Warriors intercepted a Danny Care pass and after a couple of phases Lance kicked to the wide open space on the right wing for winger Humphreys to chase. From my position in the East Stand Mike Brown seemed slow off the mark to get across to the ball so despite tackling the winger he failed to prevent the touchdown. Luckily for Quins, Lance failed again with conversion attempt but the try was enough for the "Come On You Warriors" chant to celebrate an unexpected score line of Quins 7 Warriors 10 with only 10 minutes gone. Plenty of attacking play and suspect defence from both sides and a further 10 minutes passes before Quins bring the score level following a Smith penalty.
That situation didn`t last for long however as within a couple of minutes Elia2 is penalised which allows Lance to convert his first kick of the afternoon. Things get even worse for Quins as Warriors continue to press and were once again rewarded when full back Adams touched down in the left hand corner after juggling with the pass from Lance. Another failed kick from the influential Australian Lance but Warriors now leading Quins by 8 points with only 30 minutes gone. Warriors fans getting much more vocal and certainly a lot noisier than the subdued Quins supporters. Pretty even stevens for the next fifteen minutes with neither side making serious headway into the oppositions half and the next chance for a score is a very long distance penalty to Warriors when Walker is penalised for hanging onto the ball. Luckily for Quins Lance really does have the wrong pair of boots on today as he sees is kick fall short allowing Quins to touchdown.
With a minute left on the clock until half time it is Quins turn to be awarded a penalty but the conversion attempt is turned down as Smith kicks to touch deep into the Warriors twenty two. Instead of the expected catch and drive Quins released the ball straightaway which eventually saw Mat Luamanu touchdown for a try. Good conversion by Smith so the half time score is Quins 17 Warriors 18. Apart from the first and last five minute periods of the half, Warriors very much had the better of things and if Lance had been accurate with his place kicking could have been comfortably ahead on the scoreboard. A lot of discontent in our area of the East Sand, there should be a few fireworks in the Quins dressing room at the break, a far from convincing performance.
Luamanu Touches Down For Quins Try Number Two
No changes for Quins at the break but Warriors centre Olivier is replaced by Tom Heathcoate who will presumably move to the number ten position. Nothing seems to have changed oo much in the first few minutes of the second half but Quins are awarded a penalty when Warriors fullback is penalised for playing the ball on the ground on three minutes. A bit of a comical moment followed when the ball falls off of the kicking tee and as Smith runs out of time, doesn`t seem to know quite what to do and Warriors are awarded a scrum. As it happens, it turns out well for Quins when the ball emerges from the back of the scrum Danny Care is there like a flash and using his footballing and juggling skills gets the ball over the Warriors line from 30 metres out to score Quins third try of the afternoon. Smith makes no mistakes with his kick this time and Quins are now back in front, Quins 24 Warriors 18 on the forty sixth minute.
The next few minutes seemed to be spent with both teams kicking the ball back to each other but after a line break from Warriors think they have scored when scrum half Arr crosses the line in the corner. Luckily J P Doyle refers the incident to the TMO and on replay it is clear that the ball was not grounded as it was dislodged by Danny Care in the tackle. From the resulting scrum Luamanu breaks with the ball and is tackled by Arr and it is immediately clear that all is not well as both sets of players called for medical assistance. Arr is treated for about seven minutes before being stretchered off to generous applause to be replaced by Michael Dowsett. Warriors continue to look dangerous as Quins find it difficult to get outside of their half until an offload to Care sees him make 40 metres before passing to Marcus Smith who is illegally stopped just inside Warriors twenty two. Care takes a quick tap and go, passes to Mike Brown who in turn passes to Jamie Roberts who runs through a tackle on the Warriors line to score. With two points being added by Marcus Smith Quins are suddenly in a much better place with a score line of Quins 31 Warriors 18 with 24 minutes left to play.
Warriors ring the changes and while Horwell is getting treatment Matthews replaces Glynn and Lewis Boyce comes on for Mark Lambert. Quins looking much the better side and pressing the Warriors defence and a chip to the corner by Smith is safely gathered by X who calls a mark to relieve the mounting pressure. The ball is kicked to just inside the Quins half and a quick throw in to Charlie Walker allows him to set off on one of his trademark dazzling runs to score Harlequins fifth try of the afternoon. A warm glow settles over The Stoop as Marcus Smith converts the try to bring the Quins total to 38 points after 64 minutes; Game Set and Match to Quins now, surely! Apparently not, as within a couple of minutes Warriors score their first points of the half when replacement winger Hammond touches down in the left hand corner leaving another difficult conversion attempt which this time is missed by Heathcote.
With 12 minutes left on the clock Quins replace their half backs with Mulchrone and Swiel joining the fray but it is Walker who comes close to getting his second try of the game when he kicks through a loose Warriors pass but unfortunately the bounce of the ball is unfavourable as he runs passed it. Nonetheless Quins continue to press as the forwards set up a series of drives and are awarded an offside penalty and I was somewhat surprised when the referee cut short the advantage period with Quins still in possession. Quins decide to take three easy points from the boot of Tim Swiel as their score moves on to forty one points.
Three more points to Quins
The last seven minutes are best forgotten from a Quins point of view as Warriors come back into the game and Warriors are awarded a five metre scrum as they are held up over the Quins line. Warriors ship the ball wide from the scrum as Dean Hammond squeezes into the corner for his second try and this time the conversion attempt is closer as the ball hits the upright. Quins 41 Warriors 28 with five nervous minutes left to play. And two minutes later Warriors cross the Quins try line for the sixth time as the ball is shipped wide to the left wing for Singleton to score in the corner. At long last Warriors manage to add the extra points to one of their trys which takes them within six points of the Quins total and gives them a losing bonus point to add to their try bonus point. Nobody can say that those points were not well earned. From the kick off Quins think they have scored when Jamie Roberts crosses the Warriors line but ball is adjudged to have been knocked on. Warriors win the scrum and pass the ball along their three quarter line and then presumably decide not to risk their two bonus points as the ball is kicked up field for Brown to field and boot the ball to touch as the eighty minutes are up.
A great game of rugby for the neutral with eleven trys being scored but both teams really need to look at their defence. The simple statistic is that if Warriors had had a decent kicker on the pitch they could well have headed home with five points instead of two. Probably saw the best and the worst of Quins in this game, the best to be applauded and the worst best forgotten. Young Chisholm put in an excellent shift and you would never suspect that he hadn`t played a competitive game in about six months and I thought that Elia2 had a good game, and interestingly only one line out lost..