Saracens vs Harlequins, Anglo Welsh Cup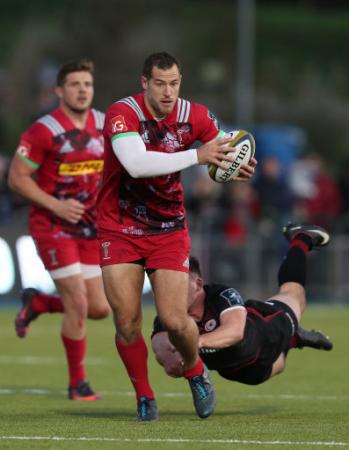 By Bedfordshire Boy
November 8 2017
A colourful performance from the Men In Red. So I said to Mrs BB, "as we have to travel down to Sussex next week, why not travel on the Sunday and we could stop by en route to watch the game at Allianz Park?" With Plan A agreed and tickets purchased, a modification was suggested in that we travel to Sussex on Saturday so that we could arrive in daylight and drive up to North London on the Sunday, Plan B.
Set off in bright sunshine, albeit a bit on the chilly side, and with three hours to kick off should be a comfortable journey, shouldn`t it?. It was only when we were sitting in a queue on the slip road at Junction 8 of the M25 for 40 minutes that the benefits of sticking to Plan B were reconsidered. Just to round off the journey, arrived at Mill Hill RFC to find the gate to the car park locked but eventually got access and made it to the ground just as the half time whistle blew.
Must admit that I considered cutting my losses and turning around a couple of times on the journey but reached a point where I wouldn`t get back in time to see the whole game on TV either. A bit miffed all round as I particularly wanted to see quite a number of players who had had minimal game time up until this point of the season but at least I had the second half to look forward to.
Asking around it appears that it had not been the best of Quins performances in the first session trailing as they were by 16 points to 9. A good try from Harry Sloan apparently playing his first game since the end of the 2015-16 season, but the team still giving away too many penalties. Also noticed that Dave Lewis was on the pitch for Charlie Mulchrone While I am having a grumble it soon became clear that sitting in Block 18 of the east stand was not the best option as we were surrounded by lots of kids not the least bit interested in the game and the seats were a lot lower down than my normal perch at The Stoop giving a more restricted view. Anyway, on to the game.
Bit surprised to see that neither Chisholm was playing with lots of other changes to the published team; Visser at 15, Ibitoye for Walker (his first start for the club), McNulty for Swainsom, Merrick at lock with Glynn moving into the back row. Quins seem quite lively early in the half but it is Saracens who are first to add to their first half total when (soon to be joining Quins??) Nathan Earle touches down in the right hand corner, yet another try against Quins with the wing left exposed. The conversion attempt is unsuccessful so Quins find themselves 16 points behind after forty six minutes.
Not sure exactly what happened but a few minutes later Quins injury woes continue as Tim Swiel leaves the field holding his arm. Henry Cheeseman comes on to the field with James Lang moving to the number ten position. A few minutes later it looks as though Charlie Matthews has touched down for a Quins try after a really good team move but it is disallowed. Looked like a good try to me looking at the replays on the big screen but Matthews was apparently penalised for rolling with the ball, certainly seen those given.
Mat Luamanu replaces Dino Lamb to add a bit more muscle and despite Quins looking sharp it is Saracens to score next with their third try of the afternoon. With an attack on the left flank, the ball is kicked forward hits a Quins player and bounces back into the hands of Saracens captain Earl who in turn passes to scrum half Tom Whitely to run in for the try. Looking like an uphill struggle for Quins now as the score stands at Saracens 26 Quins 5 with 25 minutes left on the clock. All a bit surreal as Quins are playing well, and arguably better than Saracens but it is the home side adding to their score total.
It`s an uphill struggle from here
Quins hard work is eventually rewarded when from a line out the ball is collected by Elia whose pass allows Alofa to break the Saracens defensive line to score a well deserved try. James Lang adds two extra points so the score looks a bit more respectable at Saracens 26 Quins 12, still a long long way to go. Josh McNulty is replaced around this time by Josh Ibuanokpe, the newcomer is some lump!
A few minutes later Mark Lambert replaces Lewis Boyce as Quins continue to press and the pressure on the Saracens line eventually pays off when Elia is set free on the left and barges over for another Quins try. The trusted boot of James Lang fails with the conversion kick but Quins are moving closer and closer to the Saracens total. Just a bit of doubt seems to be creeping into the Sarries fans mindset, losing at Allianz Park to a Quins side would be a new experience for them.
Things now really looking up for Quins as after another piece of scintillating play it looks as though Tim Visser has touched down in the corner but the television replay shows the ball being lost just before grounding. Charlie Piper replaces the impressive Elia who has spent a while hobbling since his try and Quins continue to look sharp around the field.
Synthetic pitch claims another victim
With less than 10 minutes left on the clock James Lang lands a long distance penalty to bring Quins within losing bonus point territory but as invariably happens, Quins are penalised straight after the restart and a converted penalty from Malins brings the score line to Saracens 29 Quins 20 with time slowly running out. On 76 minutes James Lang lands another impressive penalty and once again Quins move within range of the Saracens score. All very frantic in the last few minutes as Saracens press and look dangerous but a pass out wide is knocked forward for a Quins scrum on their own 5 metre line. You would expect Saracens to hang on for the win in this position but slowly but surely Quins move further and further up field until they are camped on the Saracens goal line. Quins continue to press and hang on to the ball and are eventually rewarded when Josh Ibuanokpe burrows over to score Quins fourth try of the game two minutes into the red on the clock. The ice cool James Lang steps up and casually strokes the ball between the posts for the two extra points to record an impressive win to Quins by a single point.
A very enjoyable 40 minutes of rugby and an impressive display from the Quins side who stuck to their guns throughout and to my (perhaps somewhat biased) mind ran out well deserved winners. Everyone played their part but particularly impressed with the work rate from Charlie Matthews and Elia built on his fine performance the previous week. The scrum started to rock a bit towards the end but was steadied with the introduction of Luamanu, Lambert and Ibuanokpe, the latter definitely being one to watch for the future. Alofa looked dangerous throughout on the wing, by far his best position in my opinion. To fight back from a score line of 26 – 5 showed a lot of commitment and belief and you could see the team spirit at the end of the game, Come On You Quins!! Over 9000 turned out on the day which is not far off capacity, maybe something to do with the post match fireworks perhaps?
View a Printer Friendly version of this Story.
Saracens vs Harlequins, Anglo Welsh Cup
Discussion started by ComeAllWithin.co.uk , 08/11/2017 20:28
ComeAllWithin.co.uk
08/11/2017 20:28
What do you think? You can have your say by posting below.
If you do not already have an account
Click here to Register
.
Edited 1 time(s). Last edit at 2017:11:15:11:01:49 by DOK.
NicoWilson
09/11/2017 08:02
Thanks for the write up.
Scaramouche
09/11/2017 11:44
Nice!

If at first you don't succeed, Try, Try and Try again.
New Forest Quin
09/11/2017 12:34
I couldn't agree more about the behaviour of the kids in Block 18. I sat there for the first half, but I couldn't put up with them kicking seats, making as much unrelated rugby noise as possible and basically not showing the slightest bit of interest in what was going on on the pitch and so, at half time, I moved to the half empty stand behind which gave a far better view and enjoyed a far more enjoyable atmosphere.
Sorry, only registered users may post in this forum.
More Harlequins headlines