Harlequins v Worcester, Anglo Welsh Cup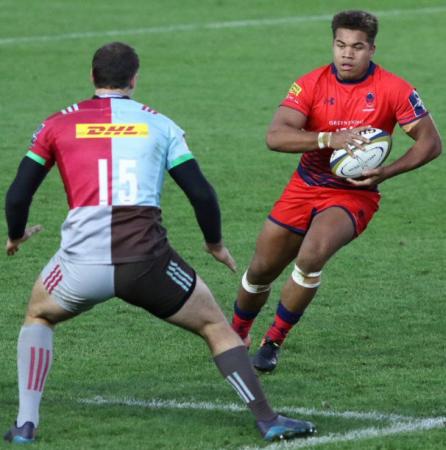 By Bedfordshire Boy
November 15 2017
It only seemed like yesterday that we were entertained with an eleven try fest when Worcester Warriors visited town but two weeks later here they were again, this time in the supporters "favourite" competition, the Anglo Welsh Cup. One late change to the published Quins team as Charlie Matthews failed a late fitness test (concussion) so Ben Glynn moved from the back row to play alongside George Merrick with Archie White taking his position on the flank.
Good to see the Chisholms named in the twenty-three after their nonappearance last week and the return of Marcus Smith on the bench. A bit worrying though is the strength of the Quins bench, as apart from Ross Chisholm, most of the bench have made less than half a dozen appearances for the club which is the main purpose of the competition I suppose. The two teams walked out together from the changing rooms and lined up for a one minutes silence as a mark of respect for the service men and women of previous conflicts around the world.
James Lang gets the game underway
The Stoop seemed to be about half full at kick off (crowd later confirmed as 7300) and it took only a couple of minutes for the first score of the day as Warriors passed the ball along the three quarters line to give some space for Dean Hammond who waltzed around three Quins defenders to touchdown. Sam Olver added the conversion points for Quins to be seven points in arrears after only four minutes. It seems pretty clear that Warriors are intent on carrying on exactly where they left off on their previous visit and Quins struggling a bit to get into the game. After eleven minutes Warriors are penalised inside their own half and scrum half Calum Waters takes it quickly and sets off down the left-hand side before passing the ball to Tim Visser who touches down in the corner. James Lang`s conversion attempt drifts wide and play his held up while Waters is treated for an arm injury picked up in the tackle as he passed to Visser.
The restart kick by Olver goes straight into touch so we have our first scrum of the game in which Warriors are penalised for collapsing. Lang kicks to touch but the ball is knocked on by Quins in the line out and Warriors immediately counter attack and an illegal tackle by Mat Luamanu deep in the Quins half results in a penalty to Warriors. Fifteen minutes gone and Warriors extend their lead, Quins 5 Warriors 10 followed by Calum Waters succumbing to his arm injury and being replaced by Niall Saunders for his first Quins appearance. Just one more to add to the growing Quins injury list! Both teams seem determined to keep running the ball with neither defence looking too solid and it is the twenty fifth minute before the scoreboard shows Quins taking the lead for the first time. Archie White makes the initial break and offloads to Mat Luamanu about 30 metres out from the Warriors line, he shrugs off the first tackle and then leaves others in his wake to touch down. James Lang has his first success from the tee, Quins 12 Warriors 10.
The lead is short lived as after the restart Warriors fly half Olver hoists a high ball to the right wing, winger Hearle out jumps Alofa and taps the ball to Max Stelling who runs in from 20 metres to score an unconverted try. Quins pack showing their dominance and they win a penalty when they shove Warriors forwards back off of their own ball with Warriors getting a warning for their efforts. Quins continue to attack and from the next scrum Warriors are once again mullered and prop Simon Kerrod is invited to take a ten-minute rest. Lang kicks to the Warriors twenty-two and Quins continue to press as Harry Sloan eventually forces his way over the Warriors line from a Saunders pass. James Lang converts to bring Quins back in front with six minutes to go to half time, Quins 19 Warriors 15. Quins making the most of the extra man and their dominance in the forwards and after spending a couple of minutes pressing the Warriors line they are rewarded as James Chisholm touches down for a bonus point try.
The captain scores
James Lang adds two extra points as Quins end the half with a comfortable score line of Quins 26 Warriors 15. Forty minutes of fast open rugby from both sides but just as in the previous meeting of the sides, some serious questions to asked about the defending.
Dino Lamb takes the field for the second half replacing Mat Luamanu and both teams carry on where they left off in the first half. It is Warriors who draw first blood when Dean Hammond almost seems to trot in for his second try of the afternoon and following the Olver conversion Warriors are back within four points of the Quins total with only seven minutes gone of the half. Unsurprisingly in this topsy turvy match Quins score their fifth try of the afternoon after a couple of minutes when Dino Lamb kicks the ball through the Warriors defence, gathers the ball and touches down to score. Another failed conversion brings the score to Quins 31 Warriors 22 after 49 minutes.
There seems to be players changing all over the place which is not helped by Mr Announcer who seemed to be out of phase with the player exchanges. I do recall that Piper and Chisholm senior were on the pitch for Elia and Alofa (at least for a short period) followed by our last standing number nine being injured and replaced by Marcus Smith. The game continued at pace and from a scrum just inside the Warriors half Smith passes to Lang who dummies through the Warriors defence allowing him a free run from fifty metres out to score under the posts. This time the conversion is good, Quins 38 Warriors 22, Quins have a sixteen-point cushion and playing in front of a much happier home crowd, time to put the game to bed. Yet again this Warriors side had not read the script and refused to lie down and die as within minutes they are back on the scoreboard again when fullback Ben Howard runs through a tiring Quins defence from a long way out to score in the corner. Although Quins disputed the score (why wouldn`t they?) as there did not appear to be a TMO on duty, the match officials awarded the score, Quins 38 Warriors 27.
Somewhere around this time Josh Ibuanopke replaced Josh McNulty in the Quins front row. A whole four minutes passes before the next score and this time it is Quins turn to add some points to their total. Jamie Roberts breaks the Warriors defence but his offload is knocked on but Warriors are having trouble getting the ball away from the red area and eventually Ben Glynn dives through a pile of players to touch down. Yet two more points added to the Quins total, seventeen minutes to go with Quins on 45 points and leading Warriors by eighteen. The way this game is going you would think that the try scoring is far from over although surprisingly the Quins score line did not progress any further. In fact within two minutes Warriors edge closer to the Quins total when an attempted clearance kick by Marcus Smith ten metres from the Quins line was charged down, and although Smith got back to defend the line the Warriors forwards piled in which eventually allowed Warriors lock Barry to score, conversion missed. John Okafor replaced the impressive James Chisholm with 12 minutes to go and Charlie Piper (who is on the pitch for the second time replacing the injures Elia) is shown a yellow card. Crowd getting a bit nervous now.
Hope you guys know what is going on
We are now playing uncontested scrums with Mark Lambert taking up the line out throwing duties. I am surprised that anybody is left standing on the pitch with the pace that the game is being played but it is not long before Warriors make the most of their man advantage when wing Hammond scores in the corner for his third try of the afternoon. Although Olver's conversion attempt is closer, he fails so with six minutes left to play Warriors still sit more than one score from the Quins total much to the relief of the majority of the crowd. Despite lots of endeavour from both teams, the scoreboard is not troubled again so the final score sees a bonus point win for Quins by 45 points to 37.
Well that certainly was entertaining rugby and I am exhausted just thinking about it again but the win leaves Quins unbeaten with ten points from their first two pool matches, neck and neck with Exeter. Yet again questions must be asked of the Quins defence but sometimes it is difficult as a supporter to differentiate between good play from the opposition and unacceptable play from your own team. The injury crisis just seems to get worse after losing our last two fit scrum halves in the one game, but I thought that Marcus Smith looked a natural in that position, just reinforces what an exceptional rugby talent he is. So it is back to the day job of the Premiership next week with a trip to high flying Exeter where it will take a real performance to get anything out of that game, but never say never.
A lot of work required by the coaching and medical staff this week methinks.
View a Printer Friendly version of this Story.
Harlequins v Worcester, Anglo Welsh Cup
Discussion started by ComeAllWithin.co.uk , 15/11/2017 22:54
ComeAllWithin.co.uk
15/11/2017 22:54
What do you think? You can have your say by posting below.
If you do not already have an account
Click here to Register
.
Edited 2 time(s). Last edit at 2017:11:25:11:32:09 by DOK.
Scaramouche
16/11/2017 02:13
Nice!

If at first you don't succeed, Try, Try and Try again.
Stooperman
17/11/2017 06:51
Very entertaining report on a helter skelter match, thanks BB
ChipsteadQuin
17/11/2017 12:35
Well done BB , not sure the stand in announcer did you any favours , he announced 2 on and only 1 off a couple of times !
Sorry, only registered users may post in this forum.
More Harlequins headlines