Bath v Quins, The visitors contribute to their own downfall.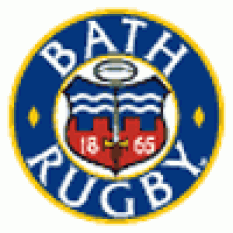 By Bedfordshire Boy
December 1 2017
A few seasons now since I last visited The Rec as tickets usually sell out very quickly but managed to book nice and early this year. A 12.45 kick off on a Saturday is at least better than a Friday evening but meant that an overnight stop over was necessary to ensure that I made the start of the game especially as the Bath Christmas Market is now up and running and parking can be a real challenge.
A very cold day but dry and sunny and just for a change the squad at kick off was the one advertised on the Friday. Probably as good a side as we could expect with the loss of our international players and the well advertised ever increasing injury list. Just two changes to the team that travelled to Exeter last week with Lambert (presumably injured) being replaced by Lewis Boyce and Sloane (definitely injured last week) by Alofa moving to outside centre and Charlie Walker starting on the wing. I know that Alofa is advertised as centre/wing but for my money he is a very effective winger and not an effective centre but I guess needs must. Looking at the Bath side, they are also fielding a side a long way from their strongest so after Quins performance last week I was hopeful of at the very least a competitive match with hopefully some sort of bonus point.
From the kick off by Marcus Smith it did not last too long for me to think that my hopes were likely to be dashed as Quins found themselves seven points behind with less than three minutes on the clock. A high ball from Bath to just inside the Quins half is palmed back by Aled Brew, the ball is recycled and we are then witness to the parting of the Red Sea, not by Moses this time, but Zac Mercer who runs through Dave Ward, then Marcus Smith and passes to number eight Grant to score. Despite this early set back Quins definitely looked the better side for the next few minutes although good play kept breaking down with a spilled ball or bad pass. Then on eight minutes came what turned out to be the defining moment of the match as the game was stopped to review an incident involving James Chisholm, Charlie Walker and Bath number nine Kahn Fotual`l. When clearing out a ruck the Quins players both seemed to lift the scrumhalf and bring him to ground on his head; could have been a number of outcomes, one involving a red card, but eventually Chisholm was sent to the bin for ten minutes. A yellow card on average seems to cost a side seven points but this ten minutes arguably cost Quins the match.
At least the card did not match the colour of the shirt
Within two minutes of the restart Bath went a further seven points ahead when the Quins defence, now momentarily reduced to thirteen men (Smith down injured), are fully stretched to allow Freddie Burns to virtually walk in under the posts to score and then add the conversion. Marcus Smith then goes off the field for an HIA and is replaced by Henry Cheeseman with Lang moving to the number ten position; this turns out to be a permanent change. Quins continue to attack but yet another loose path gives possession to Bath and their big forwards make steady progress to the Quins line. Not for the first time this season the Quins side is exposed out on the wings so it is pretty inevitable that Bath will score, this time with lock Stooke going over in the corner. No extra points this time from Freddie Burns, Bath 19 Quins 0 and still over three quarters of the game to go. Quins continue to dominate possession which is not that helpful when you end up closer and closer to your own line eventually having to kick the ball into the Bath half of the field. A bright moment for us Quins fans as Tim Visser finds himself with ball and runs in for some much needed points but upon referral to the TMO Dave Ward is adjudged to have knocked the ball on in the tackle. It only takes another couple of minutes of play for Bath to score their bonus point try when a break by Fotual`l sets Banahan free some 10 metres out who shrugs off the attempted tackle to touch down. This time Burns is successful with his kick and the score moves on to Bath 26 Quins 0 after 20 minutes of play which coincides with the return of James Chisholm to the field. At long last Quins begin to apply some pressure leading to a series of penalties against the home side but a 5 metre attacking line out breaks down when Charteris out jumps James Horwell for the ball. But Quins attack once more and get over the Bath line through Lewis Boyce but the ball is held up by good Bath defensive play. Before the scrum can be taken Charlie Matthews leaves the field for an HIA with Archie White coming in to the back row and Ben Glynn moving forward. We then sat through something like 5 minutes with reset scrum after reset scrum until the ball was finally released to Jono Kitto who passed to Henry Cheeseman to score from 5 metres out. The two extra points were added from the boot of James Lang to bring the score to Bath 26 Quins 7 with six minutes left of the first half. Only one more score before the half time whistle when Burns scores a straightforward penalty following a high tackle. Certainly Bath can be very happy with the situation at the break being 22 points ahead of the opposition despite having by far less possession. Quins on the other hand had loads of possession but time and time again gave up the ball through a loose pass and of course suffered mega with the Chisholm yellow card.
Charlie Matthews failed his HIA so did not return for the second half and for the first ten minute of the half things were not too different with Quins having the lions share of the possession but all the play being in their own half. Needless to say it was Bath who came closest to scoring but somehow managed to butcher an overlap and fullback Wilson lost the ball in the tackle inches from the line in the corner. Kyle Sinckler replaced Will Collier before the scrum on fifty minutes, his first performance in a Quins shirt since his seven week suspension. Quins make a rare visit into the Bath half following a couple of penalties but then yet again spill the ball in the tackle. Burns kicks deep back into the Quins half which is cleared to touch leaving them defending a line out back close to their own twenty two. Elia Elia is brought on to replace Dave Ward on fifty five minutes, not sure why he didn`t get to start to be honest as he has really impressed so far in the few games he has played. Burns gets another chance to add to the Bath score after Cheeseman is penalised for a high tackle but the ball falls just short from close to the half way line. Bath attack once again and desperate tacking by Quins keep them out but the visitors are finally penalised for offside allowing Burns to score a very straightforward penalty. Bath 32 Quin 7 after 60 minutes. As is normal these days, both teams ring the changes with Ibitoye and Prior replacing Chisholm senior and Kitto respectively with Prior making his debut performance for the club. Quins set up another attack and make good progress into the Bath half but yet again the ball is spilled allowing a Bath counter attack which sees Josh Lewis break as far as the Quins twenty two before spilling the ball himself. This led to the highlight of the day for the travelling Quins supporters as Cheeseman passes to Gabriel Ibitoye who breaks through the somewhat disorganised Bath defence to sprint 60 metres to touchdown for the second Quins try of the day. Two more points added by James Lang, Bath 32 Quins 14 after 64 minutes.
Not every line out was this successful
The match continued in the same vein until the eightieth minute with Quins putting in lots of effort without making any real progress and Bath picking up more points by adding two more penalties to their total. Final score Bath 38 Quins 14.
Another very disappointing performance by Quins made even worse by the fact that Bath did not have to do an awful lot for their points. The yellow card to James Chisholm really killed things off as a contest which has now been made worse by a 3 match ban. Plenty of effort by Quins who seemed to find it much more difficult than Bath to break the gain line and when they did, invariably spilled the ball. Enough has been said about the number of unavailable players for Quins but there is little doubt that the inability to field any sort of settled side is having an effect on team performance. Over 14000 turned out to watch the game and I thought that the home fans seemed strangely quiet despite the vain attempts by Mr Announcer to gee them up, reminded me of The Stoop on a bad day. All in all an expensive weekend best forgotten.