Sarries Match Report DC: capital gains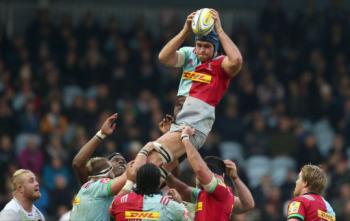 By gregory p
December 6 2017
One night this week, after working late, I drifted off as I was watching a re-run on StetsonTV (it's channel number 765, sandwiched between "Ferrets and Ferret Men" and "Haemorrhoid World") of that cowboy classic early 1960s TV series "The Goode, the Brad and the Uglies". I have a dim recollection [Ed: that's your only sort, mate] of the following scene:
In the McCall gang bunk house, somewhere north of the Pecos River, the head honcho Brad, with a jaw that's been chiseled from Monument Valley, was berating his fellow cow hands. "Shucks boys, the Baxter Gang gone done beat up on us again and Senator Wray's dander's right up. We've gotta sort this quicker than the Lone Ranger on the draw! Now I've got some good news for y'all, Governor Jones has just paroled some of the gang: Lefty Lozowski, Tex Vunipola, Kid Kruis, Gorgeous George, Super Mario and Mean-eye Farrell – they're on the Fargo stage headin' our way all lookin' ornierer than a rattler in a sand storm an' up for a roustabout. The Senator wants results so I figure we mosey on down to Richmond County and rowdy up the good folks of Quintana. I hear that Sherriff Kingston's losing control down there: he's got no idea of the sickness in the town – one minute folks are gone and figured for dead and the next they's waving their crutches and leaping around like Baptists on a Sunday. Old man Bothma is back from death's door when we had him for a gonner. Right now Mad-dog Chisholm has just gone in the slammer and Zinc Sinck has come out of the Penitentiary looking as fat as a barrel o' catfish. Lordy, he's no use to 'em in that state. Folks are saying Deputy Easter has lost the keys to the jailhouse and the bad guys are just comin' and goin' as they please. Deputy Evans, bless 'im, jess can't keep on top of them jailbirds. Marshall Mapletoft ha? Maplesyrup more like it boys! Even Mayor Ellis is goin' crazy, figurin' to build a new town when they can't keep folks in the one they got already. This is going to be like taking candy from a baby………..are you boys with me?" The bunkhouse erupted into a huge cheer of yee-haws. "Then let's saddle up and put on those black hats boys!!!"
Meanwhile once again back on planet Earth I made my way to the Stoop on Sunday…………was I imagining it or could I hear a gathering crescendo of hooves, wild gunfire and someone hollering "Yeehaw" in a broad Wigan accent? Oh dear, this was going to be painful, there were more Lions than Whipsnade zoo in that Sarries side. That fear manifest itself as early as the second minute when Vincent Koch, the Sarries prop, brushed past the late cry-on James Lang in midfield. A swift interchange to George and to Barritt saw the head honcho stampede over the whitewash. Faz added the extras with the help of the Russian mail man, Inoff the Post, and 0-7 it was with barely 2 minutes on the clock. The more bitter and disillusioned of us [Ed: so that's nearly everyone with a season ticket then?] reached for the calculators and cricket score books. One or two people around me even thought of leaving early.
But hold on a cotton pickin' minute boys………enter DC the baby faced gunslinger. Sharper than a Mississippi river boat gambler; smarter than a Philadelphia lawyer; trickier than a snake oil salesman; and quicker than a tornado through Oklahoma, in three sublime moments DC turned the game, flicked the brim of his white Stetson and raised his hat to the ladies saying……"My, what a mighty fine day it's been!" and sauntered off the pitch with a grin bigger than Texas. OK, it wasn't just Danny Care – the forwards put in a truly gruntmungous afternoon's work – but by crikey when we needed the inspiration that boy produced the fifth ace from up his sleeve every time.
Sarries bossed matters after the restart and found enough territory and pressure to win a penalty for Faz to convert to make it 0-10 and the cynical began to wonder if the scoreboard operator shouldn't just work in 10s from now on. Shame on me, as the Quins pack suddenly found their way back into the game. All of them put in monumental shifts and all four of Elia Elia and Robshaw Robshaw were outstanding.
Horwill in particular led by example – I hope the injury bulletin on him is not too long term either as he hobbled off like an old timer mid-way through the second half. He had another Malcolm Tucker game, and was always in the thick of it. There was plenty of "thick" going around when Kruis walked over Horwill after a ruck came to an end and we were treated to a great saloon brawl. We had the rugby equivalent of tables and chairs all over the place and swinging doors off their hinges. Quins let Sarries know that they were seriously up for it and Marshall Pearce let it rest with just a good talking to.

Kudos to Bothma too: he looks like your out of condition mate down the pub who's "played a bit in my time" but he's not as tall as he looked in the adverts [Ed: funnily enough, that's what my wife says to me]. That said he's got more mongrel than Battersea Dogs Home and lasted the ferocious pace of the game remarkably well, and never stopped carrying into some very heavy traffic. He'll be a good addition.

Quins first try came from a prolonged period of forward pressure in Sarries 22. Lang hit a penalty long – he'd recovered his poise after the Koch encounter [Ed: are you Graeme Norton or what?], an out on the full and a fairly shite drop goal attempt that got charged down – and we camped on their line. Full credit to Sarries defence, as from 1-15 they really did not want us to pass and their commitment was very impressive. After a series of drives, collective and individual, a couple of hold ups and plenty of finger wagging from the ref, the cheeky chappie in the 9 shirt looked up from the base of another pile up and saw Charlie Walker in more space than Wyoming. Danny's kick was as flat as a prairie and Charlie gathered and crashed over. Phew! The pressure and intensity warranted a score. Had we not registered on the score board it would have been immensely deflating. Lang from wide out couldn't add the extras for 5-10 and at 27 minutes we had a good dust up on our hands.
Quins dominated field position and the ball – largely through Lang's monster boot keeping Sarries penned in their 22. It's great to have that distance in our armoury. Lang also ran a great dummy loop off first phase ball with Roberts crashing through. A series of top drawer off loads saw Visser almost in in the north west corner. His flick inside found Sarries hands and they breathed deeply. Despite laying siege to the Sarries line again for much of the remainder of the half we couldn't convert the pressure into points and Sarries must have felt that the job was definitely half done when half time came but Quins had a fine 20 minutes.

Soon after the restart we picked up a penalty on the wrong side of the pitch and some way out too. Lang wacked it over with lots to spare like he was chipping one over from in front of the posts – top stuff. Aside from that, the next quarter saw more of the ball for Sarries and more pressure. The man who doesn't miss, Faz, was grateful to turn that pressure into points with two penalties on 51 and 61 minutes making it 8-16 with the two score buffer looking hard to get past. Sarries can do a fair old up yer jumper game too and Mako showed plenty of international class as he repeatedly made good ground. A very combative Will Skelton (can we have him when his contract's up) – on for a worryingly clobbered Itoje – was a proper handful too. And yet we clung on with brave tackles being fired in from all corners.

With hindsight the pivotal moment was a penalty to Quins in the middle of the park on 71 minutes. As the penalty was called Danny instantly tapped and ran leaving the cover positively dawdling behind. Goode, the only man between Danny and the whitewash, set himself for the tackle, but Danny chipped and chased. Ben Spencer then stuck out an arm and a leg to clatter him to earth and 14,000 people bayed for the reintroduction of lynching in Richmond County. Charlie Walker let his boots do the talking though, played the whistle like a good pro' and burnt the turf like Road Runner in top gear, outgassing the cover in particular Chris Wyl-e-coyote. Meep!Meep! Lang – crucially as it happens – added the extras. So, 15-16 and hold onto your hats, Quins were on the stampede!
Sarries still had enough dog to get back into the Quins 22 almost immediately and start asking more questions of our tiring arms and legs. From a collapsed scrum Sarries picked up a penalty and Faz again did the honours but at 15-19 the saloon door was still swinging open albeit not for long.
I'm not sure who gave away the penalty, but Lang – on another great dart – was taken out high. From the middle of the park Lang – surely a misprint, he's always Long – torpedoed one all the way to the Sarries 5 metre line. We caught and drove and rocked and rolled. The clock edged its way to last orders at the Last Chance saloon in Lastville. The ref flung out his arm: penalty advantage to Quins. DC knew he had a kick to nothing…………and over it went, again as flat as a dead skunk in the middle of the road……Goode flapped at it like Cooke and Vince in the slips…..our luck held and it ended up in Tim Visser's arms who covered two yards to the line in a nano-second. It was 20-19 and Quins led for the first time in the game and there was only a minute on the clock……brilliant timing? We'll be making watches for export to Switzerland next. Cue: mayhem, line-dancing in the streets, wild gunfire, Stetsons everywhere, free moonshine at the drug store….you get the picture. Lang couldn't make the conversion, again from wide out, but one of the Robshaws fielded the kick off safely, fed it back to who else but DC who scampered like a gopher to the east side and lit the celebratory blue touch paper. It was stupendous theatre and nearly as good as that Stade finish. It's what we pay our admission money for.
Sarries played a full part in a storming gain, but they are missing Billy V as much as England clearly miss him. Five losses in a row is uncharted territory for them and maybe they need the more subtle skills of Lozowski at 10 and Farrell inside him. Faz is a wonderful player but he's not quite got the spark needed to start a bushfire every now and then.

And when the euphoria passes………..what have we learnt? We really need the England contingent and, frankly, we're a little bit@#$%&without them; Elia Elia could be a cracker as could Bothma; Lang is another good 'un and was never afraid to run at some seriously good oppo; one try conceded against Sarries suggests the defensive systems can work; but, we are so inconsistent that we could replace the Jester with a Yo-Yo as the club badge; we were clinging on a bit as our bench didn't have the clout of Sarries (mind you, not many do); the injury list is still concerning and we can only hope that Horwill and Collier (who left the field with an Alamo style bandage around his head) and are not long term crook, although on the plus side BUPA are offering a good sponsorship deal next season. And JK…does he just need some luck….maybe we shouldn't have played that Reef song at the end, but Bob Marley's Redemption Song, straight from the heart of old Kingston Town. The (in)jury is probably still out.
Man of the match
More Harlequins headlines
Harlequins Poll