Harlequins vs Ulster: Cold Comfort for Quins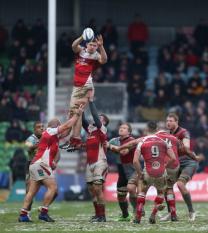 By DOK
December 12 2017
Well, the snow wasn't deep and crisp and even, but it was certainly in evidence! The day had started crisp and bright, but as the game started the snow began to fall and at sometimes looked positively blizzard like. Not ideal weather for a game of rugby! The club had announced a sell out earlier in the week, but due to the bad weather only 8,400 hardy souls turned out for the game.
Harlequins, as you know, were buoyed up by the recent win over Saracens, John Kingston was still talking about a possible European quarter-final, and it all seemed so possible before kick-off.
Unfortunately that good feeling didn't last long. An early penalty by John Cooney put the visitors in front. Chris Robshaw had to come off with a possible concussion and didn't survive the HIA. Another penalty to Ulster slipped past the posts.
The game became one of kick tennis for a while, but a break by Cooney around the 30 minute mark and good hands from Sean Reidy led to Jacob Stockdale scoring the only try of the first half. The conversion was missed. Harlequins did get a penalty soon after, but Marcus Smith couldn't get the ball to come round and it slid past the posts. Harlequins went into the break looking at a 0-8 score line. Not good but not the worst score we've come back from.
Soon after the game was restarted, Harlequins lost Danny Care to a HIA and Ian Prior came on. Harlequins battled for a long time near the Ulster try line before finally Kyle Sinckler crashed over for a try. The conversion missed the score stayed at 5-8. Unfortunately 3 penalties to Ulster later and the score was 5-17.
And despite heroic attempts by Harlequins, even being held up over the try line, Harlequins were unable to increase their score. A very disappointing follow up to all the cheer that followed the Saracens game.
The important stats from that game?
Harlequins

Ulster

METRES

166

538

CARRIES

28

43
Harlequins 6m per carry
Ulster 12.5m per carry
More Harlequins headlines
Harlequins Poll