BG10: Harlequins vs Northampton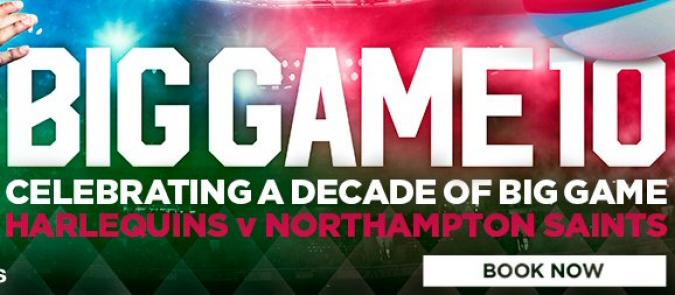 By Bedfordshire Boy
January 10 2018
Big Game by name but hardly a battle of the giants, certainly not on current form with both teams far from their earlier days of glory languishing in ninth and tenth place in the table. If either of these teams have serious ambitions of achieving a place in the top 6 (or even top 4), then this contest certainly comes in to the category of "must win".
Saints got the game under way with a long kick into the Quins twenty two which Tim Visser managed to fumble conceding a scrum to Saints in an attacking position, not the start we were looking for. All was not lost however as Saints turned the ball over from their first phase following a tackle by Marcus Smith on Luther Burrell allowing Danny Care to clear the ball to touch, a sign of how the game was going to play out perhaps? Quins arguably having slightly better of the game in the first 5 minutes but still losing the ball at critical times. Following a Quins line out the ball eventually gets out to Mike Brown who makes 40 odd metres before losing the ball 10 metres short of the try line and then finds himself having to defend his own line 30 seconds later with a try saving tackle to Burrell five metres out from the line. Heady stuff so far, difficult to imagine this being a low scoring game so feeling quite happy with my 31 – 28 prediction. There is nearly 11 minutes on the clock before the first score of the game when recycled ball sees the ball going to Care, then Kyle Sinckler whose pass to Dave Ward sees him break the Saints defensive line 30 metres out, run around fullback Mallinder to touch down under the posts.
A straightforward conversion from Smith sees the score move to Quins 7 Saints 0 after 12 minutes. Saints keep the ball tight with recycled ball with their forwards until Mallinder attempts a pass to the wing which Tim Visser intercepts, passes to Danny Care who takes the ball into the Saints twenty two. Quins continue to press and from a ruck Care passes the ball to Luamanu who in turn slips it to Visser who heads to the line, it looks like a well taken try but after the TMO had had a look it can be seen that he puts a foot into touch before grounding following a tackle by Jamie Gibson. Saints try to carry the ball out from their line out and eventually the ball is turned over for a Quins penalty allowing Marcus Smith to convert his goal attempt well out on the left wing with sixteen minutes gone. Quins carry the ball out of defence from the restart with some strong carries when Marcus Smith opens up the Saints defence with a neat chip which he gathers, the ball goes out to the new wing combination of Luamanu and Visser with the latter being brought down on the Saints twenty two. Quins quickly recycle the ball to Jamie Roberts on the break who passes to Charlie Walker on his opposite wing to run in for Quins second try under the posts.
Another successful kick from Smith and the score moves on to 17 points to the home side as the game moves to the end of the first quarter. A shell shocked looking Saints restart the game and make some inroads to the Quins defence with alternate battering and kicking attacks and it is Dave Ward stripping the ball in a maul that sets up the foundation for the third Quins try of the afternoon. A very easy score for Quins as Care passes to Smith whose long pass to Visser on the wing allows him a straightforward run in to touch down and with Smith again adding two more, Saints find themselves 24 points behind on 62 minutes.
Not surprisingly Quins now playing with the sort of the freedom that we haven`t seen for a long long time and Saints trying too hard with nothing going for them. Quins bonus point try came after about 30 minutes with this time Danny Care touching down under the posts from 5 metres out after a huge gap appeared in the Saints defence.
Another two points added from the boot of Marcus Smith bringing the Quins total to 31 points. Saints changed tactic with a short restart kick, gathered the ball and pressed Quins for a good 5 minutes but the defence never once looked as though it would be seriously breached and there was no change to the scoreline before half time.
Wow, that was some 40 minute performance by Quins helped no doubt by a pretty average showing from the visitors but a lot of that was due to the Quins players giving the Saints no space to move. Despite all of the positives, only a Quins supporter would have a worry at the back of their minds "can it last?", a different Saints team must emerge from the dressing room!
Stephen Myler returned for the start of the second half having replaced Piers Francis who went off after a massive hit from Jamie Roberts five minutes from the break and Quins kicked off and continued where they left off in the first half. A kick by Saints is taken by Mike Brown on the half way line and makes 30 metres before chipping the ball forward to the wing which is dealt with by the scrambling Saints defence. Saints have to resort to running the ball from their own in goal area with Ben Foden getting the ball in to touch about 15 metres from the Saints line. Quins cycle the ball from the line out and after a couple of phases a bit more magic from Marcus Smith who throws a 30 metre pass to Tim Visser on the wing who runs in for his second try of the game only 2 minutes into the second half.
No extra points from Smith this time leaving Saints with a deficit of 36 points. Luamanu is adjudged to be offside from a Quins defensive clearance kick leading to a Saints kick to the corner and at long last, a period of sustained pressure on the Quins line. James Chisholm is yellow carded by referee J P Doyle for offside in the red zone followed shortly after by Saints getting their first points of the afternoon as Rob Horne crosses the line. Myler converts, Quins 36 Saints 7 after 48 minutes. Saints now have their tails up and all of a sudden Quins are under pressure and conceding penalties while still playing with fourteen men so it is no real surprise to see Saints getting their second try. Myler once again adds two points to the try, this time from Nic Groom, with the scoreboard showing Quins 36 Saints 14 fourteen minutes into the second half.
It only takes a couple of minutes for Quins to strike back when a nicely weighted kick to the right hand corner from Smith is fumbled by Foden under pressure from Chris Robshaw, and after a bit of juggling Danny Care crosses the line for his second try.
A routine conversion from Smith sees the Quins total move on to 43 points. Haywood and Nutley replace Hartley and Harrisson for Saints as James Chisholm also returns to the pitch. As we enter the final quarter of the match Boyce and Matthews replace Marler and Merrick for Quins and four minutes later Kitto and Cheeseman replace Care and Alofa. We are next treated to a bit of Charlie Walker magic as he runs out of defence well into the Saints twenty two but cannot quite get his pass away. Nonetheless, Quins continue to harass the Saints defence who eventually carry the ball over their own line. Before the scrum, Sinckler is replaced by Swainston together with three changes to the Saints line up. Jono Kitto breaks for the line from the base of the scum but is stopped short but somehow Mat Luananu gets his hands on the ball to score, and with the Smith conversion, the Quins total moves on to the half century with twelve minutes of the match remaining.
With all of the team changes the momentum has swung towards Saints somewhat and Burrell butchers what appears to be a walk-in chance 10 metres out by passing to Nutley who knocks the ball on. Elia on for Dave Ward as they set up for the Quins scrum followed by James Lang replacing Tim Visser in an adjusted back line. Quins penalised in the scrum for collapsing and Saints kick to the corner, set up a rolling maul for Haywood to score five more points. Myler converts, Quins 50 Saints 21 with six minutes left on the clock. Quins have a new objective now which is to stop the resurgent Saints from getting a fourth try and to that end Luke Wallace enters the fray in place of Chris Robshaw; I remember seeing him stretchered off the pitch at London Irish with a dislocated hip way back in August so he has made a remarkable recovery. Quins manage to restrict Saints to playing within their own twenty two for the rest of the match so end the contest with 5 points for their trouble to help them climb a couple of places in the premiership table.
A well deserved win for Quins albeit against a Northampton side only firing on half a cylinder, but you can only play what is in front of you. The Quins performance tailed off a bit during the last ten minutes but understandable with all of the changes and the fact that the game was well and truly won by that time. BT Sport Man Of The Match was Dave Ward but it could have gone to a number of players, in particular Jamie Roberts, DC, Mike Brown, James Chisholm, Marcus Smith and my choice Chris Robshaw who was involved in just about everything. As for Saints, the only positive for them is that it would be difficult to be much worse as a unit despite some good individual performances, notably Courtney Lawes and Jamie Gibson. All in all an enjoyable afternoon for the majority of the 77825 crowd. Now the acid test, can this unpredictable side put together a performance next week at Sale and come home with at least four points?
View a Printer Friendly version of this Story.
BG10: Harlequins vs Northampton
Discussion started by ComeAllWithin.co.uk , 10/01/2018 14:16
ComeAllWithin.co.uk
10/01/2018 14:16
What do you think? You can have your say by posting below.
If you do not already have an account
Click here to Register
.
Edited 1 time(s). Last edit at 2018:01:13:07:47:57 by DOK.
Huge apologies for the time taken to produce this. Been suffering a hefty bout of man flu so been more interested in not dying!
Scaramouche
10/01/2018 18:24
Tsk!

If at first you don't succeed, Try, Try and Try again.
NicoWilson
11/01/2018 05:53
Nice write up, and I enjoyed reading it. Thanks
Sorry, only registered users may post in this forum.
More Harlequins headlines