Nick Duncombe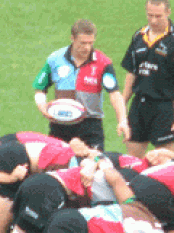 By kwin
February 15 2003
Nick Duncombe, Harlequins and England, died suddenly on Friday 14 February 2003.
From the official site today
It is with profound regret that NEC Harlequins have to announce that Nick Duncombe passed away yesterday afternoon, after having been taken into hospital during a weeks training in Lanzarote.

Nick, 21, won two caps for England in last seasons Six Nations Championships, and also represented England in the Commonwealth Games in Manchester last August.

At this very sad time, everyone at Harlequins would wish to pass on there condolences to Steve and Helen, Nick's parents, and the rest of his family.

Nick in the thick of the action against Bristol this season.
The thoughts of everyone are with Nick's family.