Maurice Fitzgerald joins Harlequins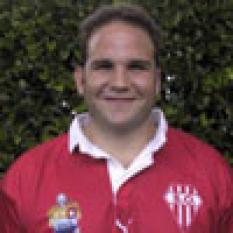 By The Prof
June 14 2004
Maurice Fitzgerald is one of a host of new signings that have already been announced for the 2004/5 season. He is English but has spent the last three seasons in France playing at prop for Biarritz Olympique.

Name:
Maurice Fitzgerald

Date of birth:
14th February 1976
Place of birth:
The Hague, Netherlands
Weight:
16st 5lb (104 kg)
Height:
6' (1.82m)
Nickname:
Momo
Position:
Prop
Marital Status:
Single
School:
Ampleforth
University:
Durham
Previous Clubs:
West Hartlepool, Richmond, Biarritz Olympique
Honours:
England A, U21, U19, U18, England Schools
Favourite Player:
Frano Botica
Favourite Player When Young:
Serge Blanco
Favourite Team:
British Lions
Best Rugby Memory:
Winning the French Championship in 2000 with Biarritz; U18 Grand Slam
Worst Rugby Memory:
Richmondís failure
Signed for:
2 years, 2004/5, 2005/6
Favourite Book:
The Count of Montechristo
Favourite Film:
When Harry Met Sally, Cyrano de Bergerac
Maurice Fitzgerald started his rugby career as a mini at Richmond and went on to have an outstanding schoolboy career for England. He rose through the ranks at Richmond and made his first team debut before going off to Durham University where he also played for West Hartlepool.
When he left university John Kingston signed him at Richmond where he played for a season until Richmondís well documented problems meant he had to seek work elsewhere. He signed for Biarritz where he has been for the last three years.
French scrummaging is robust to say the least so having him bringing some of that style of play can only be a good thing. He has also had a lot of experience in the Heineken Cup, something that will stand him in good stead for next season.
Since being in France he has been selected for England A, he was in the seventy strong England squad for the two tours this summer.
He is a strong scrummager at tighthead but like Jason Leonard he can play both sides of the scrum. He is a good mauler and has good hands for a big man, he also has a high work rate in defence.
He is now 28 so he should be coming into his prime as a prop, he has big boots to fill but he could be the man to do it. Maurice Fitzgerald has been signed for two seasons.