Interested in playing rugby?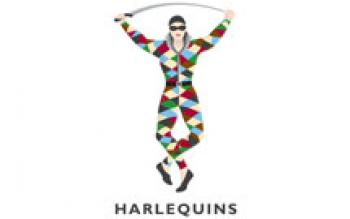 By kwin
December 27 2005
Do you, or your kids, fancy playing rugby? Would you like to play in a club where there are other CAW regulars ? Here we've listed Clubs where some of the message board regulars play.If you are a Come All Within regular (poster, or lurker) and would like your club listed here, or would like to add a comment, or be listed as a contact...email prof@comeallwithin.co.uk Play for Harlequins
If you want to play rugby, what could be better than pulling on the famous quartered rugby shirt yourself?
| | |
| --- | --- |
| | Harlequin Amateurs run three teams plus an occasional Vets and are always looking for new players, young and old, who want to enjoy good rugby and have some fun - all are welcome. They have just started a minis section too. |
| | Harlequin Ladies are always on the lookout for new players. Whether an old-hand or a complete novice, we look forward to hearing from you. The Harlequin Ladies train on Tuesday and Thursday nights from 7.30pm to 9pm on the training pitch behind the 1st XV pitch at The Stoop and matches are played on Sunday. For younger players, the U16 and U18 Academy Squads train on Thursday nights from 6.30pm till 7.30pm at the same venue. |
Play for other clubs
If Quins doesn't work for you, here's a listing of other clubs where you can find CAW regulars... or their children.
Men
...why not add your club here..
Women
...why not add your club here...
Youth & Minis
If you - or your children - are interested in playing Rugby you couldn't be starting the game at a better time. Mini Rugby and Youth Rugby is thriving across the country, and children from U7s upwards enjoy a structured game, that starts with tag (no contact) and progresses gradually to full games. All mini rugby is played on Sunday mornings, 10am, and most clubs play 10 or more fixtures over the year.
Your choice of club will of course be primarily determined by where you live, but if you live anywhere in SW London - or anywhere in the SW - you'll be spoilt for choice.
Happily, as a Quins fan,. you can quickly narrow it down: you will want to join one of Quins' Associate Clubs. All of these Clubs enjoy good links with Quins - including coaching sessions and, perhaps most excitingly, the chance to play at the Stoop before home games in the Richmond & Twickenham Times tournament.
How old? Mini Rugby starts proper at U7s (aka Year 2) which is youngest in which children can play matches - but many clubs also have U6 groups who train for fun.
Below I've listed clubs where you'll find CAW mums and dads running line, coaching and behind the bar. To find out more, post a message on the board,.. or just turn up.
Add your club, update details, add a comment..
If you are a Come All Within regular (poster, or lurker) and would like your club listed here, or would like to add a comment, or be listed as a contact...email prof@comeallwithin.co.uk