RedSaint's Total Rugby Part 2 of 2 - Germany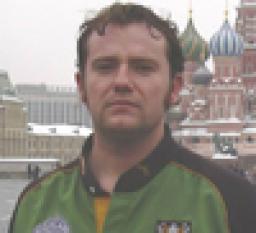 Moscow Nights
By Redsaint
July 10 2006
Some things in life are 100% certainties. For example, if a pint of Fosters is ordered anywhere within earshot of an Australian, you can guarantee that within a matter of seconds the Antipodean Gästarbeiter will have felt compelled to regale you with the lie: "You know, no one drinks it back home, don't ya mate."
RedSaint's Total Rugby
Part 2 of 2 - Germany
Warum spielst du mit den Eiern?
Some things in life are 100% certainties. For example, if a pint of Fosters is ordered anywhere within earshot of an Australian, you can guarantee that within a matter of seconds the Antipodean Gästarbeiter will have felt compelled to regale you with the lie: "You know, no one drinks it back home, don't ya mate."
There are many more. Before you've managed to finish saying 'Pacific Islanders' to a New Zealander, he'll already have pointed out that there are more Samoans in Auckland than in Samoa. You can guarantee it.
Likewise, I can vouch with full certainty that, during the tepid festival of jejunity that's been taking place in Germany over the past month, many a man bored with the goalless dross on the big screen (hammering 18-inch rusty nails through my metatarsals would have been preferable to watching another Ukraine game) has ventured to posture:
"Why don't the Germans play rugby?"
Whilst I believe the correct prescribed response to such a statement is something along the lines of "because it's difficult to scrum whilst wearing spiky helmets" or "they would love all the rules and organisation," the far more obvious answer is "they do."
Aside from making my French flatmate even more unsufferable than usual, one thing WM-2006 has done for me is to have made me evermore nostalgic for the Vaterland. I've been suffering dreadful saudade as I long for a country which is clean and safe, where I didn't have to carry my passport and four other documents with me at all times, for the Biergartene of Munich, the beaches of Berlin, the mountains of Allgau and, most stereotypically of all in the land of tabloid stereotypes, the rugby of Bavaria.
Rugby was first played in Germany in 1850 and in Bavaria in the late 1860's and it proved incredibly popular. Indeed, the German Rugby Union, the DRV, was actually formed before the French equivalent, coming into existence in 1900. In fact, it's impossible to meet with someone from the DRV for more than five minutes without having them remind you of just how much older it is than the FFR at least seventeen times during the conversation. Even more impressively, the DRV actually just predates the German Football Association (DFB), but this is hardly ever remarked upon, presumably because everyone likes getting one up on the French.
Rugby was introduced into schools in the central belt of Germany from 1865, when it was first added to the curriculum as an expansion to rowing clubs' activities, allegedly to keep the young Rudere fit during the winter, but more likely because their oars provided perfect paraphernalia for initiation ceremonies. The legacy of this can still be seen today, with the 'RK' in most rugby teams' names meaning rowing and not rugby club. Its main advocates came from Heidelberg, whose university wanted to be Oxbridge even more desperately than Worcester Warriors want to be Northampton Saints.
During the 1870s, the popularity of the game had spread eastwards from Heidelberg like a full-on quest for Lebensraum, and by the end of the decade clubs had appeared in the cities of Frankfurt, Karlsruhe, Bremen and Berlin, amongst others. The club established in Nuremburg is one of many that still exist today in a different guise, playing football in the Bundesliga.
SC 1880 Frankfurt were the German game's first powerhouse and, in 1894, the club became the first German team to travel to England, where they played Blackheath RFC. The Germans were soundly thrashed 29-0 for their terrible affront of making the famous club take a whole 80 minutes out from going on and on and on and on and on about how their club is definitely older than that from Guy's Hospital. However, the Frankfurter did take something out of the game, from then on their kit was to be red and black in honour of Blackheath's, inspiring both Eintracht Frankfurt and countless other pieces of German apparel.
So strong were SC 1880 that when Pierre Baron de Coubertin invited the German rugby team to take in the second modern Olympiad in Paris in 1900, the entire national team was composed of players solely from that one club, a forward-thinking selectorial policy that Andy Robinson is only now slowly establishing in English rugby. Germany came home with the silver after losing 14-5 to France. Being French, they of course needed to employ outside help, the referee wearing the French kit during the game and celebrating with the team at the final whistle. A practice recently revived by Steve Walsh.
The game continued to develop healthily, with a full league system introduced in 1899, a whole 73 years before the RFU decided to bother setting one up for the home of rugby. Stade Français made the first of many visits to Germany in 1908, and games between English and German universities became more and more common, with it being no surprise that Manchester provided the first team to lose to Teutonic opposition.
Following the world war, German teams were as welcome in international competition as George Chuter in an England shirt, and it wasn't until 1927 that Germany played its first official post-war international. In a display of guilt and apology, they succumbed 30:5 to France in Paris, two weeks after les bleus' first ever victory over England.
*** A quick aside – whilst researching this I found out that French captain André Béhoteguy played both games wearing a Béret. If this is true, then why wasn't the '99' call invented purely for him? It also means that there has been an international player it would have been more satisfying to slap than Harry 'face made for the smack of willow' Ellis, something I had hitherto thought impossible. But I digress…***
Two months later, Germany beat the French 16:15 in the return match in Frankfurt. This heralded in a golden age for German rugby, as the national team went on to notch up wins over teams including Italy, Romania and France (again) in the following years, with crowds topping 14,000 fans. After the French were ejected from the Five Nations in 1932, Germany provided their Gallic cousins their only international competition for four years, culminating in rugby's last appearance at the Olympics, as an exhibition sport in Berlin in 1936. During this time, Germany made a lasting contribution to rugby, co-founding the International Federation of Amateur Rugby (FIRA), the organization that runs the Six Nations 'B', in Hanover in 1934. In their last game before WWII, the Germans beat Italy 12:3 in Milan, confirming their status as top six in Europe.
After the declaration of war by the British, Rugby was proclaimed an 'enemy sport' by the Reich and as good as disappeared. However, the sport did survive in the two heartlands of rugby, both of which found themselves in the American occupation zone, Heidelberg and Hanover. Strangely, it was the Americans who were behind the game's revival elsewhere, in Bavaria for example, the U.S. military's importance was such that a first non-military team was not established until 1985.
The strength of Heidelberg and Hanover carried the game through the post-war years even more than the rolling maul carried Saracens through last season, with it being a certainty that players from the two cities would fill the national XV for the next 50 years. Germany did manage just two further results of note as rugby fell further out of favour than magnanimity following a Welsh grand slam win, the first a 6:6 draw against France in Nantes in 1958, the second German rugby's finest hour.
The Germans travelled to Romania to play the Oaks in November 1973 having just suffered the most embarrassing defeat in their history – a capitulation against Czechoslovakia. However, the German XV, 'The Heroes of Bucharest,' stunned the rugby world by winning in Dynamo Stadium. It was to be the last time Germany troubled the elite.
The establishment of sub-Five Nations leagues the following season condemned Germany to third-tier European rugby, where they have languished more or less ever since, normally alongside Belgium, Yugoslavia, the Netherlands and Spain, against whom they just lost a play-off for the right to continue with RWC07 qualification and for promotion to 6NB and the games against Romania and Russia that would've bought.
Germany are now ranked 28th in the world, just behind perennial world cup doormats Namibia and just ahead of South American non-entities Paraguay. Just 18 months ago, Germany were ranked one spot behind Russia, not the nine places that separate them now. Whereas the game in Russia is going from strength to strength, the game in Germany continues to struggle.
The President of the DRV claims the main reason rugby is not experiencing anything more than moderate growth – it has started to be reintroduced onto the curriculum in some Länder – is the complexity of the rules. Here Union has found help from its runt brother League. Despite RL being little more than fat man's touch rugby, removing the complexities of the game and simplifying it to the extent that it effectively becomes rugby with stabilizers, means that the pyjama code is very useful in introducing the game to new audiences. Germany now plays international league in a 'development' state, meaning regulations on qualification criteria are enforced in a grannygate manner. The last time I played for them there was not one player in the team who didn't see his first game as Union, an example of league helping in the lower reaches of the game, just as its influence can be positive in the upper echelons.
Despite this and certain other attempts to advance the game, the IRB recently issued a version of the rules auf Deutsch, (for example; Die Ziel des Spiels ist Versuche zu machen, ausser wenn du England bist, dann muesst man nur Strafkicken), the growth of rugby in Germany is still hampered by difficulties with which any England fan will be au fait. The blazers from Heidelberg and Hanover are even more cliquish than the Worcester sportnetwork board and seemingly see any form of expansionism outside as the ultimate anathema. Rugby also faces stiff competition from other sports with increasing levels of popularity, principally American Football. Five of the six teams which play in the NFL World League are from Germany (the sixth is in Amsterdam, so that's all six in Germany then), and the game is the country's fastest growing 'sport.'
Among the Bundesrepublik's 99 clubs, there are currently 1,900 registered adult players, many of whom are naturalised Romanians and Georgians. Many more are British and French ex-pats, which could well be detrimental to the long-term future of rugby, a microsm of what is happening in the GP. A German sports federation needs 2,000 members and 24 clubs in each Land to be eligible for Federal funds, and this, coupled with the distances involved means second team rugby is non-existent. As ex-pats play within the established German league system, it becomes very difficult for young German talent to get games.
That said, there are opportunities. I was lucky enough to play in a FIRA university tournament in which my team, Munich, came up against teams including Immanuel Harinordiquoy, Tom Shanklin and another player, whose name escapes me, who had a profile on his team's website featuring the line: 'best moment in rugby: captaining Wales against New Zealand at the U19 World Cup.' For some reason the three players on our team playing their first ever game against him were a little bit overawed by that… (Ironically, we lost the tournament final on penalties, by the way.) We were lucky enough to play such luminaries due to being Munich, which meant we could offer the carrot of reciprocal invitations to play at the Oktoberfest 7s and 10s tournaments. I don't think a single team ever refused. In fact, even the Junior All Blacks toured Germany in the early 90's, including such stars of the future as Herrn M. Robinson and P. Tupai.
When I arrived in Munich in 2000, I had just spent several years back in Wales and had become disillusioned with the game I had grown up loving. This Brechtian alienation had been brought about by a number of things, primarily the ridiculous Western Mail hate and hyperbole, and the fact that a refusal to fellate the club captain either metaphorically or otherwise had pretty much ended my rugby career. The Freistaat was the last place I expected my love of the game to be revived, but it was in Bayern that I enjoyed the best rugby atmosphere and the best rugby of my life, including a game against Canada U23, a game arranged as the then Canadian coach's family was from Bavaria. We lost 72-0, scrums were made uncontested at half-time, and so great was the gulf in class that even line outs were uncontested after the hour. Thankfully, their coach wasn't Dean Ryan; his head would have exploded like Stuart Barnes' sack upon being left alone with a JSD's greatest tries video. If you watch Sky's Total Rugby, you may have seen two Frenchmen who played alongside me in that game cycling from France to New Zealand playing a game of rugby in each country they passed through recently…
Whilst I find it difficult to be optimistic of the future of the game in the country, there is fresh hope as German rugby enjoyed a couple of months of success of late. They breezed through their RWC qualifying group, recording a record 108-0 win over Serbia and Montenegro in the process, and beat Spain in the first leg of their play-off before being knocked out on aggregate following the return in Madrid. The Germans warmed up for that match with a six-try romp against the Welsh districts and also made their debut on the World 7s circuit, playing in the Paris and London legs.
Rugby is unlikely to ever regain the status of the nation's number one sport, which it arguably held prior to Hitler's rise to power, but it still has one very important role to play on the global rugby stage. Germany's fall from the elite must serve as reminder of what can happen when unions are isolated and as a warning of what can happen when unions with a powerful grassroots basis exhibiting a promise of development are ignored.
Rugby lost Germany, it has lost Romania, and it could lose Argentina, remembering Germany could help ensure that this doesn't happen.