Gleadell Tours Guide to Montpellier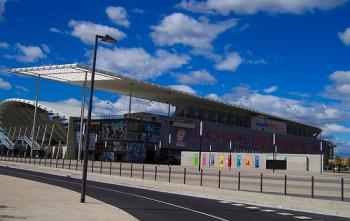 Yves du Manoir
By Chris Gleadell
January 9 2009
As I've mentioned oft times before I have got to know Montpellier quite well. It is my favourite little corner of the world bar none. Over the last few years I have been lucky enough to visit there half a dozen times including a month out at the World Cup in 2007. So for those of you lucky enough to be travelling out here is the Gleadell Tours very rough guide to Montpellier and its surrounds.
Gleadell Tours - Guide to Montpellier
As I've mentioned oft times before (yep too often, I know) I have got to know Montpellier quite well. It is my favourite little corner of the world bar none. Over the last few years I have been lucky enough to visit there half a dozen times including a month out at the World Cup in 2007. So for those of you lucky enough to be travelling out here is the Gleadell Tours very rough guide to Montpellier and its surrounds.

For those arriving by air Montpellier airport is fairly near the city around a 15 to 20 minute cab ride (last time I flew in it was around €30) or a shuttle bus to pick up the 'blue' tram line at Place de Europe on the edge of the city centre to take you into the main city itself.

This tram passes all the main centrally located hotels passing first through the Antigone district then Gare St Roch railway station then onto Place de Comedie. Some of you may even find that your hotel is a short walk from Place de Europe, check before you travel. If you are staying further out your hotel may have informed you of the relative tram stop, if not get out at Gare St Roch and get a taxi, follow the signs at the main entrance.

For those who prefer the train to take the strain, (that's me) and those flying into Nimes, or elsewhere, and taking the train into Montpellier, Gare St Roch is fairly centrally located, a short walk to Place de Comedie and its hotels or a two minute tram ride, blue again, to the hotels in the Antigone district. Again those staying further out take the cab option.

I am guessing that most of you will be booked into the numerous hotels around the two areas mentioned Antigone and Comedie. Place de Comedie is definitely the hub of the city, for visitors at least, though there is plenty more to see it makes a good base and meeting spot. It has has the old town on one side rising away and the modern Antigone district on the other that leads down to the River Lez. If you are staying in this area most of the restaurants, cafes and bars are in the area or a walkable distance. There are a few hotels dotted around the Place itself, those staying at the Ibis Comedie and I know there are a few of you, it is that rather odd shaped building that looks like its falling over at the opposite end to the opera house. Just five minutes walk away, or a two minute tram ride, there are many more hotels in the new Antigone district that leads down towards the River Lez.

Place de Comedie

Back to the Place de Comedie though. It's a good central point to get your bearings from and is host to many bars and eateries. It is not the be all and all though there is plenty more to explore in the city and beyond. To the east of Comedie spreading up a slow incline is the old town a maze of small streets and alleyways that would take you a good day to explore in its entirety. Home to even more places to eat and drink it is well worth spending an hour or so wandering this area if you are that way inclined as there are several gems, including the cathedral, hidden away up backstreets and in small squares too numerous to mention here. Like I said I've been to Montpellier a few times and spent hours walking these streets and alleyways yet everytime I will find something new around a corner. If you follow the main drag up from Comedie, a pedestrianised shopping area, and up through the old town you will come to Montpellier's own Arc de Triomphe gleaming in bright gold then over the road to the Place de Peyrou a tree lined garden that gives you good views over the city and on a clear day the Med glistening in the distance. From here you also get clear views of Montpellier's new rugby ground the Stade Yves du Manoir.

Back to your starting point on the opposite side of Comedie through the Polygon shopping centre, or a two minute 'blue' tram ride, lies the new Antigone district, some of you as mentioned may well be staying in the numerous hotels here. Again there are a few bars and restaurants dotted around this area, especially riverside at the far end, but in the evenings this area is very quiet, in January I would imagine even more so. You should however take time for a stroll down here too though as it is an impressive setting. Although new all the buildings are Roman and Greek in style leading down to the River Lez where a more modern type of architecture takes over though some mirrors what you have seen earlier in the old town in a more modern style. A good option to kill an hour or so is taking the blue tram to Rives du Lez stop then wandering along the river and up through Antigone, turn left at the crescent of houses and straight on, you cannot miss it. Once at the end of your stroll through take the escalator into the Polygone shopping area then head straight on back into the Place de Comedie.



At the far end of the Place de Comedie (the Ibis end) there are tree lined gardens, follow these and on the right you will see the granite Corum building, you can walk up to the roof of the Corum (don't worry its safe) for another view over one area of the city.

So what to do when you have exhausted Montpellier and that in truth will take some doing as I have said there are new surprises around every corner. Well it may be January but if you want a bracing day by the seaside the Med is just a stone's throw away. For the time of year Palavas is your best bet and is reachable by a local bus or better still if there are a few of you by taxi. I have walked it before but it is a good day there and back and unless you are a very hardy soul I would not recommend it at this time of year. For those interested in history the walled village and former Crusader port of Aigues-Morte, the gateway to the Petite Camargue lies to the east of the city, again accessible by bus or slightly more expensive taxi. Further afield and easily reachable by train are Nimes with its Roman architecture including a very impressive amphitheatre that is still in use to this day for concerts and bullfighting or the port of Sete, famous for its water jousting, though unfortunately not at this time of year.



And of course we should not forget we are there for the rugby. Rugby being fairly new to the majority of Montpellierians means that there is not really anything like the traditional rugby bars we may have encountered elsewhere, at least I have yet to find one, I would be pleased to hear from anyone that has.



Most bars will shows games on the television if asked but your best bet is probably O'Carolan's Irish bar along an alley to the left on the way up Le Arc mentioned earlier. Though of course you might just find your own little bolthole anywhere in town there are dozens to choose from.

Stade Yves du Manoir


As for getting to the ground itself well the simplest way is by tram. Wander down to the Gare St Roche (the railway station) and take one of the multicoloured trams to the Sabines stop then follow the crowds for a 15 minute walk or take the shuttle bus if they are running. The Stade Yves du Manoir must surely be the best dedicated rugby club ground in Europe. Built for the World Cup last year as a training base for the Australians it has to be seen to be believed and you even having the option of sitting in Tribune Twickenham! So while we may have been messed around by the powers that be over the fixtures for those going it will be well worth the effort.

Montpellier Tram

As you've probably noticed I have mentioned trams once or twice in this guide. Most of the areas mentioned are closed to nearly all street traffic making the tram the preferred mode of transport if not walking. There are two routes currently operating in a big X across the city (a third out to the sea starts early next decade). The two routes run different coloured units, the one you will probably use the most is the blue tram system, the other and newer multicoloured system you will probably only use to get to the ground and back. But a trip on both takes you to areas of the city you might not otherwise see, so explore if you are that way inclined. I know some people hold back on using public transport abroad but the Montpellier trams are simplicity itself to use. There are no conductors taking fares but there are terminals at each stop that has English as a selected language. All trips cost the same (it was €1.2 on my last trip in October) and make sure you do buy a ticket and validate in the little ticket machines getting on, or you might face a fine. On match day there may even be a special €2 return ticket available to Sabines which includes the shuttle bus.



So there you have it, not an exhaustive guide by any means but I hope it's a help for a few of you and gives you a taste of what is in store. If you've got any questions or any other info fire away.