News: Thoughts from the Chron 4th February 2010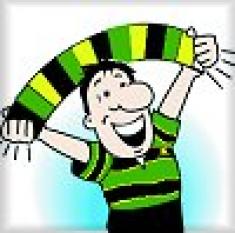 By Chris Gleadell
February 4 2010
Last Friday night may have smacked a little of after the Lord Mayor's show following on from the previous weekend's shenanigans in Munster. Whilst a chilly damp night and a sparse crowd in Stockport might not have compared with the cauldron of Thomond Park seven days earlier, when all is said and done the Saints still preserved their 100% record in this seasons LV= Cup in the 20-14 defeat of Sale.
STOCKPORT
A few hardy souls still made the trek north for the game but for the majority of us it was listening in to local radio or catching updates via the internet from the comforts of home. Stuck in front of the telly with my feet up, in between the trials and tribulations of Molly and Tyrone's marriage and who exactly killed Archie Mitchell, I even caught a few snippets of action myself. It all looked (pardon the pun) plain sailing at one time with a healthy lead built up but gradually the home side ground their way back into it and in the end it was the Saints defence that saved the day when Sale were just one converted try from stealing victory it at the death.
So a job well done especially when you consider the changes made to the starting line-up over what was almost a full strength Sale side. Given Wasps defeat at home to the Scarlets it leaves Saints as the only side with an unblemished record in the competition but there can be no resting on laurels with the visit of our nearest and dearest Leicester on Saturday.
TIGERS
Whilst Saints are sitting pretty at the top of their group there is still much to play for. Technically they can still be pipped for a semi final spot if they fail to get anything out of Saturdays encounter and Newport Dragons win at Saracens on Sunday. Perhaps more importantly though Saints will be keen to secure a home semi final at the Gardens. With no semi double header as in previous years the games are to played one after another on Sunday 14th March with the final a week later on the 21st at a yet to be confirmed venue. Perhaps counting chickens again on my part but there does appear to be a clear route forward for the Saints in this competition. Who knows it might just be our year?
The Anglo Welsh may not be everybody's cup of tea, certainly in its previous guises it was not mine, but I think in the coming weeks we will see a change of tack as all remaining fixtures are played over Six Nations weekends. Not only do clubs lose players to the main national squads during this period but with a scattering of 'A' fixtures as well it could well be the time that a few unfamiliar faces get a run in their respective club colours.
Certainly the Welsh regions, with their concentration of talent over just a few clubs, will suffer more than their English counterparts but then when you look at the raft of combined Saints and Leicester players who may be missing on Saturday perhaps after all we should start viewing the Anglo-Welsh as more a development competition than the premier competition it was a few years ago when it was the English domestic cup.
Given this I am not so sure it still merits a place in the Heineken Cup for the victors but given time it could develop into a worthwhile 'secondary' competition whilst the international games are on. Who knows dovetailed into the season correctly in the future we might even see the end to playing Guinness Premiership games over these weekend, we can but dream. As it stands not only will we get to see the possible stars of the future and those that may play the majority of their games in the Wanderers alongside a backbone of first team regulars but it also keeps the clubs coffers ticking over during this period. I think some clubs are missing a trick with this but marry up your club game to an international and you are quids in. Personally I have always enjoyed these club/international double header Saturdays and I am sure the club accountants do too. Watch the Saints play then the captive audience hang around for a couple of hours watching the internationals and putting cash over the bar. As a knock on effect given the numbers about the local economy of Jimmies End does well out of it too. Winners all round! So long live the Anglo-Welsh in its current guise, it may have a well placed future after all.
So what of Saturday's game? Well as mentioned above the Saints need the victory but perhaps the Tigers even more so. Although they head their group they are level on points with Saracens who look odds on a home win on Sunday. Both sides may be depleted, and lord knows how many times we've seen that scenario in recent years when we've met, but this after all the local derby, Saints v Tigers, no quarter asked or given. Going on previous encounters it could be a belter in more ways than one but I'm taking us to defend that home record even if it may be by the slenderest of margins.
SIX NATIONS
Now for all the talk of my fondness of these double header afternoons and the prospect of a full blood and thunder local derby I will be missing this one. Instead I'll be spending my afternoon at the other game, England v Wales at Twickenham. Travelling down to HQ in a mixed bus of both Welsh and English supporters I will probably get as much banter as those of you entertaining the Tiger fans at the Gardens but I'll keep in touch with happenings via the wonders of the mobile phone.
As for the game at Twickenham well it's another one that looks too close to call. Not because each team cancels out each others prowess but at this current time I'm not exactly sure which England or Wales sides will turn up. Now I'm not talking about personnel rather the gameplan and frame of mind but probably most importantly, certainly from an English point of view, is whether Martin Johnson and his coaches have woken up yet and smelt the coffee yet.
For Wales, well the Warren Gatland honeymoon appeared to be over last season but there's always a nagging voice in my mind about Gatland and his sidekick Shaun Edwards. Write them off, discount them and think they have run their course and they have a nasty habit of coming back to bite you on the backside, perhaps in Edwards case quite literally. Gatland is also the master of momentum, just look how he got Wasps on a roll season after season at campaign end, and if Wales come away with the spoils on Saturday then don't bet against them being there or thereabouts at the end.
For England, well after the November internationals we were getting soundbites about how things were not really that bad because of XYZ. This week that continued with Johnson telling us it was due to missing key personnel. With a whole country to chose from I do not buy that, if we did we are really are in trouble if that is how he views the 'strength' in depth and I am not too sure what those kind of sentiments made by the national coach do for the confidence of those replacements. At the end of the day though what we saw was the poorest England team in quite some time but personally I would not put too much blame on the shoulders of the players. There were flair players involved, our own Shane Geraghty for example, played out of position and shackled by a gameplan that showed as much promise as a chocolate teapot. Whether it is fear of failure or a forced game plan that no one it seems to quite buy into, or indeed at times understand, the English game looked stilted and unadventurous at the end of last year.
So a couple of months on will we see any difference? Well I really hope so as I truly believe we do have the players in this country to compete at the top. For all the talk of letting them have their own head perhaps now is the time for that really to happen instead of the lip service on the subject we have had up till now. Certainly if we get more of the same Johnson has to go and with a World Cup just 18 months away perhaps we might have to face up to the prospect of Messrs Mallinder and West coming into the frame, though being the selfish type I would prefer it if they called Ian McGeechan or Jake White first.
FUTURE SKIPPER?
On a Saintly note it is good to see Dylan making the start at hooker. There were a lot of good words said about his performance out in Munster while we were over there and around the various club message boards back here. People were not just praising his play but his handling of the whole situation as skipper. On Saturday you might just see an England captain in the making.
Good luck to him!