Pictures London Irish v Saints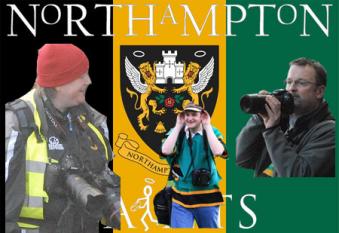 By COYSDC Snappers
May 9 2010
Well - whodathotit - a win at the Madjet ! Saints sealed second place and a home semi-final fixture against Saracens. The Saintly Snappers bring you their pictures
Smurf
A cracking result, made up for the miserable weather...

Here's the link to my photos:

http://www.flickr.com/photos/smurfomatic/tags/8may2010/

and some favourites - Kruger secures another lineout:



Tiny gets knocked over by a winger:



Clarke makes a break:



Lobbe definitely not concussed:



Ashton sends Clarke in for a try...



...and Kruger returns the favour:

---
Claire J
- r
edhat
Hi all,
Photos from yesterday and my ramblings below:
---
Up until yesterday I hadn't really enjoyed my experiences at the Madjeski. I'd always found it to be a soulless football ground and whilst I still don't get on with football grounds and rugby, my experience from the moment I arrived was a positive one. The staff were friendly and knowledgeable. The stewards were falling over themselves to help.
I was again joined by Hannah Wearmouth who spent the whole match grinning such was her enjoyment of using the D700 and the 70-200mm lens. I was having a grand time with the D3 and the 400mm. The light was up and down like a yo-yo but at least it was even.
As Stephen Jones stated in his Times piece, the man of the match was Jon Clarke. He fought for the ball, tackled like a demon and scored two lovely tries. Mind you Nacho Lobbe deserves a mention for his remarkable recovery - pitchside we thought he was in serious danger of toppling over on the medical team. He had the last laugh as he come off the pitch at the end of the game doing an impression of himself tottering about the place.
It was also a poignant day - Chris Ashton appeared at times to have his mind elsewhere. There are a series of very poignant shots as he comes of the pitch at the end, greeted by Paul Shields. It was also the last day we will see Mike Catt play - he knows how to look after the press - I thought I didn't have a hope of getting anything sensible with the team shot. But Mike knows to look at every cameraman and I got my shots just as I wanted them.
I can't wait for next week - the boys have bounced back having had that much needed rest. They will want to claim their turf back and will be relishing the prospect of sorting out the Saracens. Here's to a grand game.
In the mean time here are my favourites from yesterday for all sorts of reasons:
MoM JC working hard...
Dylan grapples and grimaces...
Nacho...
Bruce Bruce Bruce...
Anything Getty can do...
Nacho has the last laugh, tottering off the pitch
Chris Ashton supported by Dylan and Paul Shields...
Mike Catt - World Cup Winner says goodbye with his team mates
The rest can be found here...
http://clairej.smugmug.com/Rugby-Union-Season-2009-10/London-Irish-vs-Northampton/12117476_H2je2#861325925_cJthH
See you next week for the big one:)
---
Thanks and regards, Claire