News: GP Playoff Semi-Final Photos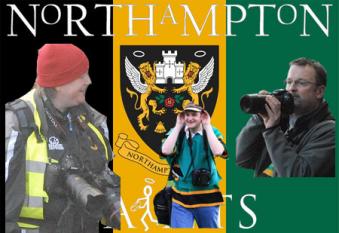 By Snappers
May 17 2010
A hard and ultimately fruitless day at the office against Saracens. A match that could have gone either way is recorded by our photographers.
SMURF

Gutted that the season ended like that, would have been nice to say farewell at twickenham to Nacho, Kruger, Hopley, Besty, Cannon, Joe & Scott Gray, Hopley, Dickens, Darren Morris, John Brake, Everitt and Jon Vickers.

Here's the photos:

http://www.flickr.com/photos/smurfomatic/tags/16may2010/

And some favourites - Foden gets caught:



A Dickson box kick almost gets charged down:



My man of the match:


Tiny scores...



Bye bye Nacho:



The final whistle - gutted:



Only three months to wait till the season starts again!
---
SHENDY
A lovely day, another cracking game of rugby, and another disappointing result.
Somehow I managed to land tickets in the front row of the South Stand, with Mrs Hat just in front for the second half, so my view was pretty good.
I thought Saracens were really good value for the win, and can't believe how different a team they have been in the last few weeks. But, will they be able to continue playing like that without Jackson? Brits was a real handful, side-stepping away from the first up tackles every time, and they seemed to be just evading the usually so solid defence.
In the end, as I said to saintsdave on the way out, I didn't want to go to Twickenham anyway as I've spent too much on rugby this season anyway. His reply is unprintable on a family website.

Here's my selection – quite a few of them as I took a lot of photos.

I spent some time before match trying to photograph Geraghty kicking the ball – it's really hard to get the timing right!


Tiny showing just how flexible he is



If the opposition are going to score and celebrate, then it's jolly decent of them to do it in front of me.



Ashton about to get double-tackled


Best on the rampage



Tiny doing what Tiny does



And I'll give the last one to a Sarries fan, as it was their day.




To wrap up, a great season – strange isn't it how we can be disappointed with a Cup win, an HEC QF and a playoff SF!
Enjoy the summer, and I'll see you all next season.
---
CLAIRE J
Evening everybody,
24 hours have passed and I am already looking forward to next season.
Yesterday, despite the result was an excellent match to shoot. I am not going into the whys and wherefores - I'd just like to say thanks you to all the players and coaches for their efforts this season. It's
been an absolute privilege to take photos of this marvellous team and I will miss all the players leaving.
Have an excellent summer everybody, my favourite photos from yesterday are below:
Roger Wilson's amazing break
Ben Foden claims the ball
Chris Ashton
Tiny on the charge - I love the coaches in the background
An emotional farewell to Nacho
The rest of the photos can be found here:
http://clairej.smugmug.com/Rugby-Union-Season-2009-10/SaintsvsSaracens
16052010/12201250_a4TWg#868911541_STACs

Have a good summer everybody:)
---