News: The 2011/12 Heineken Cup Draw: As It Happens...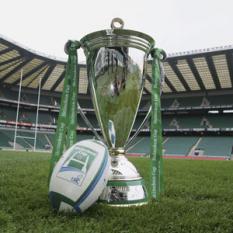 By Phil Hollis
June 7 2011
Northampton Saints suffered the agony of "hope" just a few weeks ago as they succumbed to an inspired Leinster side in the Heineken Cup Final. Now, we look forward to next year's competiton!
So, who will Northampton Saints face next year in the Heineken Cup?
Keep checking back on this article to find out!
According to the ERC website, the draw starts about 12 noon, Tuesday, and the plan is to update this article "as it happens".
Probably won't work and the real world will get in the way but, hey! let's live a little!
Tues 9.15am Morning All!
A reminder of the seeding groups...
Clubs And Tiers
Tier 1 – Leinster, Toulouse, Munster, Cardiff Blues, Biarritz Olympique, Leicester Tigers
Tier 2 – Northampton Saints, Asm Clermont Auvergne, Ospreys, Bath, Harlequins, London Irish
Tier 3 – Ulster, Saracens, Gloucester, Glasgow Warriors, Scarlets, Edinburgh
Tier 4 – Connacht, Benetton Treviso, Castres Olympique, Montpellier, Racing Metro 92, Aironi
11.30am Live streaming of the draw can be found here from 11.30am...
http://www.ercrugby.com/eng/matchdaytv/
11.55am Well, I've got the ERC stream on - lovely picture of a test card at the moment!
12.01pm Still the test card and music... :/
12.03pm "Would you take your seats, ladies and gentlemen..." We have pictures!
12.06pm waffle, waffle, Leinster, waffle...
12.07pm Final highlights... Hmmm...
12.10pm No real need to rub it in was there?
12.11pm Apparently Leinster are the current champions...
12.14pm Draw about to begin. Right, from now on, I'll just update the pools below...
POOL 1
Munster
NORTHAMPTON SAINTS
Scarlets
Castres

POOL 2
Cardiff Blues
London Irish
Edinburgh
Racing Metro
POOL 3
Leinster
Bath Rugby
Glasgow Warriors
Montpellier
POOL 4
Leicester Tigers
Clermont
Ulster
Aironi Rugby
POOL 5
Biarritz
Ospreys
Saracens
Benetton Treviso
POOL 6
Toulouse
Harlequins
Gloucester
Connacht
12.39pm There you go - that's the draw for the group stages of the 2011/12 Heineken Cup. Thanks for reading!
Phil