MoTM: The Saints win (at last) against Exeter at home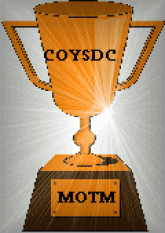 By Saint Tim
October 16 2011
In their second season in the top flight Exeter are flying high having got off to a much better start than Saints. Exeter have never won at the Gardens but they must have fancied their chances. Yet another televised match but fortunately this was still a Saturday kick off and almost at the correct time. Fortunately for us Saints fans the team played a much better game than recently.
Who was your MoTM as Saints chopped down Chiefs at the Gardens?
I was really nervous ahead of this game and when Saints were receiving in front of me and chose not to hoof the ball to safety my heart went straight into my mouth. Was this another occasion where we would gift a start to the opposition. Oh me of little faith. Saints moved the ball up field in a few sweeping moves across the pitch James Downey went over for the opening score. Exeter had not touch the ball apart from the kick off, Saint forwards and backs had worked together in harmony with power, pace and precision. I was in seventh heaven – the boys were back.
Saints continued to play well when they had the ball – always looking dangerous and rarely kicking away possession (to be honest I cannot remember a time we did but we must have done – surely) to the opposition. When we did not have the ball we defended like every metre given up hurt. There was none of the easy yards that teams have traditionally made against the Saints defence. Also missing was the constant competing for the ball and the penalties that so often come with this. We seemed much more content to wait for the right moment and then pounce.
The scrum was dominant from the start and other elements were working well all round. Ryan Lamb seems to have taken to the Saints and likewise the Saints seem to have taken to him. He passed well, bringing on runners, he was flat and probing the defence at all opportunities, he also played a couple of lovely little grubber kicks through. Too often for us these seem to ricochet off defenders but not this time. I clearly saw him look up and see the defensive line was all up – that Digger was correctly aligned as he then chose to knock it through for the second try.
I am sure that if this was not a game on the back of four defeats on the bounce Saints would have been looking for the bonus point try – as it was we were just happy to absolutely ensure a victory.
Saints looked like a team that were starting to click, starting to trust in each other and more importantly starting to believe in each other. There was no weak link and just the same it was hard for me to pick a man of the match – fortunately you wonderful people did that for me.
This is what Mark Sorenson had to say after the game.
And there is also Big Sam – Looking like he is getting used to the attention.
What the Stats say
So where in the stats did we appear to be better than Irish. Well in the following we looked better:
Yellow cards (Exeter 1, Saints 0) Nice to see a big fat zero for Saints here.
Scrum success (Saints 85.7%, Exeter 50%) Exeter really did struggle at scrum time and according to several doyens on the site were lucky to escape this lightly.
Penalties conceded (Saints 6, Exeter 16) Much better even if it did require a certain amount of laisse faire at the breakdown.
Defenders beaten (Saints 13, Exeter 5)
Clean breaks (Saints 7, Exeter 2)
Missed tackles (Saints 5, Exeter 13)
Turnovers conceded (Saints 7, Exeter 13)
So where were we worse than Exeter
Lineout success (Saints 92.3%, Exeter 100%) – Exeter did however have 9 line outs to Saints 13 showing they hoofed the ball off more often.
Runs (Saints 103, Exeter 138)
Passes (Saints 153, Exeter 166)
Offloads (Saints 8, Exeter 11)
Tackles (Saints 153, Exeter 99)
So some interesting ones there and if you were at the game you probably understand. Saints were clinical with the ball but they chose very carefully when to compete at the breakdown and in doing so gave Exeter a lot of ball (hence the tackle count) but in all those phases Exeter managed to make less ground than Saints [Metres run with ball (Exeter 253m, Saints 459m)]:
So how did the individuals do?
Dowson made the most tackles with 18 missing none – well done Phil – It was a welcome return to form for you. Tonks made the most distance with ball in hand with 81 metres again closely followed by Armstrong with 66 metres. Armstong beat the most defenders (3) but in doing so he also conceded the most turnovers as well (4). This would say he needs to either run cleverer lines so support players can be with him or that they need to learn his running lines for support.
So, who caught the eye?
Once again my thanks to Claire for the fabulous pictures they really do help to bring these stories to life.
When it come to the voting thanks to the 134 people who did vote and you placed Calum Clark in third place with 12% of votes. It is very easy to forget just how young Calum is. He is key to our back row and probably played too many games last year. This year he is already one of the players who has not missed a start. I hope as Wood is back and Roger recovering that we manage to get him some rest time.
In second place with 21% was Ryan Lamb. Ryan was the pundits man of the match and he played very well. He brought the runners in and controlled the game and also played with a smile on his face and played for his team. I think Myler is going to get real competition this year – it will be interesting to see how he responds.
The winner however and with over 34% was Mike Haywood. This was Mike's first start (I know that as I had to add him to the player database) and he impressed. This was a game where we were short of hookers with Andy Long having had a operation and Brett Sharman injured Saints had only one hooker. The club therefore called up Ross McMillan from Solihull (I think) but he didn't get on with the Saints actually finishing with three props in the front row but still contested and dominant scrums. Well done Mike and another great and MoTM winning debut.
We now have six different winners from the six games.
Full Result
Previous Winners
Vote History
Who wins?
Leaderboard
Players Used
I know we banged on about this last year and this being a World Cup year is an odd one b ut after six games we have used 25 different starting players and only four players have started every match.