News: AP: Northampton Saints vs Newcastle Falcons - Preview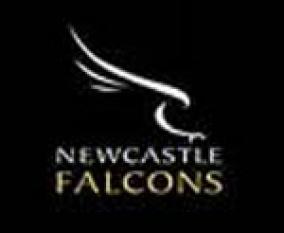 By Daventry Saint
October 27 2011
Northampton saints return to Aviva Premiership action this weekend with the visit of Newcastle Falcons to Franklin's Gardens. Daventry Saint looks forward to a rare 3pm Saturday kick-off...
NORTHAMPTON SAINTS vs. NEWCASTLE FALCONS
Saturday, 29th October 2011 - 3pm
FRANKLIN'S GARDENS
MATCH PREVIEW
After two weeks of competition in the Anglo-Welsh LV= Cup, this week sees the return of Aviva Premiership action to Franklins Gardens.
Few people can argue that Northampton have had a less than satisfactory start to the season. Despite an opening day win over Gloucester, the Saints have slumped to 4 defeats in 6 games, including a demoralising loss to London Irish at Franklins Gardens. However, in their last Aviva Premiership fixture Northampton did manage to turn the tide and earn a hard fought victory over a below par Exeter Chiefs team. This weekend the Saints will be hoping that they can carry the momentum created by the win over Exeter, coupled with wins over Saracens and the Neath-Swansea Opsreys in the LV= Cup, into the game with the Newcastle Falcons.
In a rare 3pm kick off at the Gardens, the Saints will inevitably welcome back a number of their World Cup players to play in front of a home crowd. Having ran out against a stubborn and impressive Opsreys side in the LV= Cup, England stars Ben Foden and Chris Ashton are likely to make their first home appearances of the season. After being integrated back into the squad and starting line-up, Foden and Ashton, along with fellow England players Tom Wood, Courtney Lawes and club captain Dylan Hartley, will be looking for a more fluid and organised performance against the Falcons, following a stilted, awkward, but ultimately effective display against the Ospreys. Although the performance was not quite to the levels that Saints fans have come to expect from their Northampton side, it was enough to record a bonus-point victory, with two tries coming courtesy of captain Dylan Hartley. Building on this performance, it would be reasonable to assume that the Saints are looking for a more fluid and disciplined performance against Newcastle, with the penalty count likely to pay a crucial part in the outcome of the game. Newcastle themselves have not had a particularly pleasing start to the season, however unfortunately this is not a great surprise to many. Over recent years the Falcons have been the perennial 'dog-fighters' of the Premiership, often escaping relegation by a small margin, yet occasionally turning in performances of the calibre of Premiership champions. Such is the unpredictability of Newcastle, Northampton will have to be fully prepared and on top of their game if they are to overcome the Falcons come Saturday.
Currently, Northampton sit in 9th position, with the Falcons propping up the rest at the bottom of the table. However, given than Leicester Tigers currently sit in 11th, the Aviva Premiership table is not necessarily a fair reflection on where teams are likely to sit come the business end of the season. The Falcons have a solitary win to their name, compared with Northampton's two. Newcastle have already faced some tough fixtures, going away to Saracens and London Irish, two venues that are difficult to conquer at the peak of form, let alone a side struggling for confidence. In comparison, the Saints have faced the impressive Harlequins whilst suffering other defeats at the hands of Sale Sharks, Worcester and also London Irish. With this in mind, it will be interesting to see how the two teams attempt to tackle each other come Saturday – will Newcastle look to kick Northampton out of the game through the boot of Jimmy Gopperth, or will the Saints look for supremacy in the forwards, forcing penalties come scrum-time?
In the corresponding fixture last season, the Saints drove the Falcons scrum back 40 yards before a penalty was awarded, with Northampton's dominance and victory in that game largely coming through their superior pack. However, this season Newcastle boast the scrummaging prowess of former Saint Euan Murray who has returned from the World Cup having enhanced his experience and achieved recognition for his highly effective scrummaging for Scotland. One of the most interesting confrontations and battles will be the meeting of Murray and Saints talisman Soane Tonga'uhia. By his own incredibly high standards Tonga'uhia had a very quiet World Cup, largely forced to play a bit-part role in a Tongan front-row that still managed to scare the living daylights out of a France side that would go on to almost win the William Webb Ellis trophy. Whilst in the red of Tonga, Tonga'uhia did not reproduce the form that saw him set the standard for many a performance from the Saints last season, particularly in the Heineken Cup. However, Jim Mallinder and Dorian West will be hoping that after a sustained and thorough period of training with the rest of the squad, Tonga'uhia may be able to emulate the form that was so crucial in taking Northampton to the Heineken Cup Final in 2011, in a game that could turn out to be heartbreaking for Northampton.
Despite three consecutive wins, Mallinder's Northampton side are still under no illusions that they are in a tricky situation in the Aviva Premiership. The Saints have often been accused of playing one-dimensional rugby, relying on James Downey or Roger Wilson to crash over the gain-line in order to release the faster outside backs. In essence, if you can stop the first phase ball carriers from breaking over the gain-line and you can slow the initial ball, then you can stifle Northampton's momentum, taking you halfway to a win. If you can then spin the ball wide with pace and accuracy and get around the Saints drift defence, then you stand yourself in very good stead for a victory. Unfortunately, the reality is often a lot more complicated than this. Even so, it is this game-plan that we are likely to see implemented against the Falcons, with Northampton likely to be wanting to secure a win at all costs, aiming to claw their way back up the table and into Heineken Cup contention.
Newcastle's first fifteen features many unfamiliar names, with Alan Tait having rebuilt his squad with a large number of local players. It has often been a problem for the Falcons that they can't hold on to their star performers, whether it be Jonny Wilkinson, Jamie Noon, Mathew Tait, Toby Flood, Carl Hayman, or most recently England's best prospect in the No.8 shirt, Alex Gray. Despite this, oddly enough, Newcastle have never been without a star goal-kicker. From Wilkinson to Matt Burke, to current Saint Tom May to the ever reliable Gopperth. If Newcastle are to get anything out of the fixture, they will certainly be relying on Gopperth to kick any points that are available, whilst attempting to challenge the Northampton set piece – a difficult task at the best of times, let alone with the painful memories of last season's annihilation at the scrum still vivid in the mind. Newcastle will be looking to stifle any quick ball that Northampton attempt to ascertain, whilst playing a simple but effective brand of rugby, probably aiming to earn as many penalties at the breakdown as possible.
For the first time in a long time, the Saints management face some rather large selection headaches, a luxury that Northampton have not often been used to. There are tough decisions to be made all across the field as to whom starts and who makes it onto the bench. The selections may largely depend on what type of game-plan Mallinder and West which to play to – do we want to play conservatively, kicking for territory and hoping that our set-pieces earn penalty opportunities? Or do we want to attack from the off, playing with ball in hand with pace and power? If the former, we are likely to see Stephen Myler, Downey and Jon Clarke. If the latter, Ryan Lamb and Tom May could be asked to weave their magic in the midfield. However the selection headaches are not just limited to the 10/12 axis, but throughout the pack also. Will Brian Mujati be recalled into tighthead in place of Paul Doran-Jones? Will Christian Day take back his No.4 shirt from Mark Sorenson? Will Samu Manoa get a start after impressing off the bench against the Opsreys? What will the back-row combination be? Will Phil Dowson and Lee Dickson get to face their former employers? The selection headache has never been as big for Jim Mallinder, and that is a testament to his recruitment over recent years. Although the Saints struggle during English international periods, it cannot be argued that when all players are available, Northampton have admirable strength in depth across the board.
Sat 29 Oct, 3.00pm: Newcastle Falcons
DaventrySaint's Predicted Team:
15 Ben Foden
14 Chris Ashton
13 Jon Clarke
12 James Downey
11 Vasily Artemyev
10 Ryan Lamb
9 Lee Dickson
1 Soane Tonga'uhia
2 Dylan Hartley
3 Brian Mujati
4 Courtney Lawes
5 Mark Sorenson
6 Calum Clark
7 Tom Wood
8 Roger Wilson
Replacements:
16 Mikey Haywood
17 Paul Doran-Jones
18 Alex Waller
19 Samu Manoa
20 Phil Dowson
21 Martin Roberts
22 Stephen Myler
23 Tom May
Saints by 15.