MoTM: Calum wins for the game away at Ospreys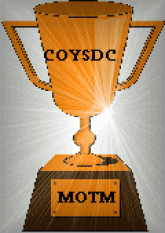 By Saint Tim
October 30 2011
Was this the first appearance of the so called Cup Final Team as the Saints team included all the big names returning from the land of the long white cloud? Up against them were a very young Ospreys team looking to make a name for themselves. The big question on most supporter's minds was how many points would the Saints rack up? Well it was not really to be like that as Saints looked rusty and whilst all the elements could be seen we struggled to put them together.
Who was your MoTM as Saints eventually organised a party at Brewery Field?
It was a feisty affair reminiscent of Anglo Welsh games of old – or the Blues games last year and at times it was a wait for the rugby to break out. I do not know if it was this or the rustiness in the Saints game plan but we didn't really get started. Tiny was struggling in the scrum and this was symptomatic of the Saints play. To be honest Ospreys didn't really threaten the Saints line and it was only a gifted intercept try on the stroke of half time that meant the teams turned round with a meaningful lead after a succession of penalties from the impressive Morgan. In return we had another Artemyev try – he really is scoring for fun and a Lamb penalty. This was also despite Ospreys playing half of the first half with a man down due to indiscretions.
I am sure there were some harsh words said in the changing room as Saints came out and from a Ospreys fumble at the kick off the pack took control and after a scrum and line out Dylan rumbled over the line for a classic forwards try. The Captain was also on the score sheet for the next try. The TMO took his time to award the score and to be honest I was not convinced he would give it after the question asked by the ref.
There was absolutely no doubt about the next try as two minutes later a cross field kick from Lamb found Calum Clark in acres of space and he went over for a well deserved score. The only other score of the second half were swapped penalties mean Saints won the second half rather convincingly and score the bonus point win.
With two such wins in two games Saints sit 5 points clear of Exeter in Pool 4. We supporters may not be fans of the competition but it does come with a Heineken cup place for next season and amazingly is more financially rewarding for the club than doing well in the European Cup.
He is Jims take on the game
What the Stats say
Like last week I could not find any stats for the LV Cup match.
So, who caught the eye?
Unfortunately Claire could not make this game so the pictures are from the excellent Library of shot she has built up.
My thanks to the 66 people who voted and they really only picked out two names. In second place with 33% was the try scoring Captain. Dylan didn't have a good world cup and I think he has something to prove about his play. It will be interesting to see him up against Wally when we play Wasps next week.
Here is what Dylan had to say after the game.
The winner and by a nose with 36% of the votes was Calum Clark. Calum is probably the first name on the team sheet. He was almost ever present last season and has already racked up seven starts this year. It is very easy to forget just how young he is. He came to Saints with the reputation as a bit of a hot head but it is noticeable how low his penalty count is becoming. He tackles, obviously releases and then goes back in. This is Calums first win of the season and after eight games we have had eight different winners.
We now have seven different winners from the seven games so it is a rather flat leaderboard.
Full Result
Previous Winners
Vote History
Who wins?
Leaderboard
Players Used
I know we banged on about this last year and this being a World Cup year is an odd one but after eight games we have used 34 different starting players and no players have started every game. There are now only two players who have only had one games rest.