News: Sarries Swim as Saints Slither (18 12)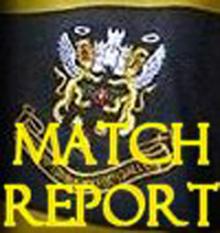 By David Wilton
March 6 2012
Who can deny it was a day not for the fleet of foot but one for the solid and steady. That is very much what we got with an almost sub-aqua Vicarage Road wind and driving rain. On paper rather than mud both teams looked fairly equally matched with maybe saints having a slight nudge upfront and maybe just maybe a bit more guile in the centres. However I think the conditions became a great leveller.
AVIVA PREMIERSHIP ROUND 17
Saracens v Northampton Saints, Watford
Sunday March 4th, 2012 – 3pm
From the kick off it could be gauged it was not a day for flair but more a day for territory organisation and maybe to be decided by one game breaking try. Well Sarries started the brighter with Stringers little dart, but after a powerful scrum it was Myler who got first dibs at the post pushing it just wide from the marsh beneath his feet. Saints kept the pressure up and got an eventual 3 points after 10 minutes despite some of the backrow forwards best efforts at removing Sarries who shouldn't be mauling where they were. Sarries immediately replied with a fortunate penalty of their own. So 3-3 after 15 minutes and time for the fatboys to arm wrestle and the backs to play ping- pong. Sarries attacked again and Wilson was caught on the wrong side of the ruck doing an impression of a Manatee right in front of the posts. Up steps Hodgeson Sarries 3 points in the lead.
Finally Saints put it together and a nice backs move saw Armstrong almost get free, the resultant play saw Myler have another shot at goal after Sarries were penalised for bringing down a maul. Myler missed again so 6-3 after 24 minutes. For the next ten minutes Saints put together some possession, until a lovely burst from Short broke the siege. Sarries were very clearly having a good day territorially with the boot, but eventually Saints got into Sarries half and gained a penalty so 6 all and so it seemed that that would be the Half Time score until Downey made an unfortunate decision under the posts, another 3 to Hodgeson.
The second half started with another midfield wrestle until Saracens managed to get some momentum in a maul resulting in a penalty outside the Northampton's 22. Hodgeson who was having a good day with his placekicking did not miss. Neither did he miss again after Manoa was penalised for dragging down an embryonic maul. 9 Points the gap and a bonus point was looking at best all we could get. A slip saw saints get back to 6 points down as Myler struck the resultant penalty quite nicely. I think the contest in the scrum now was getting very tight and I do feel for Mr Rose in his efforts to officiate it as there was so much going on. Unfortunately this resulted in another 3 points for Hodgeson after a marginal decision against Roberts.
Saints now attacked furiously only to have their momentum broken by Britz being sent sparko in a collision with Roberts. Next came a raft of changes by Saints to try and at least get a bonus point.
Saints pressed sometimes without precision but pressed none the less which soon resulted in a very long range pot for Ryan Lamb which dropped short. Three minutes to go, 9 points behind and taking the ball in our 22 on a mud pie. Saracens concede a penalty on their halfway line and then an unbelievable bit of indiscipline see's Rose march Saints forward 10m. Lamb's kick was a beauty and it's the Tchaikovsky score at no side.
Roger Wilson Says: