A SAINTS SUPPORTER OVERSEAS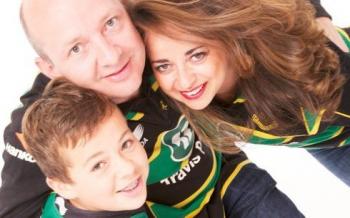 By Ratbag
March 14 2012
I have been living overseas now for the best part of 22 years. In all that time, my love of the Saints has never diminished. If anything my support of the Saints has grown stronger. Ask the wife, I say that I am a keen supporter. She says that I am obsessed.
A SAINTS SUPPORTER OVERSEAS
When Saints were relegated to the old first division, I flew for 16 hours for the Esher away game, which obviously we won. Surely not many have flown for that long to go to Esher. And I still have the T-shirt as proof.
Now that I have left my job permanently and moved overseas (Seychelles - tough but someone has to do it), there was one thing, which I could not give up – my season tickets. So despite not getting to see any games live at FG this season, I hold 3 season tickets, which get used by a friend of mine. And which I get to use when I get back to Blighty.
Fortunately we now have access to rugby mad South African TV. I get to see all Saints games, which are on TV, as South African TV has direct feeds from both Sky and ESPN. So you could argue that I get to see more TV coverage of Saints games overseas than I would do in the UK. Even I might baulk at paying for ESPN in the UK just to watch the odd Saints game. Even in Congo, the country in which I lived overseas before Seychelles, I got to see all the games shown on South African TV.
Certainly in Kinshasa, Congo, electricity was often an issue. The number of times I left early a weekend organised by the wife because Saints were on TV, much to her chagrin, only to get home to find that there was an electricity cut, so I didn't get to see the game at all. On one occasion my wife thought it very funny that I had left our weekend 7 hours early because Saints were on TV only to get home after a long drive to be met by an electricity cut.
To give my wife, who is Algerian, her due, she has become an avid Saints supporter. And we have spent many a good weekend in Europe following the team. Even the game that never was in Viadana was surrounded by a good weekend, which made the trip and the fog worthwhile. The house, which we finally bought in Northampton, I said that we bought because it was close to the train station and I had to go to London often for work. But on occupancy we found that the address was Standside because it was next to the Church's stand. And the postcode ended in FG which I always said stood for Franklin's Gardens.
Game days for me have developed their own rituals. Having guessed the score in Smurf's Swindle and in the prediction league the day before, normally after I have seen the teams, game day involves me putting on some Saints apparel, normally the shirt, in anticipation of the game. Unfortunately the time in Seychelles is 4 hours ahead of the UK, so when the game comes on TV, I have often already had a dual with Johnny Walker and lost, meaning that the game is not as clear as it should be!
I have also had the disadvantage to live in countries, which, like most, are round ball mad. So me wearing a Saint's shirt means nothing to most. Not that it stops me. But I have to do a lot of explaining of the shirt. And on the occasion that I do meet a fellow rugby enthusiast, their tribal allegiance has to be found out straight away just in case some verbal banter is in order. I do have to say though that there was an occasion in Congo when I went to a Salsa class with 6 other people, 5 of whom were from Northampton. So we do travel well in numbers!
As for the game itself, all I will say is ask me any questions you want before or after the game, not during. I have already been told off by many for not caring about what is going on around me when the Saints are on TV. I see no problem with this. But my view of things is not always the view held by most.
But I am not alone. There are many Saints supporters overseas. So, just remember that, if you are watching a Saints game on TV, there are Saints supporters overseas watching the game with you often late at night after a wrestle with Johnny.