News: NO PASTY TAX - Bath 6 Saints 26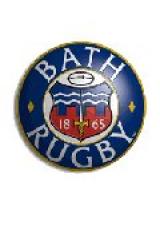 By Dominic Newbould
April 1 2012
The Westcountry is the land of pasties and big scrums. The Rec was all grey skies and a hard, bouncy pitch. There was a good turnout of Saints supporters. But the biggest noise all day came from a well-drilled 8-pack chanting "No pasty tax", in response to George Osborne's unpopular budget last week.
Aviva Premiership Round 19
Bath Rugby 6 Northampton Saints 26
The Rec Saturday 31st Marh 2012
KO 5:3- pm
You won't want me to rehearse every plot and play, so I shall offer a few highlights of the game.
The first 10 minutes of play took place in a faraway corner, where Bath tried to defend against a series of scrummages until Martin Fox capitulated (like the Bath front row) and gave a penalty try, which Lamb managed to convert from in front of the poles. In fact, our alternate number 10's contribution to the score was impressive, as he also kicked two penalties and a drop goal in the first half to dominate the scoring. If his tackling and passing had been as good as his kicking, he would have been a candidate for man of the match, but some of his longer passes went awry and it wasn't long before he gave us his trademark looping pass into touch to restore some familiarity to a game that was going all Saints' way. Lamb's flicks and offloads, and his kicking from hand, were all exquisite. No kicking out on the full, this time. Whenever he took aim at the poles, the ball soared through the middle. So – a little more work needed on the longer passing game and, otherwise, all is well in the Lambing shed.
At half-time the score was 6-16, which was a fair reflection of play. During the interval, the Bath Captain presented an athletic-looking lady (whose name was Dot) with a club shirt to mark her 80th birthday. Frankly, Bath might have scored with her on the pitch because, surely, no one in the Saints team would be ungentlemanly enough to tackle her?
The score might have been closer if Stephen Donald hadn't missed three penalty kicks but, as the game wore on, everything went against the home side. With just about every scrum given to the GB&G infantrymen, the lineouts succumbing to Craig's acrobatic leaps and the rolling maul – at last a thing of beauty after so many false dawns by our fabled pack – giving us many yards and another try in the second half, the only real obstacle to Saints' progress was Martin Fox, who puzzled all present by sending Sorenson to the sin bin in the 50th minute. Later, he sent Mercer to reflect on his sins, thus ending Bath's faint hopes of scoring from anything but penalties. In fact, if the game had gone on until next week, I doubt Bath would have managed a try. Abendanon (England's abandoned one) ran sideways far too often. Banahan broke tackles, as you might expect of such a giant, but then mistook the way forward and drifted or kicked into oblivion. Donald was pretty much an erring disaster zone and Attwood, abandoned by England in favour of Lawes or Parling, was industrious but ineffectual.
There were moments to savour: breaks by Diggin and Mujati, which didn't quite make it to the white line; and one breakout by Banahan looked promising until he kicked and chased, but was beaten to the ball by Ashton, who managed to knock the ball out of play. Soon afterwards, after pressing for some minutes, Donald dropped a scoring pass with the line at his mercy. At the melée that followed, Mr Fox was barged unceremoniously out of the way by Dowson who, rightly, saw him as an obstacle in his attempts to defend. Almost every Saints scrum ended in ignominy for Bath and a pressure-relieving penalty for Saints.
With about 15 minutes to go, another Saints maul, urged on by the excellent Dickson and forced over the line by Doran Jones (on as a replacement) led to a try dotted down by Andy Long. This gave him particular pleasure, as he was playing against his old club. In fact, Long's play in the front row, lineout and the loose helped me forget that Dylan Hartley wasn't "available for selection". (He nearly made my man of the match.) Smyler converted Long's try to add two new names to the scoresheet (apart from Lamb and PT), and the score was 6-26.
In the last quarter, Bath managed to threaten the Saints line with at least two dozen phases of play, but Saints' stout defence held out and their tenacity was rewarded when Banahan passed to his invisible friend – in touch.
The game ended with Bath pushing hard for a losing bonus point, which they had little hope of finding. A series of foozles and fumbles by both teams ended with Jimmy Downey's forward pass, when a third try looked on. Bath were relieved to hear the whistle and trooped off under the sad gaze of Geechs, no doubt "tae think again".

Foden was announced Man of the Match, and he performed brilliantly under
the high ball, but – if the front row as a unit cannot be MOTM – then I would select one of Long,Dickson or Day. Uncharacteristically, Ryan Lamb didn't miss a kick and put 14 points on the scoresheet. But, as he spent the whole match on the pitch, I'm tempted to nominate Christian Day, who was powerful in the set piece and particularly influential at the breakdown.
Saints used all their replacements, with James Ingle making his debut and Harrison appearing
for a second week in succession. With this result, Saints are back in the hunt for the Aviva Premiership play-offs, but with eight injured players (Lawes, Wood, Haywood, Nutley, Manoa, Cato, Clarke and Elliott), and two suspensions (Hartley, Clark) it may be too much to expect the team to go all the way – or maybe not…
Dominic Newbould aka Saint Dom
Ben Foden Says.....
Andy Long Says