News: Monarch Airlines signs Sponsor Deal with Saints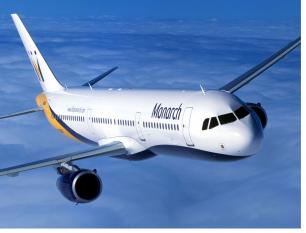 By COYS
April 13 2012
Northampton Saints will announce today that leading scheduled leisure airline Monarch has renewed its Elite Sponsorship deal by a further two years. The deal will see Monarch's logo remain on the Saints' home, away and cup shirts until at least 2014.
Monarch Airlines signs new Elite Sponsor deal with Northampton Saints
The award-winning scheduled leisure airline flies a fleet of 32 aircraft from four UK hubs, including London Luton and Birmingham, and this year celebrates its 44th year of operation. The airline has this summer also launched six new routes from Luton and Birmingham across Italy, Croatia and the Greek islands and will further its schedule again this winter, increasing the already comprehensive network of leisure destinations it serves.
Monarch, whose headquarters are in Luton, flies over six million passengers to more than 50 destinations each year, and is part of an industry-leading travel group, The Monarch Group, employing around three thousand highly trained personnel. The airline is committed to providing high levels of care and service to its customers and prides itself in its innovative approach to airline travel.
The airline has a strong community presence, donating over £2 million to MacMillan Cancer Care over the past 15 years and supporting the fundraising activities of a wide variety of schools, colleges and charities.
To celebrate the new Elite Sponsorship agreement a Monarch Airlines Airbus A320 will overfly Franklin's Gardens, Northampton, at 2pm on Saturday, April 14th, before the Aviva Premiership Rugby match against Leicester Tigers. The aeroplane will have a Saints shirt added to the livery on its underside and will fly over at just 1,000 feet.
Furthermore, Saints' Season Ticket Holders, Associate Members and Registered Supporters will also benefit from the sponsorship through a number of special Monarch offers, the details of which will be sent directly to the club's members.
Saints chief executive Allan Robson said that the new deal represents a major step forward for the club.
"We have developed a very strong and positive rapport with Monarch in a short time and everyone at the club is delighted that this will be continuing for at least another two years," he commented. "Monarch's management has already shown their commitment to the club and our relationship in a number of ways, including providing the pre-match entertainment ahead of the Heineken Cup game against Munster, and already we are working on some exciting initiatives which will benefit Monarch, the club and our supporters alike.
"We would like to thank Monarch for their backing in what is a trying financial time, and for their recognition that Northampton Saints provides a cost-effective means of developing brand awareness in a number of domestic and international markets.
"We certainly believe that the next two years will prove to be mutually beneficial and are looking forward to entrenching our relationship even further."
Also commenting on the renewal of the Elite Sponsorship, Managing Director of Monarch Airlines, Kevin George said: "The team at Monarch has been delighted with the success of our first season working with the Northampton Saints and the renewal of our Elite Sponsorship is a reflection of the benefit we believe it brings to our business, and to the many Northampton Saints fans, who are now regularly flying with us.
"We understand the key to a successful partnership is to work with the club and their supporters to not only meet their flying requirements but to also support them throughout the season as they take on the many challenges of the Aviva Premiership Rugby and the Heineken Cup. We look forward to working with the Northampton Saints in the future in what we are confident will be a continued successful partnership."
Allan Robson comments on the agreement
>