News: Saints 21 Tigers 35 - There's always beer!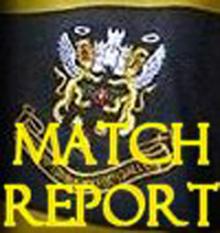 By Howlin'
April 14 2012
I'm thinking not many people will be reading this report. Most Saints supporters will be licking their wounds, some of the stranger ones will be expelling their bile in drunken conversations or on internet message boards. Tigers followers will be getting an early night, no doubt, preparing for the week ahead in accountancy or banking.
Aviva Premiership Round 20
Northampton Saints v Leicester Tigers
Saturday 14th April 2012 Franklin's Gardens
K.O. 2:15pm
ESPN will have told most people what to think and Rugby Club will smell blood and be preparing a critique for next Thursday on how Exeter will be relishing a semi final away at Quins.
To be fair, of all the supporters cuddling their teddy bears in the wee small hours of Sunday morning , it will be the Exeter faithful who have the most to be comforted by this result. The Chiefs have not only secured their place in the premiership over the last two seasons but, possibly abetted by the small matter of a World cup, have shown that they can hold their head high with the big boys.
You see the story tonight is not what happened between Saints and Leicester Tigers, it is the match next week between the Chiefs and Saints. It always was. In any rugby season it is now about the play offs. In this mad season even more so. No matter what we, as supporters , wish for with our local "bragging rights " and rivalries, the main goal is to be in a semi final. Leicester were always there. This was a match to nothing. They could still achieve a home tie of course. Home would be nice, but for Saints this bird has flown. So who do you want away? In my opinion Saints want fourth place. Exeter stand in the way. It's all about the next match. It always was.
Well this is the only way I can explain away the mental fragility shown by the players in today's match. It was a local derby, full of passion, etc. Etc. Not from where I was standing. No sir. The minds were elsewhere. Either this or the violence of recent encounters was there to be avoided and dulled the intent. Whatever it was this derby lacked the intensity that most would have been expecting.
The start was brisk enough. Only one team in it for about 15 minutes. Penalties grudgingly awarded were duly slotted and a 6-0 lead looked quite pleasing. But a lazy clearance charged down led to a try and conversion. Tigers lead. A Tiger smells blood and goes for the jugular. A sublime try and frankly the game was over. The players knew this. Their minds wandered to next week. We should have gone home then. Perhaps the Tiggers supporters cries of cheerio cheerio would have been more apt than when directed at a group that contained several Leicester shirts later on !
From then on what is to tell. The Saints were completely outplayed by the better team. The scrum creaked, the lineout failed, tackles were missed, passes were misdirected and dropped.
Sadly it was only at Saints 9 Tigers 32 that Mr Pearson decided to watch the breakdown and the offside but in the general scheme of things this was inconsiquential. Saints were able, with some ball, to gain some late consolation and make the score slightly more respectable at 21-35, but mostly were out thought and outplayed.
Well done Tigers you showed your teeth and your undoubted class. As a Saint my hope is that the mental fragility shown was due to temporary circumstances and we can have our game heads on against Exeter, make the semi finals and meet again in the premiership final. Then we shall see whether Saints can turn it on for the big occasion. I have to believe this, no I really do. The alternative just can't be considered.
Jim Mallinders' reaction
p>