Is the art of leadership dying in the English game?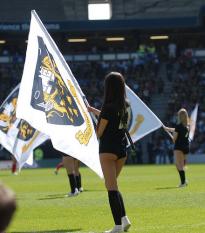 By DaventrySaint
April 15 2012
In recent weeks, I've been asking myself this question more and more and in light of recent performances from the Saints I pose this question to you all: Is the art of leadership dying in the English game?


I ask this question not just as a Saints supporter, but as a supporter of English rugby. Over the course of the past two seasons the Saints have suffered massively when missing their talisman and captain Dylan Hartley. Now any team is likely to suffer a drop in on-field leadership when their captain is missing, but for Northampton the issue seems to be larger than most. Or does it? You only have to look at Saracens struggle when Steve Borthwick was absent, and you have your answer.

Ten years ago captains were rife throughout the sport, even if players didn't wear the proverbial armband, they still had something to say in the changing room, in the huddle and under the posts. Chat was frequently heard from all corners of the pitch. Take a look at the England side that won the World Cup in 2003; that side had leaders in every single position on the pitch - many of the side either had or went on to captain their country following the tournament's conclusion and Martin Johnson's retirement. The likes of Thompson, Vickery, Kay, Hill, Back, Dallaglio, Dawson, Wilkinson, Greenwood, Tindall , Cohen and Robinson were never short of something to say, whether playing well or playing poorly, there was always obvious leadership.

Compare the World Cup winning side to the XV that played during the Six Nations in 2012, and there are a distinct lack of true, natural leaders. Do the likes of Hartley, Croft, Robshaw and Farrell inspire and lead the line to the standard of Johnson, Hill, Dallaglio and Dawson? My answer? They're not even in the same league.

Historically England has had a regular production line of leaders, from Wavell Wakefield to Bill Beaumont, Dean Richards to Will Carling, Tim Rodber to Martin Johnson - I could be here for days naming the top-class leaders prevalent throughout the English game. However, in the last five or so seasons, the leadership talent-pool has began to dry up, quite drastically. No longer do we ask the question of 'Which leader do we make our captain?' - now we simply struggle to identify a leader and slap the title of captain upon them.
If we take a look across the board at Premiership captains, there is a distinct lack of true English leadership. Yes, Steve Borthwick, Chris Robshaw, James Hudson, Hartley, Luke Narraway, Shaun Perry and Stuart Hooper are all English and are all captains of their clubs, but are any of them the talismanic figures that lead sides into battle with no fear and command the respect that has held for the likes of Beaumont, Richards and Johnson?

(Before you ask, I'm not damning the qualities of Robshaw, Hartley and Co - merely raising a comparison to days gone by.)

This leads me to ask another question: Why is there such a lack of leadership?

Does the issue lie with professionalism? In the amateur days, leaders were rife -perhaps leadership was something that came from living 'in the real world'? Having to deal with balancing work, leisure and family in the amateur era undoubtedly gave players a sense of maturity and respect for each other, and perhaps it was that respectful, but frank and honest atmosphere that such leadership was able to blossom from.

Another issue with leadership and professionalism may be that young, unproven players are under such pressure to perform to the standards of seasoned professionals and veterans that their leadership abilities are pushed to the very back of their conscious as they focus on the basic aspects of their game. Indeed, it is a great rarity that any side is captained by anyone in their young twenties - it is much more likely that the armband will be passed to a veteran of the side, rather than the young tyro who has just broken into the side. Take the case of James Gaskell, who at the time of being awarded the captaincy at Sale was a young and very promising back five forward that was making waves comparable to Courtney Lawes in the Aviva Premiership. Fast-forward six months and not only did Gaskell lose the captaincy to the vastly more experienced Mark Cueto, but Gaskell's performances also suffered drastically. That is not to say that Gaskell did not deserve or warrant the captaincy, but perhaps due to his freshness to the professional game the added pressure of the captaincy was too much to cope with.

The problem we face now is, what can we do about it? I would argue that it is the mentality of professional rugby in Britain that is preventing the development of natural leaders. If a player is captain throughout age-grade rugby, they are often either lost into the chasm of the nearly-men and also-rans that never make the step up to the professional game, or they are not provided with the appropriate opportunity to lead their club sides. Whether that time is as a captain, or just regular game-time where they are allowed to settle into the side and develop not only their playing abilities, but their understanding and leadership is not particularly important - see Sam Warburton's rise to Wales captaincy as a model perhaps? However, the younger generation of players need to be encouraged to talk, be honest and provide their opinions on things - make their voice heard. It seems that in this modern era of the game, if you don't set the world alight as a youngster, your opinion in the team is not held in such high regard. Let us not forget that some of the best leaders of the game have barely made it into their respective sides - John Smit as the best example. But if you have something to say, and it is something that needs to be said at the appropriate time, then say it. Whatever your age or standing in the squad.

So, what of the situation at Franklins Gardens? I started this piece talking about how much we at the saints miss our captain Dylan Hartley while he is unavailable - but what can we do about it? Phil Dowson, Calum Clark and Lee Dickson are more than capable of running through the motions of being a captain - making the decisions when penalties are awarded and talking to the referee when needs be - but none of them lead and inspire quite like Dylan does; they don't make the big plays and set the standard like Hartley. What are we to do about it? Do we look to players such as Ben Foden or Christian Day to up their displays of leadership? Or do we look to bring in another talismanic ever-present figure of the likes of Xavier Rush or Juan Martin Fernandez Lobbe to share the leadership role with Hartley? Is there someone in the academy waiting to step up and take their chance and become the club's next great leader?

Only time will tell, for England, as well as Northampton. We live in hope of unearthing the next great England captain.