News: AP: Exeter Chiefs vs Northampton Saints Match Preview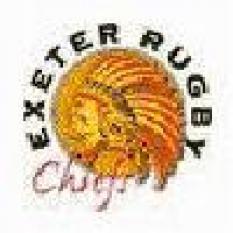 By PelerinStJames
April 19 2012
It's pretty much knock-out rugby from here on in as Northampton Saints travel to the south-west this weekend to take on Exeter Chiefs on Sunday afternoon. A top four spot is at stake and PelerinStJames looks ahead to the game...
EXETER CHIEFS vs. NORTHAMPTON SAINTS
AP: Sunday, 22nd April, 2012 - 2pm (ESPN)
SANDY PARK, EXETER
MATCH PREVIEW
Back in April 2008, two second tier sides met at Twickenham in the National Division Trophy Final, effectively the warm up to the climax of the big boys Anglo-Welsh competition. Only 4 years on, and Northampton Saints and Exeter Chiefs renew their rivalry, each with Heineken Cup rugby assured for next year, and fighting it out for a place in the Aviva Premiership play offs and a possible return to HQ. It has been quite a journey for each side.
For Saints, promotion back to the top flight was followed by success in the European Shield, an LV Cup win and a Heineken Final in subsequent seasons. Many of our players have gone on to achieve international honours and the expectations around Franklins Gardens remain high of winning one of the big two competitions. Yet this time round, what seems to have been an endless string of disruption, speculation, and trouble has led to a somewhat disjointed season. International call ups, injuries and bans have impacted heavily on the squad, and I am actually struggling to think of a match where our "Cup Final Team" has taken the field, in stark contrast to last year where the same team played almost continuously.
The forums currently depict a story of woe and despair with the dark clouds of missing out on the Heineken Quarter Finals, a cup final defeat coupled a heavy loss to our nearest and dearest rivals gathering overhead, there are calls for the coach's heads, the board to go, for change. 4 years, my friends, its only 4 years since we were out of the big time, and now, a losing LV final and 5th place with a team full of internationals is no longer good enough. Oh how times have changed. Whether this is acceptable or not is a matter for another day, and for now, we would do well to remember just how far we have travelled in recent years and accept that our season is not yet over, in fact, it could only just beginning.
Exeter, meanwhile, have taken a more sedate route to the cusp of the playoffs. They followed us up 2 years later and in only their second season at the highest level, and now sit proudly in the upper echelons of the league, building on their 8th place last year, with a settled team, impressive set up and formidable coaching team. Looking through the squad listings, there are no big names (yet), but a squad that continuously delivers more than its individual parts perhaps should. Full credit here must surely go the coaching team of Rob Baxter and ex Saints man, Ali Hepher, for putting together this continuously upwardly mobile unit and maintaining such high levels of performance. Not for Exeter the disruption of international call ups, but one only suspects that this is a matter of time as any team that has a 75% win ratio against Tigers has got to be good!
So, this weekend, our paths cross once again. With only 1 game remaining after this, I truly believe that this is effectively a quarter final for the play offs as a win gives the boxed seat for the semis, lose, and the calculators and prayer mats come out. The weight of expectation perhaps weighs heavier on the Saints shoulders, outside the play off places with a team full of stars and an expectant set of fans desperate for Silverware. Can the boys in GBG shake off the disappointments of last week, last month, and even last year and raise themselves for the final run into the title and accept that for whatever has gone before, the season starts right here, right now with this match and this opportunity to claim back the coveted 4th place which brings with it the chance of the title.
For Exeter, it would be easier to accept top 5 and Heineken Cup qualification as mission accomplished, but they are masters of their own destiny and intent on making history. Utterly deserving of their league position, they will continue to push hard for a top 4 placing, buoyed by their 16th man, Tom O'Hawke, Sandy Park will be packed to the rafters as they seek another big scalping. By no stretch of the imagination will this be an easy game, but one in which victory will be earned the hard way, most probably by the team that wants it most.
Momentum is clearly with the Chiefs, 2 tries in 2 minutes saw them defeat Wuss at the death, and a lacklustre Saints performance saw a heavy defeat at home. Assuming that Wood and Lawes remain injured, I would expect Nutley to return into the back row to add some much needed pace, with Dowson reverting to blindside and Sorrenson will coming back to partner Day in the 2nd row. In the backs, there are flashes of form that all too often fall flat at the last, so I do not anticipate any changes there. Hopefully, their confidence will return on Sunday, and their creativity and work rate will result in some much needed tries.
My Saints XV
15 Foden
14 Ashton
13 Pisi
12 Downey
11 Diggin
10 Lamb
9 Dickson (c )
1 Tiny
2 Long
3 Mujati
4 Sorrenson
5 Day
6 Dowson
7 Nutley
8 Wilson
I am hoping that this team will feed on the anger and frustrations of last week, and come out fired up and intent of silencing the Sandy Park sell out, and secure the necessary "W". Achieve this, and then move on the next game, one step at a time. Yes, every journey needs a destination, but we don't always arrive there by the road we initially imagined, and what Saints have lacked is continuity, which is precisely what Exeter have had. Two teams, and two very different journeys, but both linked by the same aspirations and ideals. As is always the case in sport, there can be only one winner, so will the consistency and collectivity of the Chiefs overcome the stuttering but occasionally brilliant Saints in their quest for Glory?
My good friend and Chiefs Fan SBK certainly thinks so, and believes his team will triumph 18-15, and go on to the Semi Final. Mieres will play a binder as the Chiefs pack just nudge the battle up front, with Baxter, Johnson and Doleman the 3 players to watch out for. He sees our biggest threats as our front row, Myler and Foden. (I am not sure Simon has seen Mr Pisi play yet, bless him) As to the score, I am of course going to disagree, and state that all things considered, Saints are going to win, probably not by much, but in this game a 1pt win with a last minute drop goal (or 2 tries in 2 minutes) will suffice. It is a long trip down to Exeter, but one which I am really looking forward to, not just for the company, the beer and the pasties….there is a game of rugby to be won. Two teams, two styles, two journeys, but there can be only one winner – Northampton Saints by 10, of course.