News: Five Try Saints secure Semi-Final Play Off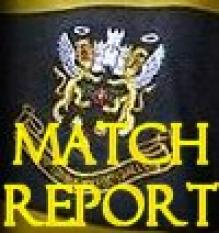 By Jonathan Stockham
May 6 2012
Northampton Saints finished off the regular Aviva Premiership league season by crushing Worcester Warriors at home to book themselves a semi-final date next Saturday away to Harlequins at the Stoop Memorial Ground (or whatever brand name it is called these days!)
Aviva Premiership Round 22
Franklins Gardens, 5 May 2012
Northampton Saints 42, Worcester Warriors 14
All's well that ends well as Will Shakespeare once said and so it was with Saints final league game of the 2011/12 season, as a much better second half performance saw Saints defeat a doughty Warriors XV to score five tries and see off the possible challenge of Exeter Chiefs. The Devon team ended up a very creditable fifth after worrying Saints fans by being ahead against Saracens at half time yesterday. The team talks at the break in both Saints and Sarries changing rooms must have been pretty similar, as both came out firing on all cylinders to defeat cheeky upstarts from lower in the league.
As half time approached, Saints led by only 3 points at 10-7 thanks to a try after 5 minutes from flying wing Chris Ashton in his last appearance as a Saints player in front of the home crowd. Having demolished the Warriors pack at a scrum, Saints won a penalty and opted for a touch kick and line out. Taken well by James Craig under pressure, the ball was moved right at speed, taken on by Paul Diggin, recycled quickly and out left to Ben Foden in Warriors' 22. Foden had options left and right and chose the inside pass to Ashton who pirouetted through the last tackle and over for the now iconic Ash Splash. The conversion was added by Stephen Myler but Ashton was soon to depart with a recurrence of a back injury which had been aggravated during the warm up.
Ashton left to a rousing ovation on maybe his last appearance for Saints. Only the medics will know whether we shall see him again in the Gold Black and Green.
Ashton's try seemed to be the equivalent of poking a Worcester wasp's nest with a pointed stick and before you could say "Who is Andy Farrell?" Warriors had replied in kind under the posts due to some sloppy tackling and a pass that was excessively flat!
With 3 points from a penalty late in the half for a professional foul by Warriors skipper Shane Perry, who trotted off for 10 minutes R&R, it looked as though Saints would finish the half playing up the slope with a narrow lead. Not so!
With 40 seconds left on the clock, Warriors gave away another penalty on halfway. Myler opted for the kick to touch. The throw was taken cleanly at the tail by Christian Day, worked left and taken on by George Pisi. From a ruck the ball went back to the right and Foden reached over the last tackler to touch down. As the clock said "Enough already!" Myler added the extras to send the home team back for Gatorade and massage with a 10 point lead.
At times in the first half, Saints were clearly the better team. James Craig was conspicuous in stealing ball at line outs and in the loose. Day was ruling the line out, making this an unprofitable area of the game for the visitors. The Saints pack, when allowed to scrummage by the referee, were plainly dominant but for much of the second quarter, but Saints needed to increase their levels of intensity and concentration and to improve their accuracy.
An early penalty after the break against Warriors at the scrum allowed Myler to add another 3 points but the visitors came straight back after the ball squirted out of the scrum at a Saints put in and Johnny Arr nabbed it to send Kai Horstmann hurtling over for a try under the posts. 20-14 with 10 minutes of the half gone.
At that point Ryan Lamb came on for Myler and he soon got his personal tally moving with a long range penalty after Warriors had failed to roll away after stopping a charge by Phil Dowson. Lamb was managing territory well with long touch finders forcing Worcester back 50 metres at a time. From a Warriors line out 5 metres from their line, Saints stole the ball. Sent left, a great final pass by Pisi enabled Diggin to score Saints' third try, Lamb adding the conversion from the left touchline.
Saints were making the usual raft of substitutions now and the fresh legs were producing benefits. However, it was the starters who kept upping the pressure the most. Craig was pilfering line out ball at will, Dowson and Roger Wilson were starting to find space to run through, Pisi was finding gaps but ignored Tom May outside him when a try looked on.
The ball ended up in touch for a Warriors line out deep in their 22. Although they took the catch, Craig stole the ball from Warriors' grasp and handed on to Teimana Harrison who nipped over for his first try for Saints and the vital bonus point! 35-14, as Lamb missed another wide conversion effort.
From another Saints penalty won at a scrum, Lamb drove the ball long into touch on Warriors' 5 metre line. Taken by Craig, driven on by Day and another penalty to Saints at the ruck. Another line out close in, another great catch, a well organised rolling maul and a try for Alex Waller which Lamb added to, bringing the score to 42-14.
Worcester found themselves down to 14 again as Ed Shurvinton was binned for a thumping tackle from behind on Diggin, who didn't actually have the ball but, being generous hosts, Saints played the last minute with 14 mean as well after James Downey was subbed, with a leg knock, to a great ovation from the home support, just as Roger Wilson and Andy Long had received earlier in the half as they left the hallowed Gardens turf for the last time.
A patchy performance from Saints which will need to be improved upon next week if we are to prosper against Quins. A second half of much greater quality than the first but all in all, a game in which young James Craig stood out as a forward of enormous potential, Christian Day, Phil Dowson and Roger Wilson made major contributions and George Pisi and Ben Foden oozed class.
And goodbye to so many departing heroes who have graced Franklin's Gardens over the years, nearly a decade in the case of Jon Clark. Let's hope their replacements are as good as the Saintsmen we saw for the last time at home yesterday.
Teams:
Northampton Saints: Foden, Ashton, Pisi, Downey, Diggin, Myler, Dickson, Tonga'uiha, Long, Mujati, Sorenson, Day, Craig, Dowson, Wilson.
Replacements: May for Ashton (19), Lamb for Myler (50), Roberts for Dickson (59), A. Waller for Tonga'uiha (63), McMillian for Long (59), Doran-Jones for Mujati (54), Harrison for Sorenson (57), Nutley for Wilson (67).
Worcester Warriors: Arscott, Benjamin, Grove, Fatiaki, Drauniniu, Gray, Perry, Porter, Fortey, Douglas, Percival, Gillies, Best, Kvesic, Horstmann.
Replacements: Hayter for Grove (68), Carlisle for Gray (50), Arr for Perry (46), C. Jones for Porter (15), Shervington for Fortey (55), Furniss for Douglas (68), Gulliver for Gillies (59), Betty for Best (59).
Ref: Greg Garner
James Craig on his first "Man of the Match" performance
Jim Mallinder comments